When it comes to your nonprofit's strategy, it's important to have the right tools in your toolkit in order to maximize your fundraising potential. You must explore the online donation tools available to you in order to find the best fit for your organization. These tools will help streamline your entire process and give donors the positive experience they deserve.

The more research you put into finding the right donation tools for your organization, the higher chance you'll have of maximizing the revenue that comes in through donations. That's why we've compiled a list of our 9 favorite online donation tools to help you raise more.
Feel free to read from the top or jump down to the ones that interest you the most! We'll be discussing:
Are you ready to raise more with these awesome online donation tools? Let's dive in!

---
1. Donately | Top Online Donation Tool
Overview of Donately
Donately allows nonprofits, churches, and agencies to create seamless online giving campaigns. With its focus on donation processing, you can build custom donation pages and take advantage of the following features:
Customizable donation forms. Create a donation form asking only the questions you need to include. Feature your nonprofit's branding on the form so donors never question where their contribution is going.
Embeddable forms. Embed the donation form onto your website so donors don't have to leave your site in order to give to your cause.
Peer-to-peer fundraising. Enable peer-to-peer fundraising on your donation pages to reach past your normal donor circle and raise even more.
Recurring donations. Easily accept recurring donations on your online form to give your nonprofit a predictable revenue stream.
Mobile optimization. Make your donation form look great on any device, so that donors can easily give from a tablet, mobile phone, or desktop computer.
Reporting and data. Gain valuable insight into your donors and donation data from a comprehensive dashboard.
Why Donately's Online Giving Software Stands Out
Donately allows you to pass the processing fee on to your donors, which gives you 100% of the intended donation. Keep more of the donation amount and reduce the cost of using Donately.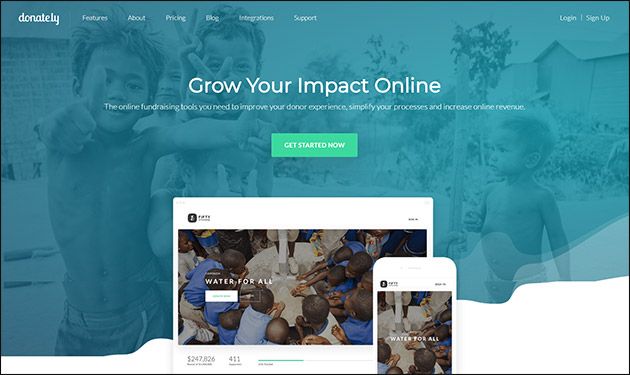 Learn More About Donately
---

2. NeonCRM | Top Online Donation Tool
Overview of NeonCRM
NeonCRM is a leading nonprofit software solution that helps thousands of nonprofits raise more revenue, save time, and accomplish more. Their specialty is in donor management and donation processing. As an added bonus, NeonCRM integrates with Donately so you can easily keep track of your donor data!
Of the many features their CRM offers, these stand out:
Accounts and relationship tracking
Volunteer management
Email marketing and segmentation
Reports and analytics
Automated receipting
Letters and material tracking
NeonCRM also offers membership and association management, fundraising and donor management, and event registration and management.
Why NeonCRM's Online Giving Software Stands Out
NeonCRM offers an all-in-one solution to hold all of your data and provides valuable insights so you can raise even more. The time you save using NeonCRM allows you to focus on what's most important: fulfilling your mission.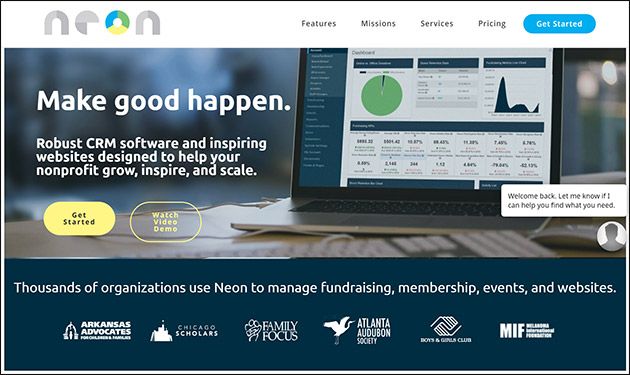 Learn More About NeonCRM
---

3. Double the Donation | Top Online Donation Tool
Overview of Double the Donation
Double the Donation is a top online donation tool that can help your organization raise awareness of matching gifts. With the largest and most accurate database of matching gift information, you can enable donors to determine if their employers will match their donations, as well as how much money their employers will match.
With Double the Donation, you can:
Easily set up the search tool. Insert a snippet of code directly onto your website to make the plugin appear.
Give donors easy access. Allow donors to access the user-friendly matching gift database from anywhere on your website. This includes donation and acknowledgment pages.
Let the process begin. Let donors immediately begin submitting matching gift requests using the forms and instructions provided from the database.
Increase your revenue. Increase your matching gift revenue by 20%, 50%, or even 100%.
Why Double the Donation's Online Giving Software Stands Out
Double the Donation also offers the industry-leading matching gift automation platform, 360MatchPro. With this platform, you can automatically identify matching gift opportunities, usually from a donor's email address. Drive every match to completion by using automated messaging and customizable tracking options.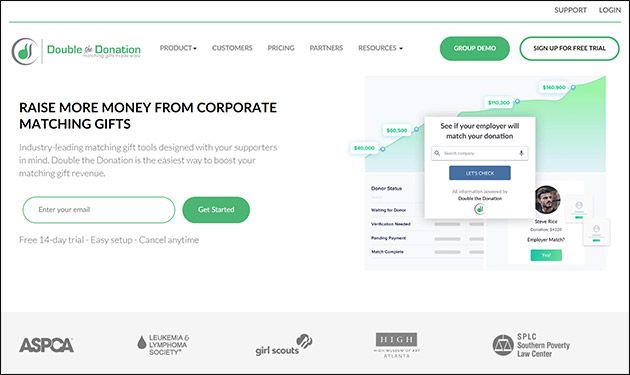 Learn More About Double the Donation
---

4. DonorSearch | Top Online Donation Tool
Overview of DonorSearch
DonorSearch is an online giving software that specializes in donor research. Their comprehensive database can provide your nonprofit with accurate and actionable information to identify your best prospective major gift donors, annual fund donors, and planned gift donors. This is done based on proven philanthropy and wealth analytics.
Of the many features DonorSearch offers, these are our favorites:
Wealth screening. DonorSearch compares donor wealth information that your organization gives them to information that is found across charitable giving and wealth databases.
Philanthropic indicators. DonorSearch starts with proven philanthropy to provide more accurate, comprehensive, and actionable data to help nonprofits achieve better outreach results. They have determined that past giving to nonprofits is a much better indicator of future giving than wealth alone.
Analytics and reporting. Search, prioritize, and analyze your findings and discover important wealth data information about your prospects, including business and foundation affiliations, real estate investment, stock ownership, and giving history.
Why DonorSearch's Online Giving Software Stands Out
As the world's largest charitable giving database, DonorSearch can incorporate an individual's entire history of philanthropic giving into its prospect screening results. This provides you with the most comprehensive information you'll need to make your fundraising asks.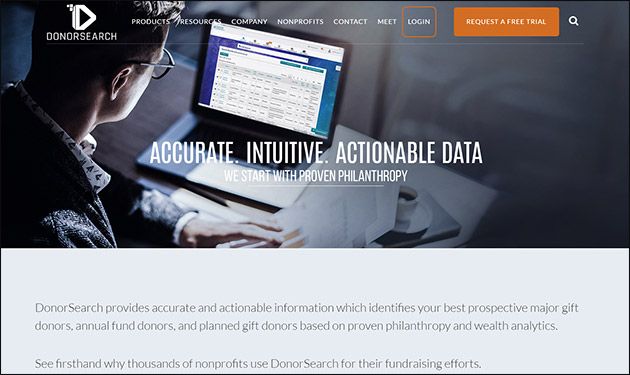 Learn More About DonorSearch
---

5. Keela | Top Online Donation Tool Overview of Keela
Keela is a complete nonprofit management system that provides your nonprofit with powerful, intuitive tools to manage your donors, mobilize your volunteers, market your nonprofit, and raise more money. They specialize in fundraising and reporting.
Keela has many features, but these ones stand out the most:
The Fundraising Report - You can generate a comprehensive fundraising report at the click of a button. The report pulls together key data like donor retention, average gift size and giving history, giving you an accurate snapshot into the health of the organization.

Custom Forms - With Keela's form builder you can customize everything from your layout, design, to the information you collect.

Drag-and-Drop Email Builder - Control how your next fundraising campaign looks and feels with an easy-to-use email template builder.

Smart Ask Forms - Keela's Smart Ask Forms pull a donor's donation history and automatically populate it within a range that best suits that particular donor. This way you're never over - or under - asking.

Campaign Recommendations - This tool looks at donation history between campaigns to suggest which donors are most likely to engage with your newest campaign.
Why Keela's Online Giving Software Stands Out
Keela's built a specific suite of Artificial Intelligence fundraising tools to help nonprofits steward donors, make better decisions, and ultimately raise more money. These Intelligent tools let you know when a donor is ready to give, what amount to ask them, as well as what campaign to recommend them next.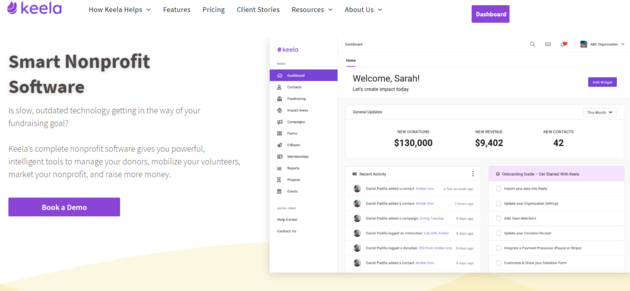 Learn More About Keela
---

6. PayPal | Top Online Donation Tool
Overview of PayPal
PayPal specializes in payment processing for individuals, businesses, and nonprofits alike. They even offer discounted transaction rates for 501(c)(3) charities for most products. Even more, they will soon integrate with Donately for a seamless payment experience!
By using PayPal as an online donation tool, you can do the following:
Let one simple "Donate" button allow you to accept credit and debit cards, as well as Paypal.
Add a faster checkout for those who want to donate with their PayPal account.
Send donors your nonprofit's personalized PayPal.Me link to allow your donors to give to your cause.
Have automatic fraud screening to protect you and your donors. PayPal is PCI compliant.
Access your funds quickly and within minutes of the transaction.
You can also track every dollar and donor with monthly statements, downloadable logs, and instant transaction searches. If you need to, you can offer controlled access to employees or volunteers for when they reach out to donors.
Why PayPal's Online Giving Software Stands Out
PayPal also allows you to accept donations in person. With PayPal Here, you can accept credit cards, debit cards, and PayPal on your smartphone or tablet. This is great for selling tickets, taking auction payments, and collecting donations in person.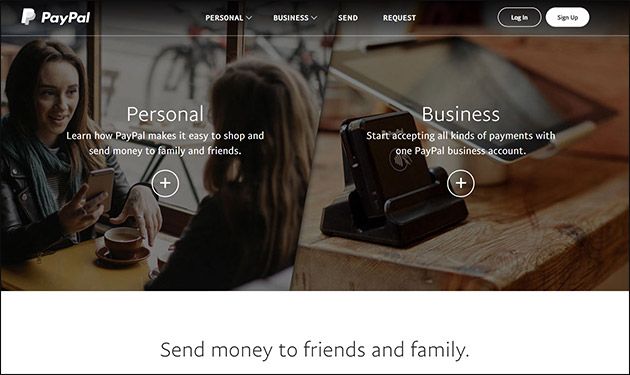 Learn More About PayPal
---

7. Stripe | Top Online Donation Tool
Overview of Stripe
Stripe specializes in donation processing, and while it mainly does payment processing for business and for-profit entities, it also perfectly meets the needs of nonprofits. As another bonus, Stripe's online donation tools integrate seamlessly with Donately, which means you can quickly and securely accept donations and access a user-friendly dashboard.
Of Stripe's many offerings, you should check out these features:
Mobile payment processing. This is helpful for nonprofits that need to accept payments at events or on-the-go.
Increased donation revenue. Take advantage of payment options designed to reach a large audience and increase checkout conversions.
Secure payments. All card numbers are encrypted and your donors' information will remain secure.
Reporting and insights. View all donations across different payment types and more, right in your dashboard.
Why Stripe's Online Giving Software Stands Out
Stripe's forms are designed to be part of your nonprofit's website. Donors won't get redirected to a third-party site to complete their donation, an issue that can sometimes deter them from giving.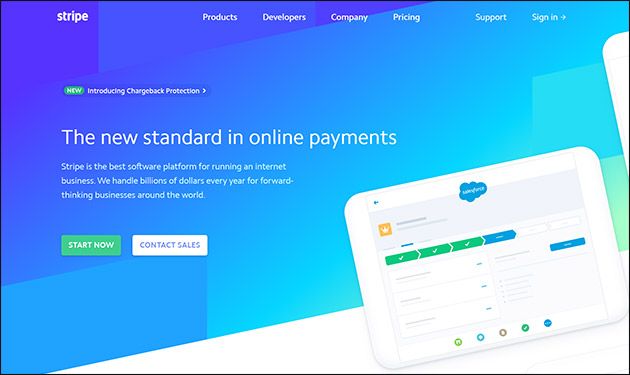 Learn More About Stripe
---

8. Mailchimp | Top Online Donation Tool
Overview of Mailchimp
Mailchimp specializes in donor outreach and can bring your nonprofit's marketing to the next level. As an integration partner with Donately, Mailchimp will help you cover all of your bases.
Mailchimp allows you to:
Segment and personalize your outreach. Load all of your existing contacts into the platform and then use merge tags to populate custom information for your outreach. Be sure to segment your supporters to personalize your outreach.
Keep your branding consistent. Brand your emails to your organization, using logos and your nonprofit's color scheme.
Create templates. Create different templates for different types of outreach, such as newsletters and annual reports.
View easy analytics. Track open rates and clicks for every email you send. Measure your benchmarks against the industry to track your performance.
Use the mobile app. With the mobile app, you can track your campaigns, manage your audience, and get key insights about your marketing.
Why Mailchimp's Online Giving Software Stands Out
In addition to the features above, you can integrate your mailing list signup with your Facebook page, as well as collect mailing list signups on your site via integration or popup forms.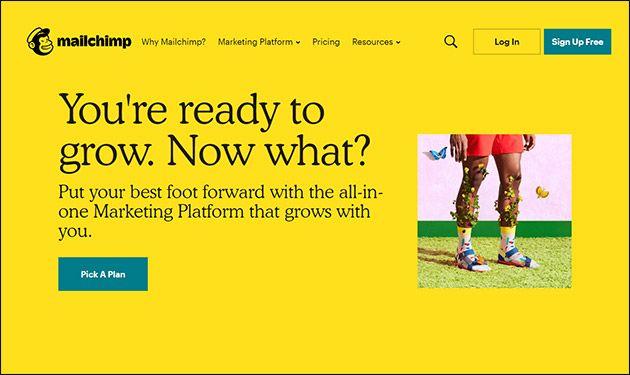 Learn More About Mailchimp
---

9. Bonfire | Top Online Donation Tool
Overview of Bonfire
Bonfire is a t-shirt fundraising platform that allows nonprofits and individuals alike to sell t-shirts without having to worry about inventory. Combine that convenience with their high-quality materials, and Bonfire is an excellent choice for any t-shirt fundraiser.
With Bonfire's online giving software, you can:
Upload your own designs or create a custom shirt in their online builder.
Create customizable campaign pages, including a compelling title, summary, and videos.
Order in bulk or sell straight through Bonfire's online platform.
Why Bonfire's Online Giving Software Stands Out
Bonfire offers a variety of design templates that can help you create the most attractive designs for your t-shirts, from adoption and animal rescue, to sports and even medical causes.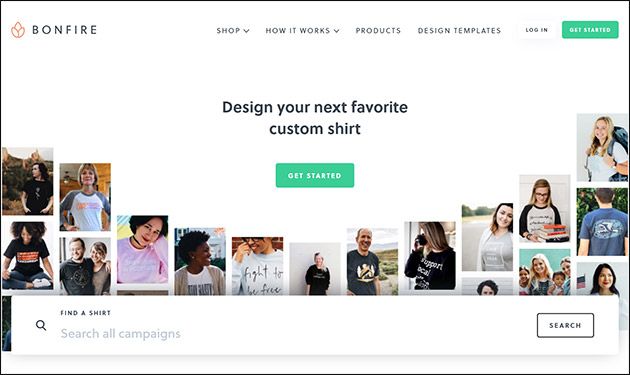 Learn More About Bonfire

There are several online donation tools that can enhance your fundraising strategy. Try out some of these donation tools for yourself and see how your fundraising can take off!
If you're looking for more information about online donations or fundraising in general, check out the additional resources below: