In recent years, we've witnessed a transition to online fundraising like none other. With such a heavy dependence on digital fundraising, investing in the right online donation tools to back your efforts is crucial to your fundraising success.
The more research you put into finding the best donation tools for your organization, the higher the chance you'll have of maximizing your organization's revenue. However, with seemingly endless choices, it can be challenging to narrow down your top picks, especially with so many other responsibilities on your plate.

We understand how challenging it can be to pick the right donation tools to fit your organization's needs. Since 2013, Donately has provided nonprofits with easy-to-use and affordable tools to improve their online fundraising and expand their reach.
Using our knowledge and experience with online donation tools, we've pulled together a list of top providers in the space that have proven track records of success. We'll be discussing the following types of donation tools:
Are you ready to raise more with these awesome online donation tools? Feel free to follow along from the top or jump to the sections that interest you the most! Let's kick things off with our top pick.
---

The Best Donation Tool for Online Fundraising
Now's the perfect opportunity to build out your online fundraising toolkit. The right tools can make or break your strategy, so let's look at the best option available: Donately!
---

1. Donately | Best Donation Tool for Online Fundraising
Overview of Donately
Donately is a fantastic online donation tool built specifically for online fundraising. Our primary customers include nonprofits, churches, and agencies. We created Donately in 2013 when we noticed an alarming gap in the online donation software market.
Today, over 1,000 organizations and individuals trust Donately to manage their online donations. Each month, our robust tools process over $2 million in donations! Built with simplicity and usability in mind, our features empower you to supercharge your online fundraising.
When you invest in our system, the donation tools you'll receive access to include:
Why Donately's Online Donation Tools Stand Out
From responsive donation forms to reporting tools, Donately's has all of your online fundraising efforts covered. Best of all, we integrate with other top donation tools. As a result, you can connect all your systems, grow your impact online, and increase your revenue.
With Donately, the possibilities are endless! Best of all, it's free to get started. Claim your free account and begin raising more donations online today.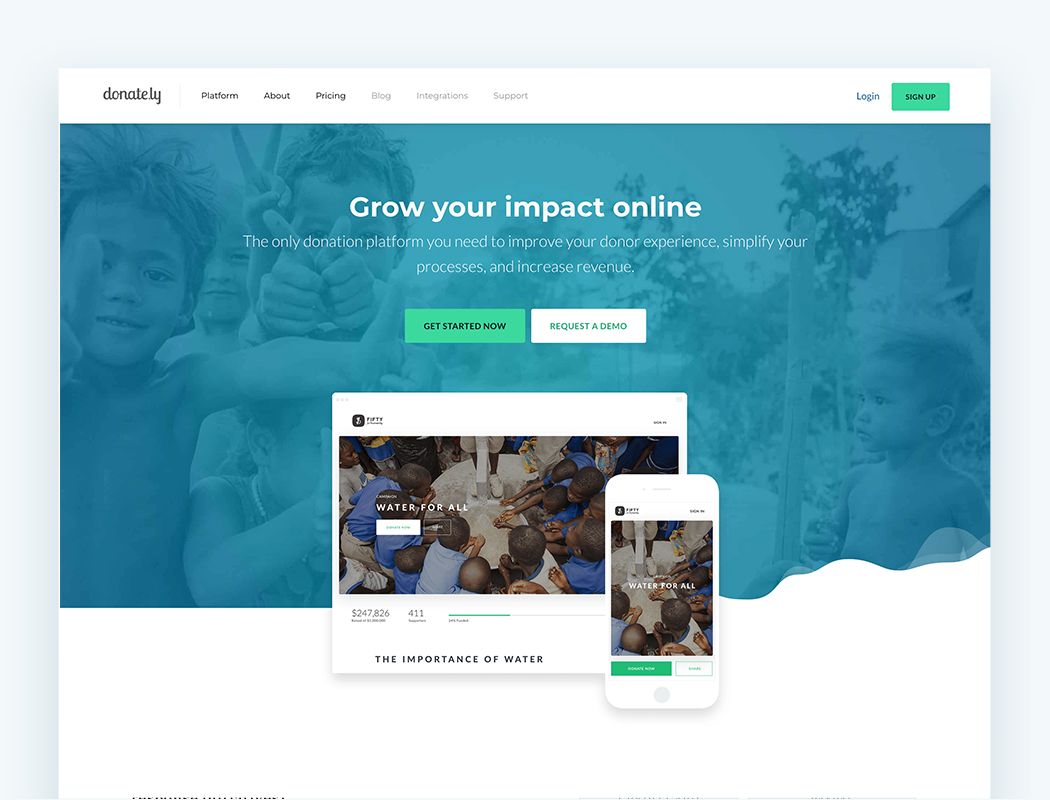 Learn More About Donately!
---

Top Donation Tools for Data-Based Fundraising
Leveraging data allows you to create a more informed approach to fundraising rather than simply guessing. Let's look at a few available online donation tools for data-based fundraising, so you can start fine-tuning your strategies.
---

2. AccuData | Top Online Donation Tool
Overview of AccuData
Originally a mailing list company, AccuData now provides fully integrated marketing solutions to thousands of customers across the U.S. There are many out-of-the-box platforms, but there's no replacement for a customized solution built specifically to fit your nonprofit's exact needs.
As a leader in the data industry for 30 years, AccuData has access to insightful consumer data, which they use to build custom solutions. While not a platform for collecting donations, AccuData helps you understand your audience and deliver relevant communications.
With their dedicated online fundraising tools, you can build the perfect tech stack. Here's what they have to offer nonprofits:
Full suite of targeted data solutions. AccuData inspires intelligent fundraising with a full suite of data hygiene, enhancement, and batch update tools. This way, you can reach the right supporters with your donation appeals.
Wealth screening. Target your fundraising efforts by understanding which of your prospects have the greatest capacity to give and the highest likelihood to support your cause.
End-to-end campaign management. Let AccuData's team manage your email campaigns and digital marketing efforts. By leveraging their tools and extensive knowledge, you'll develop high-performing online development efforts.
Why AccuData's Online Fundraising Tools Stand Out
Since 2001, AccuData has served the nonprofit sector with exclusive data-based fundraising tools and services. Thanks to their extensive experience, AccuData empowers development professionals with the tools and insight needed to fully understand their prospects. Moreover, their top-tier customer service team will gladly help you navigate their fundraising tools.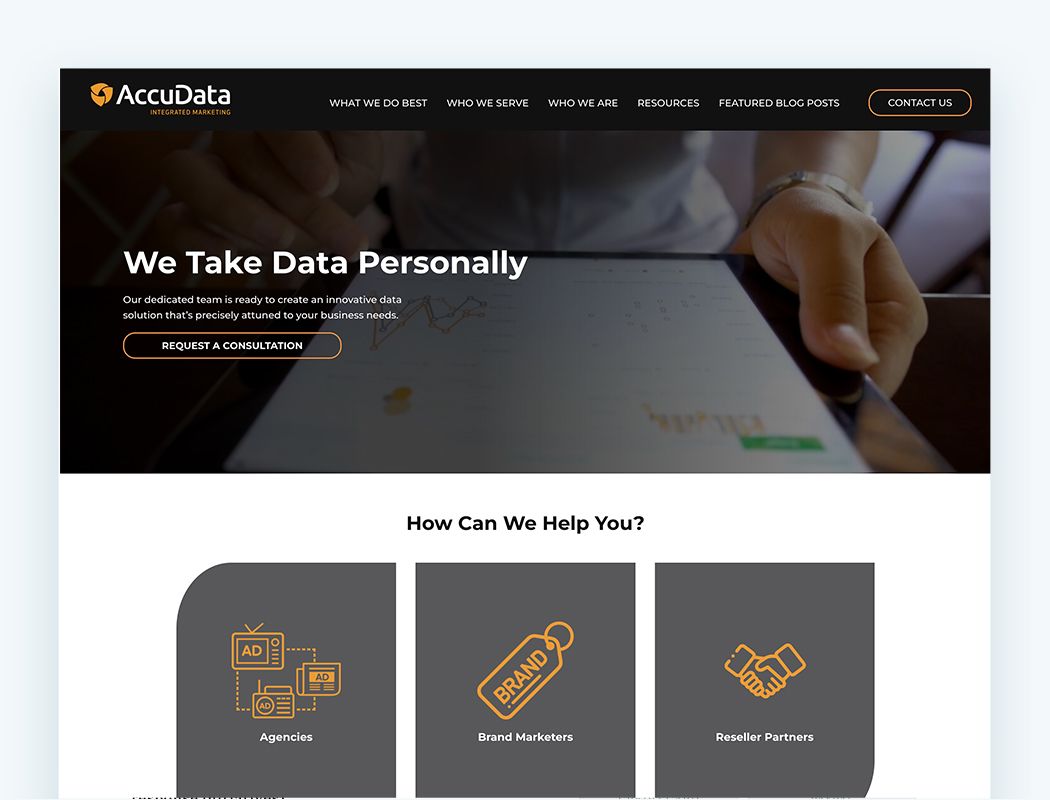 Learn More About AccuData!
---
3. DonorSearch | Top Online Donation Tool
Overview of DonorSearch
DonorSearch is an online fundraising tool that specializes in donor research. Their comprehensive database can provide your nonprofit with accurate and actionable information to identify your best prospective major gift donors, annual fund donors, and planned gift donors based on proven philanthropy and wealth analytics.
Of the many features DonorSearch offers, these are our favorites:
Wealth screening. DonorSearch compares donor wealth information that your organization gives them to information found across charitable giving and wealth databases.
Philanthropic indicators. DonorSearch starts with proven philanthropy to provide more accurate, comprehensive, and actionable data to help nonprofits achieve better outreach results. They have determined that past giving to nonprofits is a significantly better indicator of future giving than wealth alone.
Analytics and reporting. Search, prioritize, and analyze your findings and discover important wealth data information about your prospects, including business and foundation affiliations, real estate investment, stock ownership, and giving history.
Why DonorSearch's Online Donation Tools Stand Out
DonorSearch leverages the fastest-growing charitable giving database in the industry, with 150+ million records and 500,000+ new ones added each week. This online donation tool can incorporate an individual's entire history of philanthropic giving into its prospect screening results, providing you with the most comprehensive information you'll need to make your fundraising asks.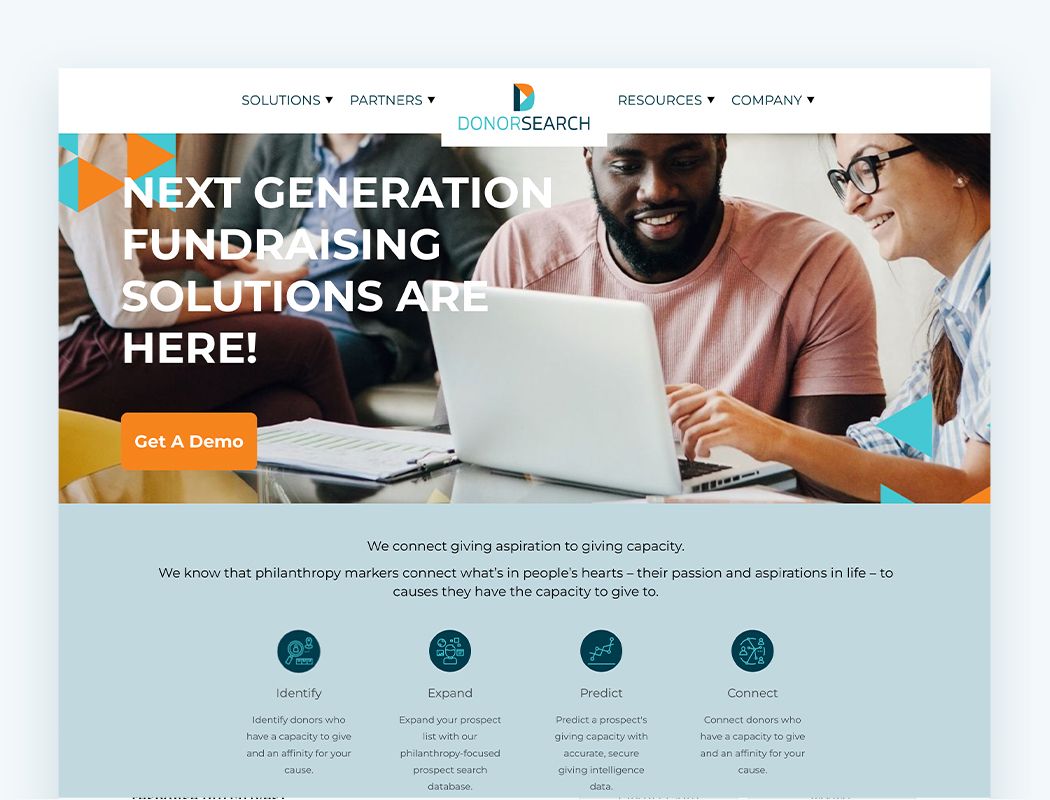 Learn More About DonorSearch!
---

4. Google Analytics | Top Online Donation Tool
Overview of Google Analytics
Built for a range of purposes, Google Analytics empowers nonprofits to spread their mission, engage new supporters, and expand their online fundraising. By leveraging this fundraising tool, your nonprofit can optimize your website to drive conversions—whether donations, event registrations, or volunteer applications. You'll be making informed decisions based on accurate analytics in no time!
By integrating this fundraising tool into your online donation form, you can gather and analyze the following key metrics:
Bounce Rates. High bounce rates indicate that your visitors are leaving without clicking through to other pages. When this occurs, experiment with adjusting various elements, including the page content, formatting, wording, and visuals.
Traffic Sources. Learn how your visitors are arriving on your website, whether it's through organic search, referrals, or social media. This way, you can invest your time and resources in the right marketing outlets.
Donation Tracking. See which sources drive transactions and how much time elapses between the first site visit and a donation to gauge how effective your web design is.
Why Google Analytics' Online Donation Tools Stand Out
Google Analytics integrates with Donately to help fundraising coordinators determine which channels and efforts work best for driving conversions. Gain a holistic view of your online fundraising by tracking traffic, conversions, and more on your donation forms and pages, all within a convenient dashboard. Then, use this to refine your online donor experience.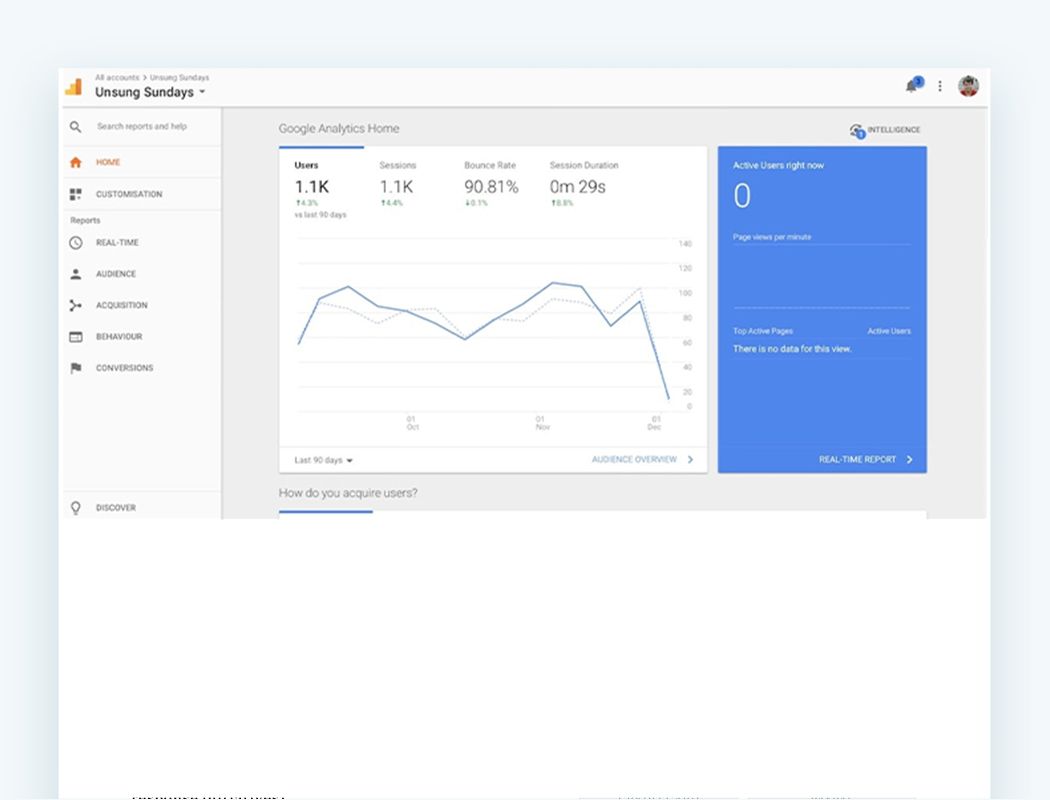 Learn More About Google Analytics!
---

5. Salesforce | Top Online Donation Tool
Overview of Salesforce
As the industry's leading CRM platform, Salesforce is one of the best donation tools available for improving constituent relationships. With robust data-tracking capabilities, this fundraising tool allows nonprofits to streamline their internal management, analyze donor engagement, and deepen supporter connections.
By connecting Salesforce to your online fundraising page, donor data will be funneled directly into the CRM for better data management. Here's a glimpse into the data it gathers for nonprofits:
Donor Acquisition. Analyze the impact of various fundraising efforts by running reports on new leads generated during a set time frame.
Fundraising Progress. Use the dashboard to gauge progress toward goals, giving you a real-time picture of your organization's revenue.
Survey Responses. Use surveys to gather extensive data sets directly from donors. Map the data such that it flows into the CRM. Then, run reports and generate dashboards for the information you collect.
Why Salesforce's Online Fundraising Tools Stand Out
Salesforce can help you determine a more strategic plan moving forward with your fundraising and donor engagement. In fact, its customers have seen an average 31% increase in donor retention rate and a 48% increase in constituent conversion. Plus, you can connect the CRM with Donately's fundraising tools to sync all donation data between systems.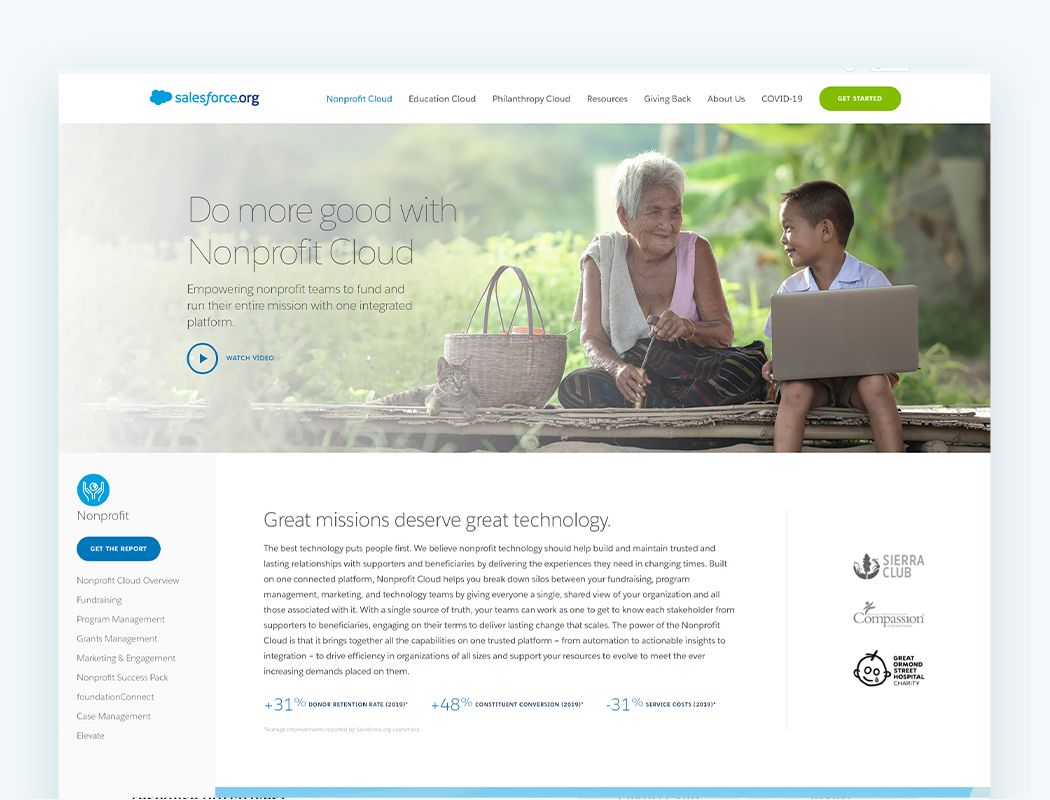 Learn More About Salesforce!
---

The Best Donation Tool for Corporate Matching Gifts
Corporate philanthropy is a major fundraising opportunity that nonprofits often don't take full advantage of. In fact, an astounding $4-$7 billion in matching gift funds goes unclaimed every year. So you can claim your portion of those funds, let's take a look at the industry's leading donation tool for matching gifts.
---

6. 360MatchPro | Top Online Donation Tool
Overview of 360MatchPro
360MatchPro is a top online donation tool offered by Double the Donation to help your organization raise awareness for matching gifts. With this platform, you can automatically identify matching gift opportunities with the following features:
Identification tools. Automatically identify existing match-eligible donors with the employer search tool and powerful email domain screening.
Automated custom follow-up. Trigger emails to match-eligible donors and those who might be eligible. Customize what the emails say, who receives them, and when they go out to drive matches to completion.
Reporting dashboard. Gain a quick snapshot of your matching gift metrics with a well-designed dashboard that covers everything from the total available match amount to the number of delivered emails.
Best of all, 360MatchPro fully integrates with Donately! You can quickly identify match-eligible donors directly from the donation process. 360MatchPro can be embedded directly into your donation form to capture employment information and follow up appropriately with donors. By implementing the tool across your fundraising, you can increase your matching gift revenue by 20%, 50%, or even 100%.
Why 360MatchPro's Online Donation Tools Stand Out
360MatchPro is the only automated matching gift tool on the market. Not only this, but this donation tool is fully secure, and you can rest assured that all data is safe. Donor and organizational information is fully protected with a firewall, two-factor login, employee login tracking, and data encryption. Plus, the experts at 360MatchPro run regular vulnerability scans, including quarterly PCI scans.
With information on more than 20,000+ companies and subsidiaries, your fundraising team can rest assured that it's backed by the most comprehensive matching gift resource available.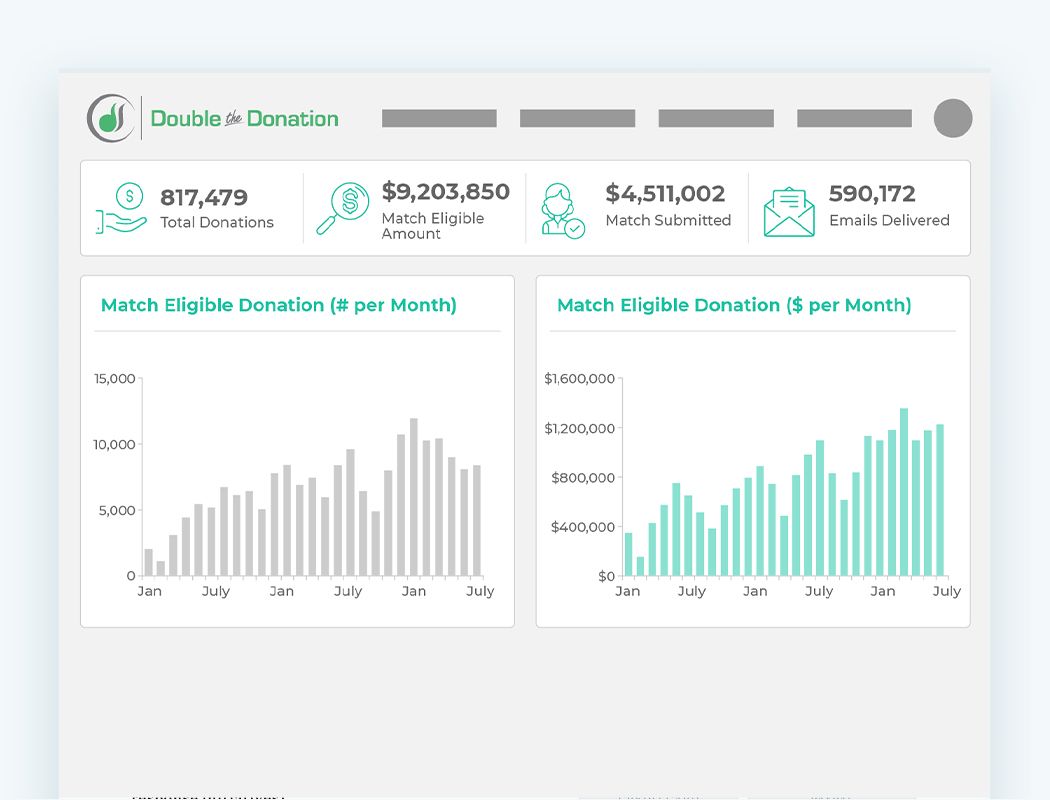 Learn More About 360MatchPro!
---

Top Online Fundraising Tools for Events
As our world becomes increasingly digital, nonprofits are having to shift their events to the virtual space to keep their supporters engaged. Luckily, several tools are available that make this transition as seamless as possible!
---
7. Accelevents | Top Online Donation Tool
Overview of Accelevents
Interested in transitioning your fundraising events to the digital space? Look no further than Accelevents! Their online donation tools offer everything you need to market, manage, and execute your virtual event at an affordable price.
Whether you're holding a hybrid event or going fully virtual, Accelevents can get you there. Here's a glimpse into Accelevents' event fundraising tools:
Integrated live streaming. Whether you're looking to host an event for 100 people or 100,000+, Accelevents has you covered with powerful live-streaming tools. Use their built-in production studio and broadcasting platform or bring your own video feed.
Real-time chat and network. Encourage relationship-building among attendees and exhibitors with real-time chat and discussion groups. You can even take advantage of A.I. based matching for one-on-one professional networking sessions.
Keynotes and breakout sessions. Host highly-engaging sessions with interactive Q&A capabilities, in-session polls, and downloadable handouts. Control who accesses these streams with ticket-based permission levels.
Why Accelevents' Online Fundraising Tools Stand Out
As a part of their philanthropy initiatives, many businesses sponsor nonprofit events, including those in the digital space. Accelevents offers a unique feature that enables organizations to continue selling sponsorships and hosting exhibitors through customizable digital booths. Sponsors and exhibitors will be able to interact with attendees in real-time over text chat, video, or email!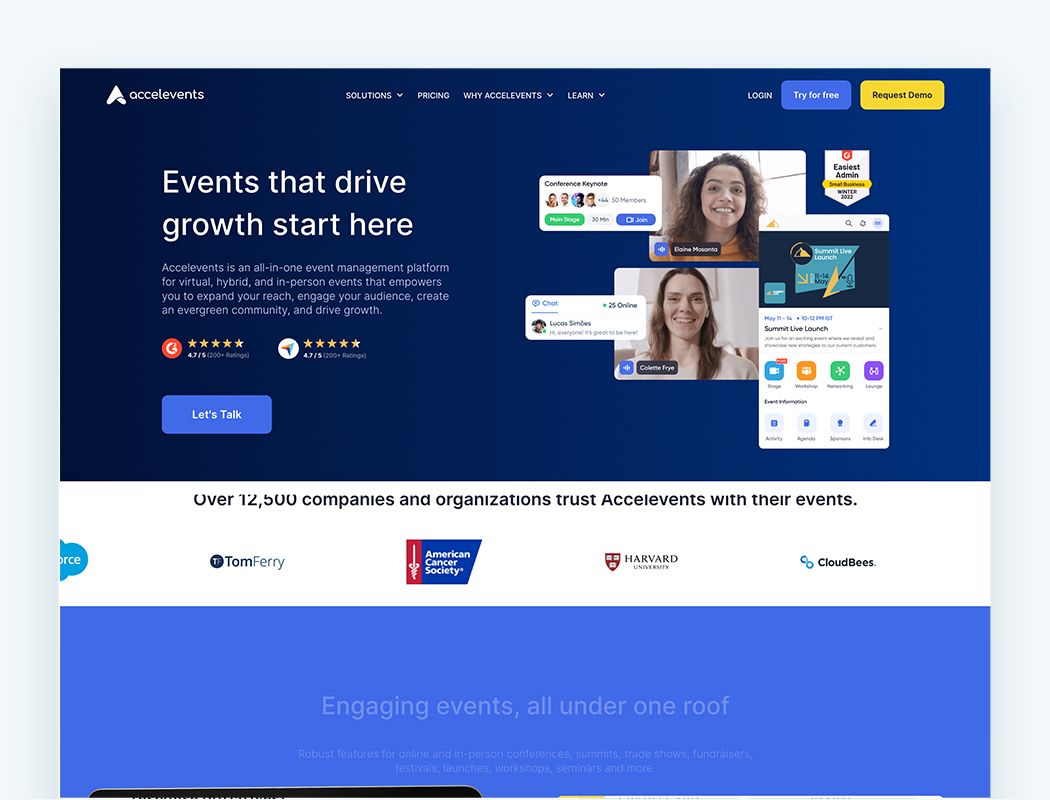 Learn More About Accelevents!
---

8. Handbid | Top Online Donation Tool
Overview of Handbid
Nonprofits have relied on charity auctions for quite some time, and for good reason: they work! Thanks to excellent nonprofit auction software, you can now take your auctions to the digital space.
From planning to item distribution, Handbid handles all the heavy lifting so you can focus on boosting registrations and procuring the best items possible. With their intuitive online fundraising tools, your team can seamlessly pull off an auction with features such as:
Mobile bidding. Handbid is the only nonprofit auction software that offers a native bidding app. Participants can browse and bid from wherever they are, whenever it's most convenient for them. With instant push notifications, there's no need for bidders to be glued to their computers!
Live streaming. Live stream during your event directly within the auction platform. That way, your bidders can stay fully engaged without ever leaving your auction website or mobile bidding app.
Reporting. Get a snapshot of your auction performance with analytics on top bidders and items that garnered the most bids. Then, use this data to refine your approach to future auctions.
Why Handbid's Online Donation Tools Stand Out
Handbid has a proven track record of success with nonprofits. On average, Handbid generates 120% more bids per item and a 60% increase in revenue per item when compared to traditional, paper-based auctions. Through 4,200 auctions, Handbid has processed well over 2 million bids, totaling more than $175 million!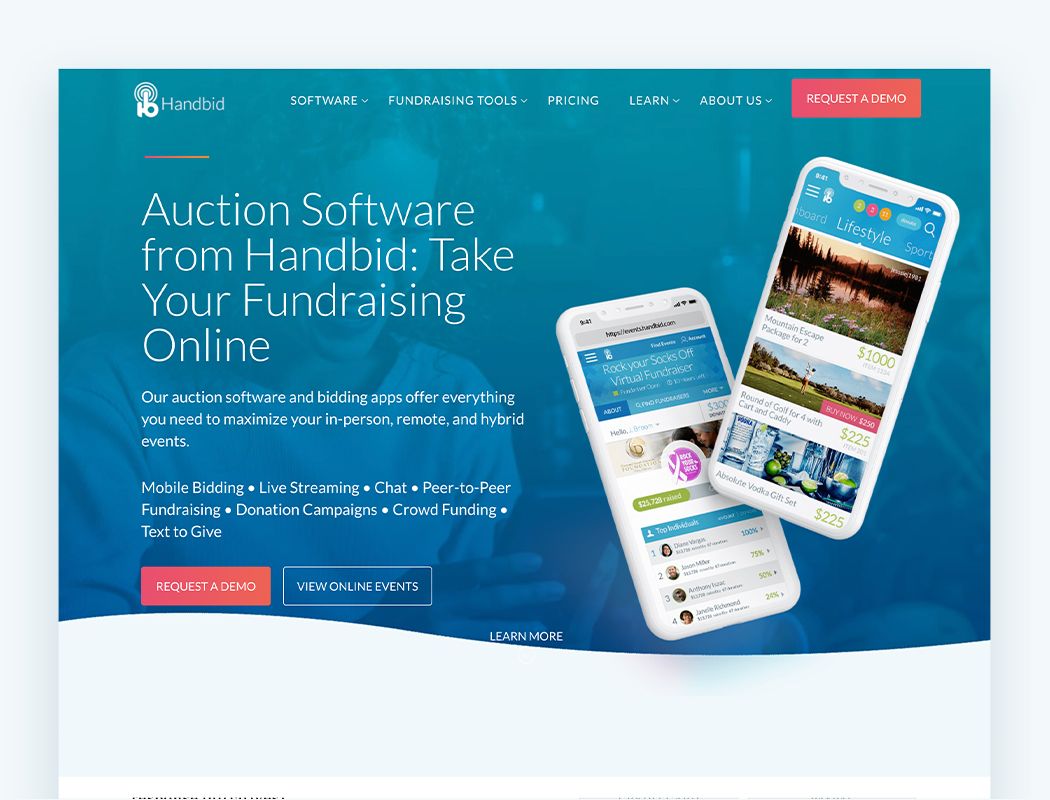 Learn More About Handbid!
---

9. Regpack | Top Online Donation Tool
Overview of Regpack
If the registration system for your event isn't intuitive, prospects will likely abandon the process, making you miss out on support altogether. Regpack solves this with its complete online event registration system dedicated to virtual events. From payment processing to personalized event registration, these fundraising tools will help drive registrations to completion.
By investing in Regpack, your team will gain access to these helpful tools for boosting registrations and increasing contributions:
Simplified payments. Set pricing for your various virtual event sessions and apply automatic discounts for an effortless registration process.
Mobile-optimized registration. Allow your attendees to register from wherever they are, whenever they want. Plus, you can brand and embed your form directly on your website.
Communication tools. Easy share the link to your Zoom, livestream, or pre-recorded video with registrants. Regpack's filter tool enables you to target the right attendees based on their registration status.
Why Regpack's Online Fundraising Tools Stand Out
Regpack is one of the most trustworthy choices for virtual event registration. According to their virtual events page, they've found that their online donation tools lead to 25% fewer cancellations, 31% more completed registrations, and an incredible 30% increase in cash flow. With a 98% attendee satisfaction rate, Regpack's fundraising tools may be a smart solution for your team!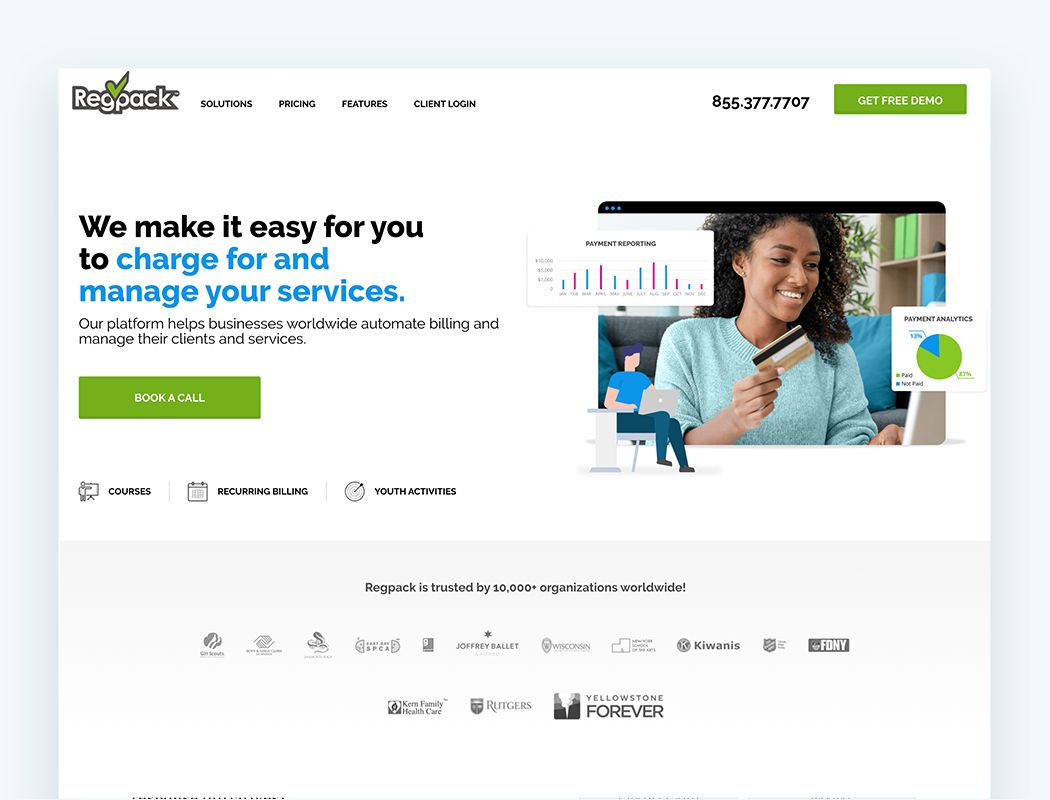 Learn More About Regpack!
---

Top Online Donation Tools for Payment Processing
Payment processing is a critical component of any organization's fundraising strategy. If you have an inefficient or unsecure processor, you'll undoubtedly miss out on many donations. Let's take a look at three great options to consider.
---

10. Stripe | Top Online Donation Tool
Overview of Stripe
Stripe specializes in payment processing, and while it mainly does payment processing for business and for-profit entities, it also perfectly meets the needs of nonprofits. As a bonus, Stripe's online donation tools integrate seamlessly with Donately, which means you can quickly and securely accept donations with data funneled into a user-friendly dashboard.
Of Stripe's many offerings, these are the features that stand out:
Mobile payment processing. This is helpful for nonprofits that need to accept payments at events or on the go.
Increased donation revenue. Take advantage of payment options designed to reach a large audience and increase checkout conversions.
Secure payments. All card numbers are encrypted, and your donors' information will remain secure.
Reporting and insights. View all donations across different payment types right in your dashboard.
Bonus: Check out our donation processing guide to learn all about the payment processing guide. Whether you're looking to review the basics or figure out which features to prioritize, we're confident you'll learn something new!
Why Stripe's Online Fundraising Tools Stand Out
Stripe's forms are designed to be part of your nonprofit's website. Donors won't get redirected to a third-party site to complete their donation, an issue that can deter them from giving if they perceive the site as untrustworthy.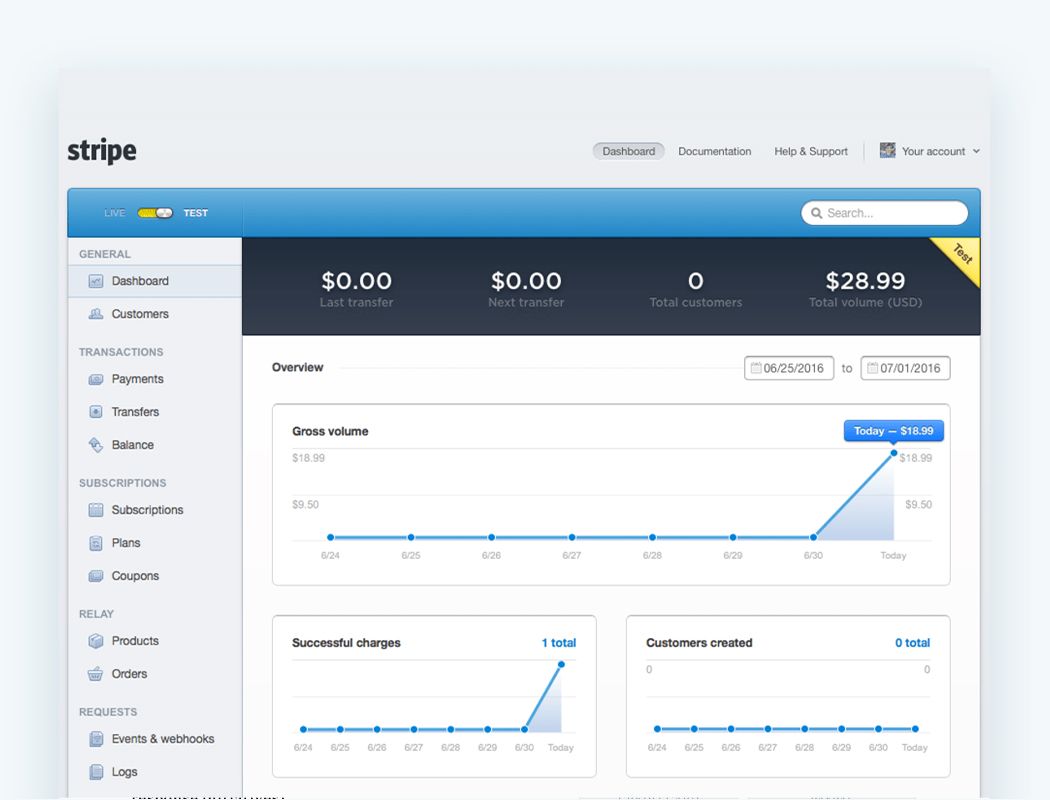 Learn More About Stripe!
---

11. PayPal | Top Online Donation Tool
Overview of PayPal
PayPal specializes in payment processing for individuals, businesses, and nonprofits alike. They even offer discounted transaction rates for 501(c)(3) charities for most products. Further, they integrate with Donately for a seamless payment experience!
By using PayPal as an online donation tool, you can do the following:
Use one simple "Donate" button to accept credit and debit cards, as well as Paypal.
Add a faster checkout for those who want to donate with their PayPal account.
Send donors your nonprofit's personalized PayPal.Me link to allow your donors to give to your cause.
Have automatic fraud screening to protect you and your donors. PayPal is PCI compliant, which is the industry security standard.
Access your funds quickly and within minutes of the transaction.
You can also track every dollar and donor with monthly statements, downloadable logs, and instant transaction searches. If you need to, you can offer controlled access to employees or volunteers for when they reach out to donors.
Why PayPal's Online Fundraising Tools Stand Out
Beyond the online fundraising space, PayPal also allows you to accept donations in person. With PayPal Here, you can accept credit cards, debit cards, and PayPal on your smartphone or tablet. This is perfect for selling tickets, taking auction payments, and collecting donations in person.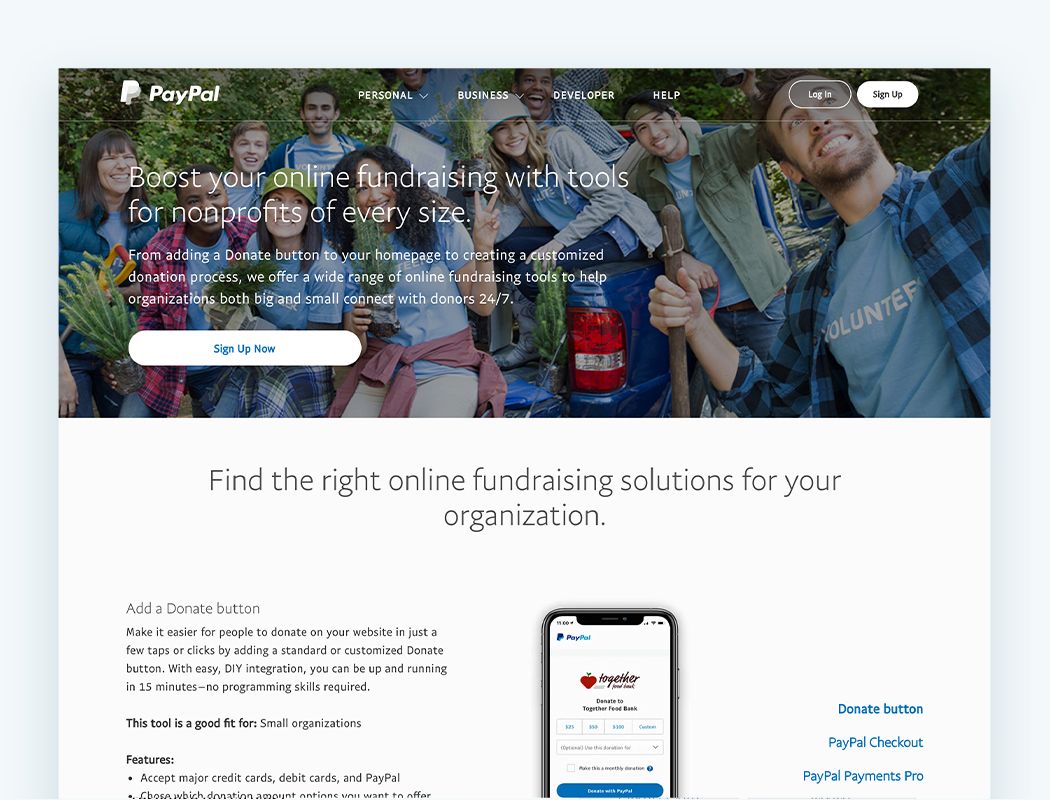 Learn More About PayPal!
---

12. iATS Payments | Top Online Donation Tool
Overview of iATS Payments
As one alternative to PayPal, iATS Payments is an integrated payment processor designed and built exclusively to meet the needs of nonprofits. With this donation tool, you can handle international, USD, CDN, and ACH processing all in one platform. That way, you can save the time and frustration of using multiple providers.
Trusted by more than 14,000 nonprofits, iATS empowers organizations to raise more online without worrying about security by offering:
A full suite of payment options so donors can use their preferred donation method.
Level 1 PCI Compliance and custom fraud protections to protect data.
Knowledgeable support to help you work through any challenges you encounter.
Why iATS Payments' Online Fundraising Tools Stand Out
Backed by 20 years of experience, iATS Payments has an unmatched understanding of nonprofits' needs. They've processed billions in donations and offer unparalleled service with a client retention rate that's 3.5 times the industry standard—thanks to their extensive security precautions.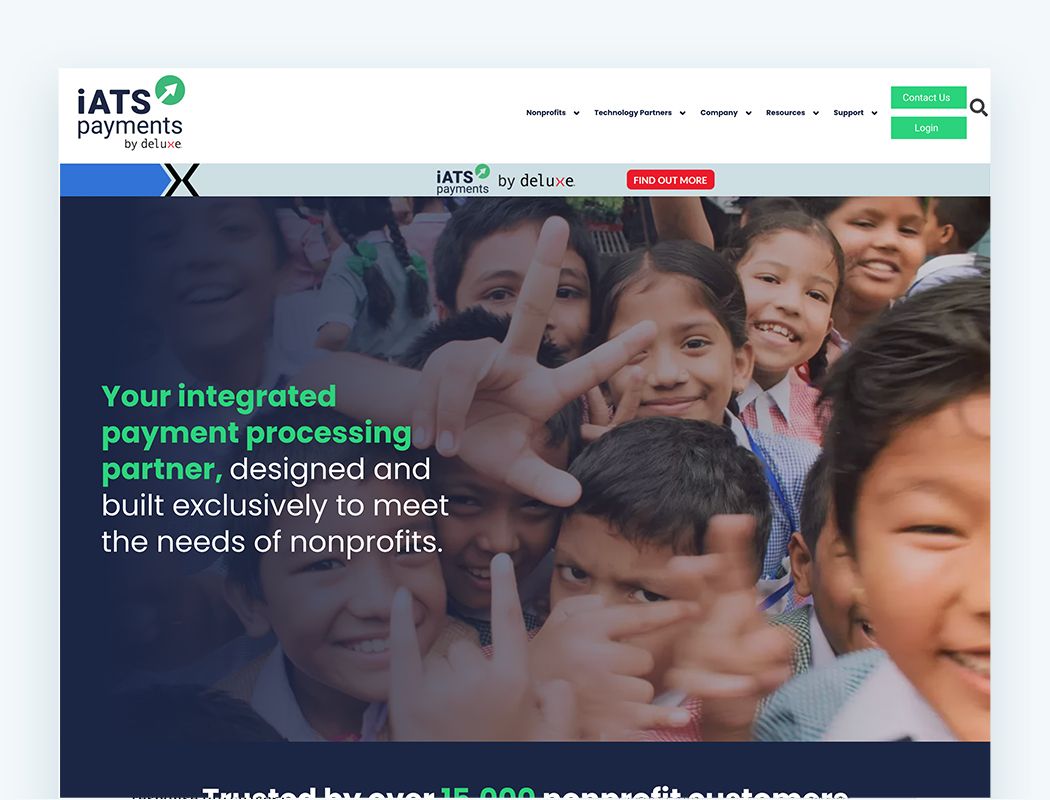 Learn More About iATS Payments!
---

Best Online Fundraising Tools for Nonprofits
Beyond the donation tools listed in the categories above, there's a wide range of options designed specifically for nonprofit use. Let's dive into some of these options that can help take your online fundraising to the next level.
---

13. NeonCRM | Top Online Donation Tool
Overview of NeonCRM
NeonCRM is a leading nonprofit software solution that helps thousands of nonprofits raise more revenue, save time, and accomplish more. Their specialty is in donor management and donation processing. As an added bonus, NeonCRM integrates with Donately. Thus, you can easily keep track of your donor data.
Of the many features their CRM offers, these stand out:
Accounts and relationship tracking
Volunteer management
Email marketing and segmentation
Reports and analytics
Automated receipting
Letters and material tracking
NeonCRM also offers membership and association management, fundraising and donor management, and event registration and management. This way, you have all your bases covered!
Why NeonCRM's Online Donation Tools Stand Out
NeonCRM offers an all-in-one solution to hold all of your data and provides valuable insights so you can raise even more. The time you save using NeonCRM allows you to focus on what's most important: fulfilling your mission.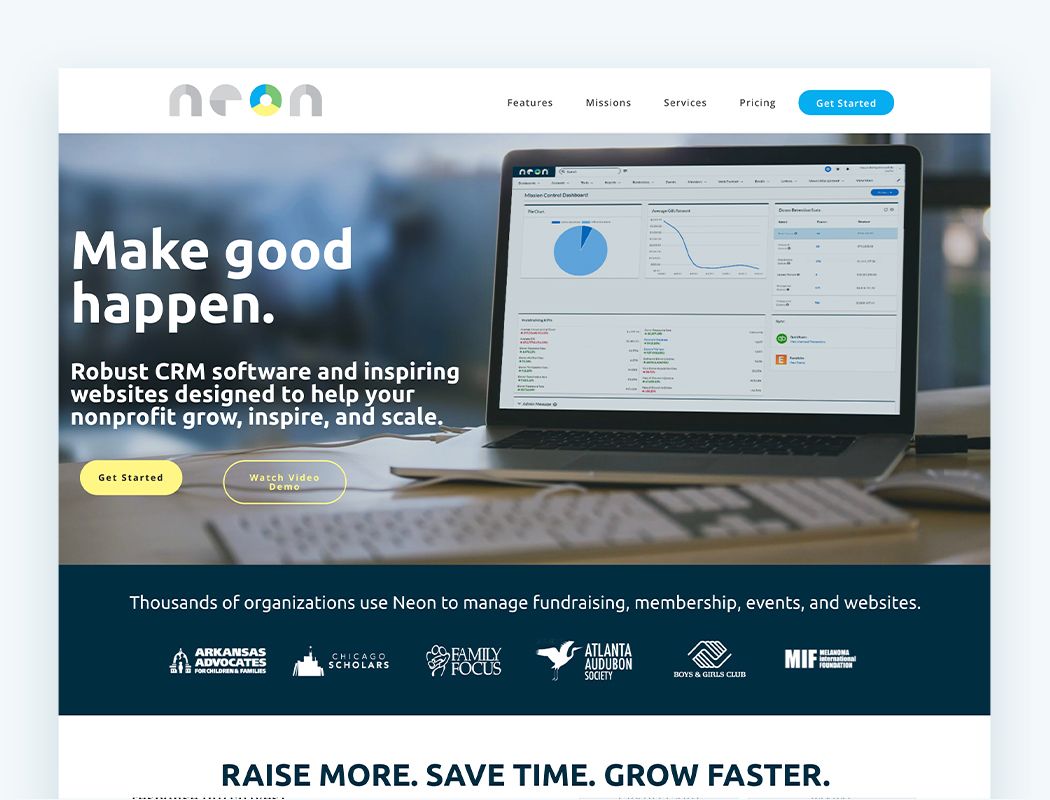 Learn More About NeonCRM!
---

14. Mailchimp | Top Online Donation Tool
Overview of Mailchimp
Mailchimp specializes in email marketing and can bring your nonprofit's outreach to the next level. As an integration partner with Donately, Mailchimp will help you cover all of your online marketing bases. Best of all, they offer a 15% discount to all verified charities!
With Mailchimp's email platform on your side, your fundraising team will be able to:
Segment and personalize outreach. Load all of your existing contacts into the platform. Then, use merge tags to populate custom information. Segmentation capabilities will allow you to fully customize your messages.
Keep branding consistent. Brand your emails to your organization, using your nonprofit's color scheme and logos.
View easy analytics. Track open rates and clicks for every email you send. Measure your benchmarks against industry standards to track your performance.
Use the mobile app. With the mobile app, you can track your campaigns, manage your audience, and get key insights about your marketing strategies.
Why Mailchimp's Online Fundraising Tools Stand Out
In addition to the features above, you can integrate your mailing list signup with your Facebook page, as well as collect mailing list signups on your site via integration or popup forms. This way, you can make sure you're connecting with all of your online constituents.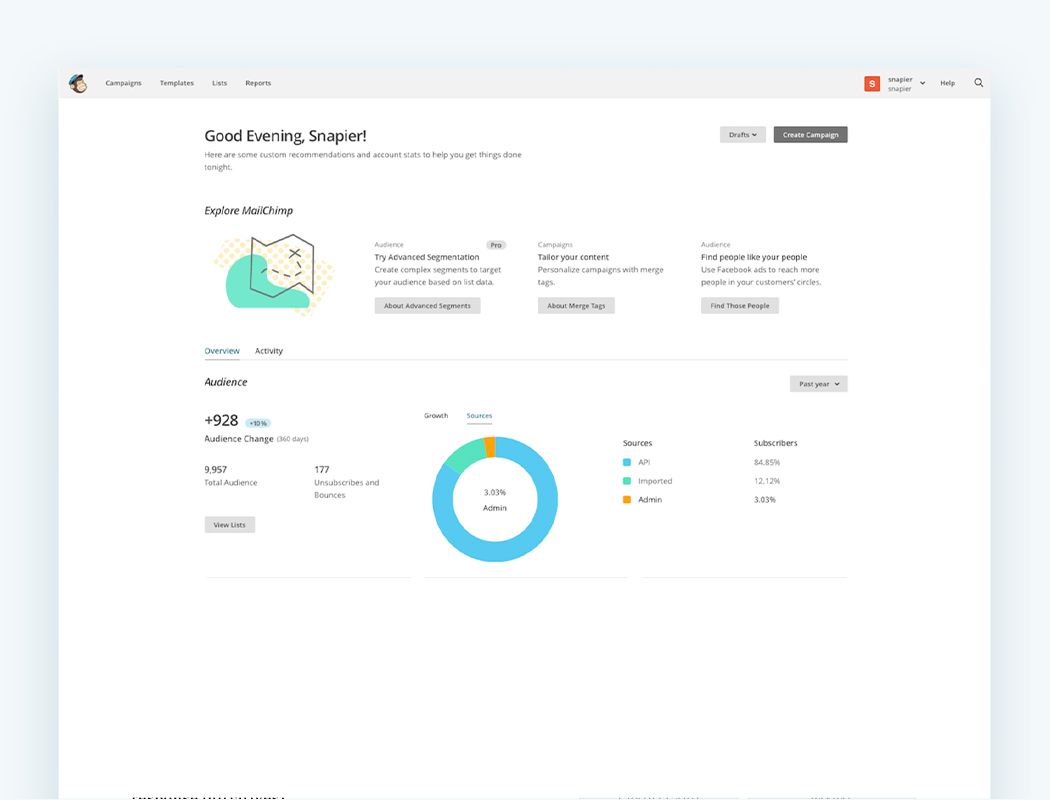 Learn More About Mailchimp!
---

15. Bonfire | Top Online Donation Tool
Overview of Bonfire
Bonfire is a t-shirt fundraising platform that allows nonprofits and individuals alike to sell t-shirts without worrying about inventory. Combine that convenience with their high-quality materials, and Bonfire is an excellent choice for any t-shirt fundraiser!
With Bonfire's online fundraising tools, your fundraising team can:
Upload your own designs or create a custom shirt in their online builder.
Create customizable campaign pages, backed with a compelling title, summary, and videos.
Order in bulk or sell straight through Bonfire's online platform.
Collect 100% of the profits you raise—no hidden fees!
Why Bonfire's Online Donation Tools Stand Out
Bonfire offers a variety of design templates that can help you create the most attractive designs for your t-shirts, from adoption and animal rescue to medical causes. Plus, all verified nonprofits receive a discounted payment processing fee and a verified nonprofit badge for their fundraising page.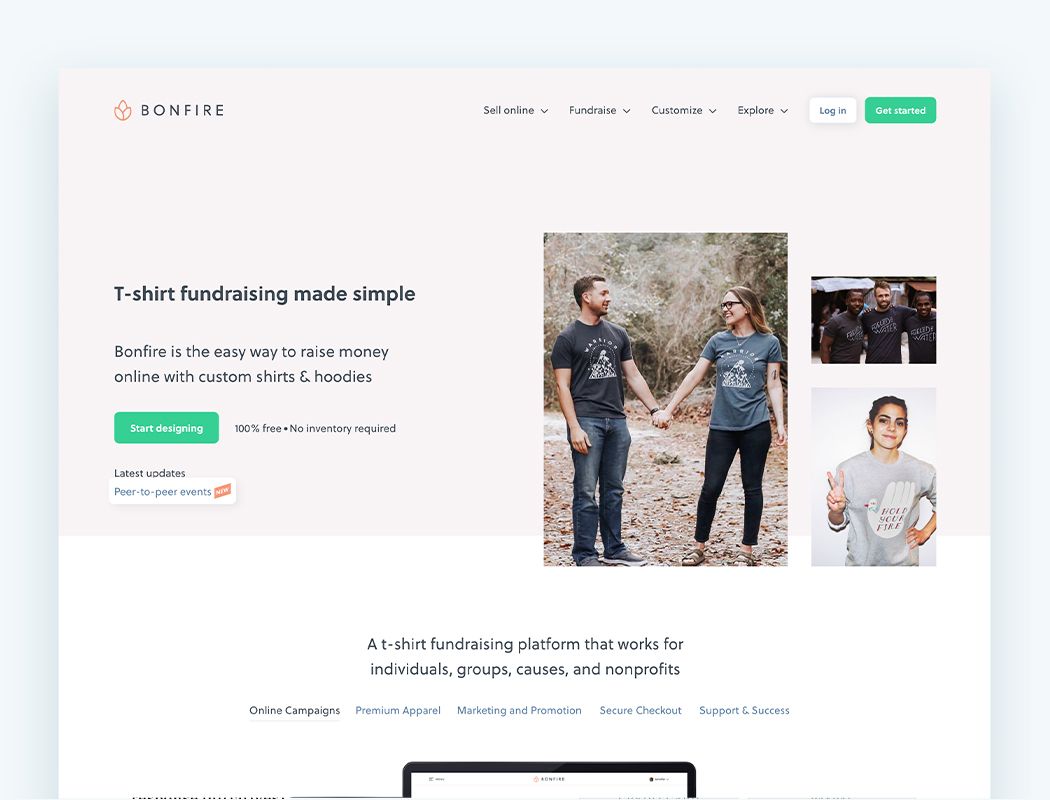 Learn More About Bonfire!
---

16. 99Pledges | Top Online Donation Tool
Overview of 99Pledges
Make fundraising a team effort with 99Pledges' online donation tools. Developed for schools, this fundraiser website was designed with simplicity in mind. Get up and running in minutes. Their team will even handle the setup for you. Best of all, it's free to get started with no startup costs and a 0% platform free! All you pay is donation processing fees.
Here's how 99Pledges' donation tools simplify the online fundraising process for everyone involved:
Organizers. With a no-risk setup, campaign organizers can quickly add participants and monitor results.
Kids. Students get their own dedicated fundraising page, and real-time campaign stats will fuel friendly competition amongst their peers.
Parents. Social sharing tools make it easy to share their kids' fundraiser pages with friends and family.
Donors. Securely contribute from anywhere using either the web or mobile interface. Best of all, they won't have to pay transaction fees!
Why 99Pledges' Online Fundraising Tools Stand Out
Thanks to 99Pledges' peer-to-peer approach to online fundraising, users raise 2 to 3 times more than before using this online donation tool. Plus, there's minimal work necessary for everyone involved. Compared to traditional pledge fundraisers, there's less setup time, management, and paperwork involved.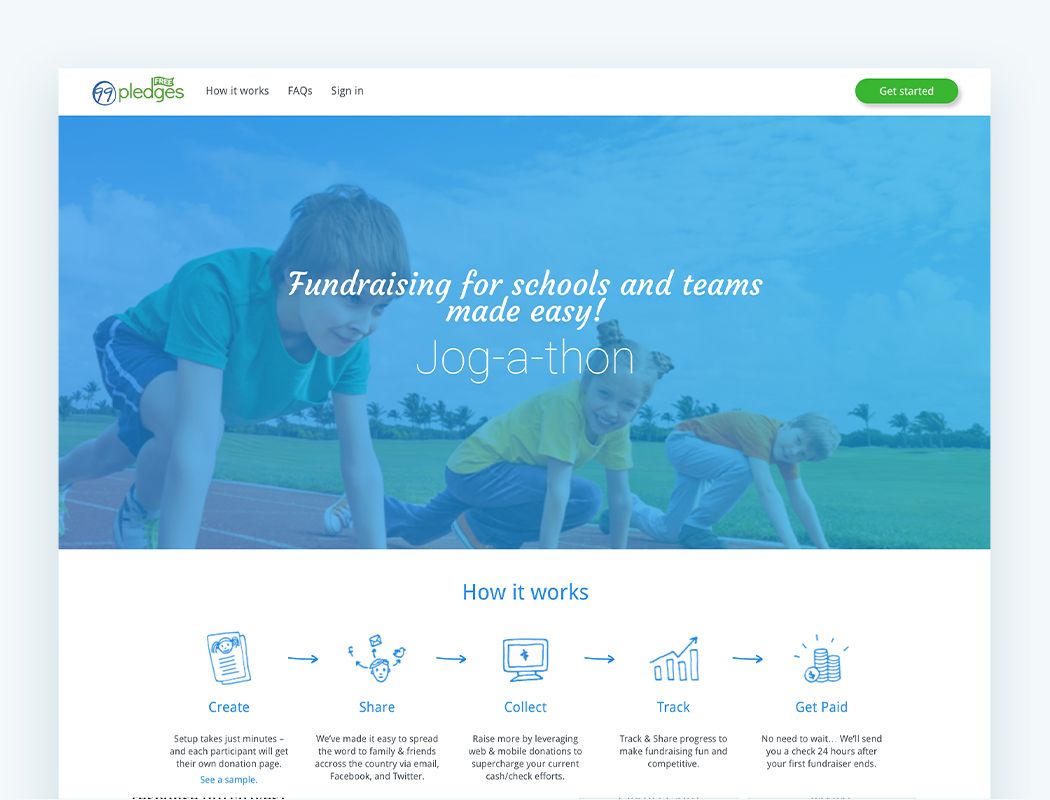 Learn More About 99Pledges!
---

17. Facebook Fundraisers | Top Online Donation Tool
Overview of Facebook Fundraisers
With over 2.9 billion active users, Facebook is a great place to expand your online reach. Harness the power of social networking with their dedicated donation tool: Facebook Fundraisers.
Facebook Fundraisers allow both nonprofits and individual fundraisers to connect with users worldwide. Best of all, eligible nonprofits don't have to worry about paying fees, whereas individual fundraisers only have to pay low processing fees. Gain access to these great donation tools:
Set up a dedicated page where you tell others about your mission, set a fundraising goal, and motivate giving with a deadline.
Ask for donations with donate buttons. Add the button to your posts or add it as a CTA on your Facebook page header.
Add a donate button to your live videos. Once your stream wraps up, you can choose to publish the recording and continue collecting donations.
Why Facebook Fundraisers' Online Fundraising Tools Stand Out
Not only do you gain access to fundraising tools on Facebook, but you can connect with Instagram's 2.3 billion active users through this platform, too! Add a donate button directly to your Instagram business profile. Then, empower supporters to create 24-hour fundraisers and add donation stickers to their Instagram stories.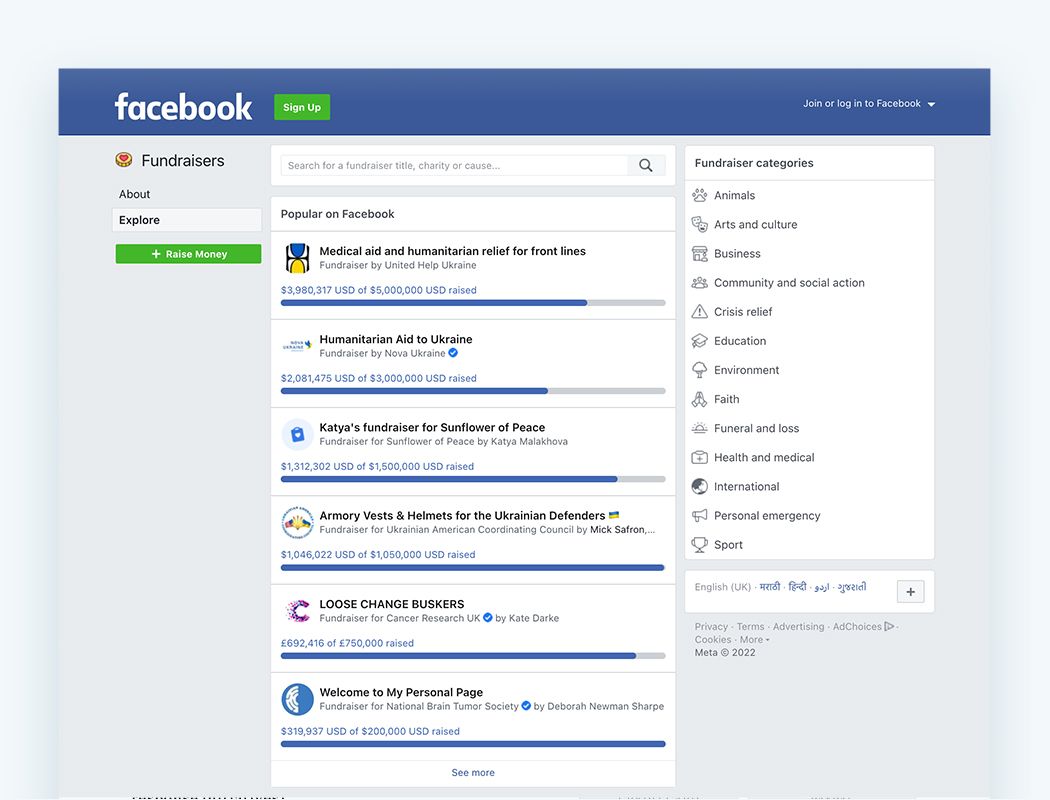 Learn More About Facebook Fundraisers!
---

Collecting Donations Online: 4 Donation Tool Best Practices
As you can see, there are numerous online donation tools that can help enhance your fundraising strategy. However, if you don't pair your tools of choice with a thoughtful strategy and approach, you're putting that investment to waste.
Instead, make the most of your online donation tools with the following four online fundraising best practices. Coupled with powerful software, these best practices will help your nonprofit surpass its fundraising goals.
---

1. Design an Accessible Donation Page
You don't want donating to be a chore! Since most donors will make their gifts to your nonprofit online, you want your donation page to be as easy to use as possible. Accessible donation forms make it easy for all donors to give—on any device, wherever they are.
Your donation page should include:
Mobile-responsive features. Easily accessible for mobile phones, tablets, and desktop computers.
Easy-to-read colors and fonts. Don't make your users have to squint to read your site. Choose colors with a high contrast ratio and legible text. While this benefits everyone, it's particularly helpful for those with poor vision or color deficiencies.
Alt text and transcripts. While multimedia content can make your donation page more engaging, not everyone is always able to access these elements. Thus, provide alt text for images and transcripts for audio and video.
Accessibility widget. No matter how well-constructed your site's design may be, it won't work for everyone. You can give donors more control by including an accessibility widget that allows users to change text size and font, change color to grayscale, and highlight links.
Suggested donation buttons. Suggest specific giving amounts with clearly labeled, clickable buttons.
Moreover, accessible pages can impact your page's visibility in online search results. Google's algorithm, for example, assigns value to pages that follow accessible design practices. As a result, your existing supporters will be able to quickly find your donation page, and more potential supporters will come across it in their daily organic searches.
---

2. Share Your Online Donation Page
If your donors don't know that you need donations, they probably won't donate. That's why sharing calls for donations with a link to your online donation page—across various platforms and channels—is so important.
When you diversify how, when, and where you interact with donors and potential donors, you offer more opportunities for them to contribute to your cause. Consider leveraging the following channels to share your donation page and engage donors:
Hosting live virtual events
Posting on social media platforms (e.g., Facebook, Twitter, LinkedIn, Instagram)
Placing ads on Google search results pages
Sending targeted email campaigns
Additionally, when running crowdfunding and peer-to-peer fundraising campaigns, these sharing features are crucial to spreading the word and meeting fundraising goals. In this sense, even if a supporter isn't in a financial position to donate, they can play a critical role in supporting your cause simply by clicking that share button.
When weighing your donation tool options, choose one that allows for easy sharing across major social media platforms. However, don't go overboard. Sharing only your donation page and nothing else is a surefire way to annoy your social media followers. Use your social media platforms to share a mix of relevant news, opportunities, and fun, timely updates.
---

3. Track Your Donor Data in Your Fundraising Software
Your online donation tool likely can do more than collect donations. The best fundraising platforms can track and collect relevant donor data to improve your decision-making and future donor outreach.
Plan to collect the following information about your donors:
Demographics. Who are your donors? What is each donor's age, gender, location, income, employment, and education?
Contact information. How will you get in touch with donors? What is each donor's email address, social media profile, home address, and phone number?
Giving habits. How, why, and when are donors making their donations? What's their method, frequency, and amount of giving?
Interactions. How have they interacted with your organization in the past? What are their event attendance, email open rates, donor page visits, social media engagement, and volunteer activity?
If you're using an effective donation software, you may already be collecting a number of these donor data points. Putting that data to use is another matter.
First, make sure your data is error-free, removing or updating duplicate, out-of-date, and inaccurate information. Then, place donors into segments based on common characteristics and donor behavior. Finally, leverage these segments to send specific opportunities to the most interested supporters, reach new audiences, and quickly personalize your thank-you notes.
---

4. Thank Your Online Donors
Thanking donors can make the difference between a one-time engagement and a lifelong recurring donor relationship. As we mentioned above, you can use your online donation tool and the donor data you collect during each donation to automatically send a personalized thank-you message to donors immediately after their gift is completed.
For best results, this message should include the donor's
Name and title. Donors are wary of generic emails. Instead, as an easy personal touch, every message you send to donors should refer to them by their preferred name, pronouns, and titles.
Gift amount. For donors' tax records, include in this message how much they donated alongside your nonprofit's tax identification number.
Donation's impact. Donors want to know their donation impacts their community and benefits your mission. To share the impact of their gift, use a combination of hard-hitting facts and figures alongside anecdotal examples of the work your nonprofit does.
From designing your donation page to sending thank-yous, it's generally a good idea to incorporate tools that can quickly integrate into your existing system, such as payment processing, virtual event hosting, donor management, and matching gift software.
As the fundraising landscape continues to shift toward the digital space, don't get left behind. Try out a few donation tools alongside these best practices and see how your fundraising can take off!
---

Additional Resources
If you're looking for more information about online donations or fundraising in general, check out the additional resources below: