As your organization is starting to explore the concept of peer-to-peer fundraising, it's a good idea to take a step back and first think about what it actually is, as well as how it works. This type of fundraising leverages existing personal networks to spread the word about your cause.
The reason this strategy works well for many types of organizations is that nonprofit communities are always made up of people. Your most dedicated supporters will always be happy to put themselves out there and help raise funds. If you're looking to raise funds for an important campaign, peer-to-peer fundraising could be your answer.

Of course, if your organization wants to make your next peer-to-peer fundraising campaign count, you'll need to know a thing or two about making the most of this social fundraising method. You should familiarize yourself with these concepts in order to execute a successful campaign. However, in order to understand those practices, it's a good idea to first break down the basics. In this article, we will discuss:
1. What is peer-to-peer fundraising?
2. Our favorite peer-to-peer fundraising ideas.
3. Best practices for peer-to-peer fundraising volunteers.
Are you ready to start raising more money while spreading the word about your cause? Check out these important elements and begin preparing yourself for your campaign!

1. What is peer-to-peer fundraising?
Peer-to-peer fundraising is an online fundraising method where your organization enables supporters to fundraise on your behalf. It's a great tactic that nonprofits should utilize for several reasons, which will be discussed later. First, here's a rundown of how it works:
Your organization sets a fundraising goal. Decide on the goal amount you want to work toward. Make sure it's grounded in your past successes. Set a goal that is marginally higher than your last goal you met. If it's too high, however, you run the risk of not meeting it.

Your organization decides on what platform you want to use. This will depend on your needs and your budget. Choose a robust platform with the right features so you can set your cause up for success in peer-to-peer fundraising.

Once you've selected your platform, you design your peer-to-peer fundraising campaign page. This is a template for your volunteer fundraisers to use, which will help maintain brand unity across the personal fundraising pages. Include information such as your mission statement or story, as well as what your campaign is funding.

You promote the fundraiser on social media. Recruit volunteers to create fundraising pages on your behalf, while also directing people to your main campaign page. Tip: Look for volunteer fundraisers by reaching out to individuals with a proven history of donating to your cause.

Your supporters can then create personal giving pages for your campaign. These sites are hosted through your online fundraising platform, which you will use to process donations.

Supporters then promote their own campaign pages independently. You'll want to provide educational materials and guidance (which will be addressed later) to help set your volunteer fundraisers up for success.
Why does peer-to-peer fundraising work so well? Peer-to-peer fundraising is a successful method to pursue over traditional campaign pages for a few reasons.
First, people are more likely to give to a charitable cause when it's run by someone they know. For instance, parents are more likely to give if the campaign has their child's face on it, and coworkers are more likely to give to a cause that's supported by an individual they work with. Having a personal connection to an organization or a cause makes people more likely to donate.
Secondly, running a more fragmented fundraiser that isn't kept together in one database will typically yield fewer contributions. For example, if your organization were to ask donors to contribute simply by using PayPal, you would be less likely to receive more donations overall. With this method, you wouldn't be taking advantage of the sense of community and personal connections that drive donations.
In order to successfully run a peer-to-peer fundraising campaign, you should leverage robust peer-to-peer fundraising software. This is important because:
Using robust software allows you to efficiently track donation data and keep it organized in one database, which you can even use to challenge your fundraisers to further engage donors. It's a very effective fundraising tool in this way.

After the the campaign concludes, you can measure how well it performed and track donor involvement and engagement. You can also track acquisition and retention numbers.

Using software can help you customize your peer-to-peer fundraising campaign page so that your site is branded with your organization's logo and color schemes, which provides for a consistent donor experience.

You can easily set up your page, allowing you to post updates, videos, and photos. The pages can also offer sharing buttons for social media. Having easy access to social media sharing will help spread the word more quickly.
Leveraging peer-to-peer fundraising tools is crucial in order to successfully run an effective campaign. If your data is not organized, you won't be able to track your donations as easily, which will make it more challenging to engage your fundraising participants in their independent campaigns.


2. Our favorite peer-to-peer fundraising ideas.
There are several ideas you can use to help get your peer-to-peer fundraiser off the ground. From incentivizing your volunteer fundraisers, to determining what kind of campaign will work best with a peer-to-peer fundraising campaign, take advantage of our favorite peer-to-peer fundraising ideas and see what works best for you:
Tell a story.
The most effective way to help gain a following for your peer-to-peer fundraiser is to tell your organization's story well. Make sure your supporters know about the positive impact your organization has made by including heartwarming anecdotes or stories across your marketing channels.
For instance, if you're trying to raise money for an animal advocacy charity, you can center stories of individual animals or families in your marketing materials. Write the story of your cause and include it across your peer-to-peer fundraising pages, along with images that demonstrate the impact your cause is making.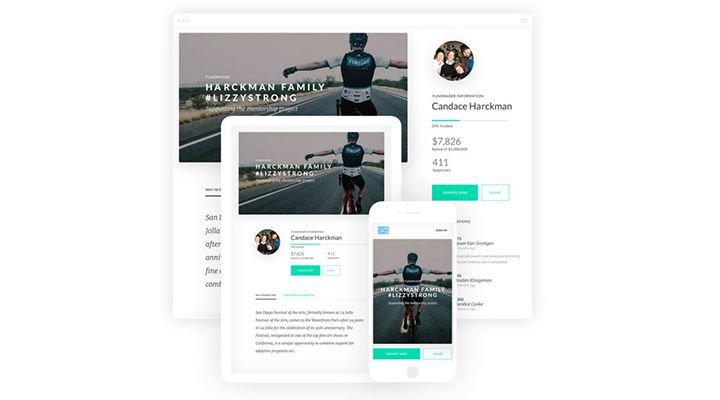 Promote annual fundraising.
Your annual fundraising campaign needs to collect unrestricted funds for your organization, which will then be allocated to whatever areas of operations need those funds. This campaign can work well with peer-to-peer fundraising because when you put a familiar face on a long-term campaign like this, it makes it easier to inspire people contribute.
Without this type of fundraiser, the end result would typically be less obvious or direct for donors. Think of it as reassurance that their money is going somewhere it can make an impact.
Hold fundraising events.
Build on the anticipation and hype leading up to a big event, such as bikeathons, races, walkathons, sporting events, and 5K runs/walks. You can even pair the peer-to-peer fundraiser with an awareness event, as well.
Encourage people to support their friends and family who are taking part in these events. If you can encourage that kind of involvement, it means they will not only be supporting the individual in the event, but the nonprofit, too. Even more, events like these can incentivize individuals to give before the fixed end date, which helps maintain fundraising momentum.
Use gamification tools.
Taking advantage of gamification techniques, such as a fundraising thermometer, is a great way to ignite people's competitive nature and get them to engage more in their community, as well as your nonprofit's cause.
Thermometers show each individual's impact on the fundraiser overall, and the closer the thermometer gets to the top, the more likely people are to contribute to see how they can impact it.
Promote matching gifts.
Many donors are unaware that their donation to your peer-to-peer fundraising campaign may be eligible for a match by their employer. For that reason, it's important to promote matching gifts and show supporters how easy it is to submit a match request.
By encouraging the use of a corporate matching gift search tool, your donors can search for their company and determine their eligibility for a match. The search tool will then lead them to the appropriate guidelines and next steps for submitting the request to their company. Securing matching gifts from your donors will boost your peer-to-peer fundraiser's end results and help you reach your goal!
Host giving days.
Mark your calendar for giving days, such as #GivingTuesday, which are 24-hour campaigns that challenge donors to raise as much money as they can. A sense of urgency can go a long way.
When you bring to your supporters' attention that they only have a certain amount of time to donate, this can help spring them into action and result in raising a lot more money for your campaign.
Recognize your peer-to-peer participants.
Give shoutouts to your peer-to-peer fundraising participants and encourage them to keep on going. Recognizing each participant's progress can go a long way. You can even try to encourage some competition between the pages, and see who can fill their fundraising thermometer first.
Be sure to also thank your participants at the end of the campaign with an email or phone call, or even demonstrate your thanks to everyone at the event at the end of the campaign.
There are several ways to give people an incentive to get involved in your campaign. Whether you share a heartwarming story, build up hype for an important event, or even encourage some friendly competition, you are opening your campaign up to your community and giving them an incentive to get involved. Again, communities are made up of people, which makes for powerful fundraising momentum.


3. Best practices for peer-to-peer fundraising volunteers.
Once you have your fundraising volunteers, it's important to effectively spread the word about your campaign. One of the best ways to set your campaign up for success is to help those volunteers, as many might not have fundraising experience.
There are many methods you can use to do this, but the key is giving your participants the right tools to fundraise as effectively as possible. Advise your volunteers to try some of these best practices as they begin to raise money on behalf of your cause.
Use visuals.
Encourage your fundraisers to share photos and videos to heighten interest in their fundraising efforts. The more personalized their individual fundraising pages are, the more likely they are to receive contributions.
Visuals do more than just add an element of personalization to a peer-to-peer fundraising page. They inspire action by evoking a empathetic response from a donor, as well. If your fundraisers can show donors why the cause is important through photos and video, this will help forge a deeper connection and actually show them what it's all about.
Send emails.
Another way to set up for your fundraisers for success is by creating email templates that they can then send out to their friends and family. In the template, include information about why you're raising money, as well as graphics that help illustrate the cause, and the link to your fundraising site so donors can easily contribute.
Everyone has an email address these days, so this is one of the most efficient ways to make a personal fundraising page stand out.
Take to social media.
Of course, a really effective outlet to use is social media. In today's world, posts can go viral within hours, so be sure that your fundraisers utilize social media platforms like Facebook, Twitter, and Instagram.
Sharing their personal campaign pages will undoubtedly help your fundraisers garner attention. To go even further, you can also create templates for social media posts that your participants can use. Grab as much attention for your campaign as you can by encouraging your participants to share their pages, as well as your own posts.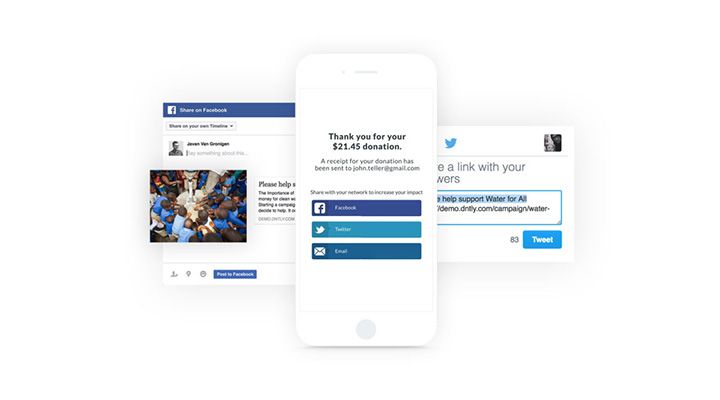 Word-of-mouth.
If your fundraisers and donors are excited about your campaign, word-of-mouth advertising will also prove effective. Your fundraisers are typically long-term supporters of your organization, but it's still important to be sure they're educated about your cause and have access to materials that can help spread the word.
This is why having meaningful videos and personal faces connected to your story is so important. If your fundraisers create something worth sharing, it will be shared.
Setting up your peer-to-peer fundraisers for success is crucial, and this can't be achieved without your support and without educating your participants. Your participants already support your cause, so building on that enthusiasm will yield more engagement, more sharing, and more contributions. Bring out the community and give them a reason to care.

As you can see, there are several pieces that fit into the concept of peer-to-peer fundraising. In addition to understanding how it all works, there are key items you want to communicate: your story, who your participants are, and of course, where the money is going. Becoming knowledgeable about these best practices will prove invaluable as you prepare to invest in peer-to-peer fundraising software and your campaign starts to grow. When you give a community of people a reason to feel empathy toward your cause, only good will come of that.
Now that you have a grasp of what it's all about, take your next step forward and make your organization's campaign shine!
If you're looking for additional resources about peer-to-peer fundraising page best practices, or other tips mentioned in this article, check out the posts below: