With the consistent rise of online donations and mobile payments, it's no surprise that organizations are looking for new ways to expand their payment options. After all, mobile donors accounted for one-third of donations and a quarter of all nonprofit revenue in 2019, and those numbers are projected to continue increasing for years to come.
Many of these groups turn to PayPal's payment processing platform to collect donations since it's already widely adopted. While PayPal is used by organizations across the globe, it's far from the only option out there.
Why would you want to consider going with a PayPal alternative? Well, there are some key drawbacks to this payment processing tool:
Many PayPal alternatives charge lower than PayPal's 3.6% + $0.30 per transaction (or even the discounted rate for nonprofits of 2.2% + $0.30 per transaction).
It can take a substantial amount of time to transfer money to your bank account— three to five business days is the standard for PayPal.
PayPal has been known to freeze accounts for up to six months without prior warning, preventing organizations from processing donations, paying vendors, and accessing their hard-earned fundraising dollars.

At Donately, we've been working in the nonprofit space since 2013, so we have a strong idea of which payment processing tools and features work best for a range of causes. Using our direct experience with online fundraising, we've pulled together 11 leading PayPal alternatives to help you optimize your strategies:
Selecting the right processing tools can mean the difference between securing a donation and missing out on vital fundraising dollars. Without further ado, let's kick things off with our top PayPal alternative: Donately!
---

Donately: The Best Alternative to PayPal for Nonprofits
What does Donately offer?
The online space opens the door to a world of possibilities for nonprofits. Here at Donately, we help organizations harness the power of digital fundraising with easy-to-use tools that optimize the online donor experience.
We created Donately in 2013 when we noticed an alarming gap in the online fundraising software market. Since then, we've built out our tools to accommodate nonprofits' unique needs. When you invest in our system, you'll receive access to tools like: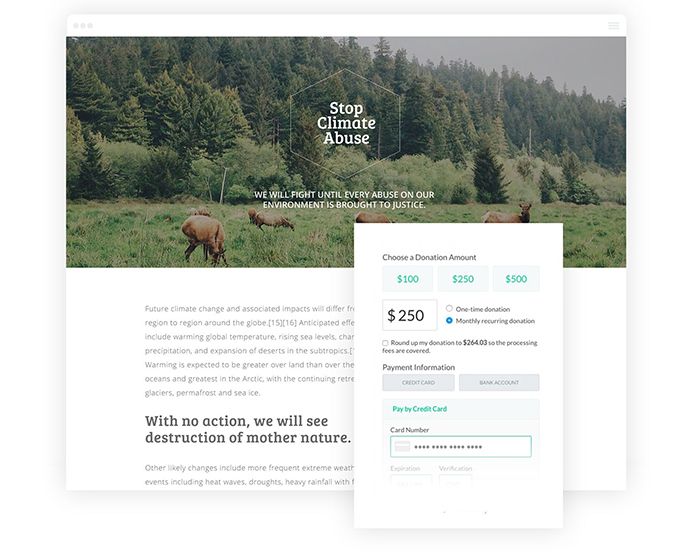 Why is Donately the best PayPal alternative?
Today, thousands of organizations and individuals trust Donately to manage their online fundraising. Each month, our robust tools process over $2 million in donations.
Designed with simplicity and usability in mind, our nonprofit-specific tools empower you to supercharge your online fundraising. From responsive donation forms to powerful reporting tools, Donately has all of your online fundraising efforts covered.
Plus, our platform boasts a number of integrations with popular tools. This way, you can streamline processes across the board, making Donately one of the best PayPal alternatives available!
How much does Donately cost?
Our startup plan is a fantastic choice for small organizations that are just getting started with digital fundraising. With this package, there's a small 4% platform fee and no monthly fees. For a bigger range of functionality, check out our Team and Enterprise plans, which are perfect for mid-sized to large organizations looking to expand their online presence.
Claim your free account to see Donately's platform in action!
Create a free Donately account!
---

PayPal Alternative #2: Stripe
What does Stripe offer?
Stripe's secure and efficient payment processing tools make online fundraising a breeze. While this platform mainly handles payment processing for business and other for-profit entities, it also perfectly meets the needs of nonprofits! Overall, this platform is a developer-friendly way to accept donations online with a world-class security suite and a user-friendly dashboard.
Of Stripe's many offerings, these are a few features that stand out:
Increased donation options. Accept recurring donations and take advantage of mobile giving.
Mobile payment processing. Stripe is a great option for nonprofits that want to accept payments at events or on-the-go.
Secure payments. This PayPal alternative protects donation data with SSL protection and PCI level-1 compliance.
Reporting. View all donations and gain powerful insights into your fundraising directly within your dashboard.
Why is Stripe a good PayPal alternative for nonprofits?
As our preferred payment processing partner, Stripe's donation processing platform offers state-of-the-art security, so your team can rest assured that your donors' sensitive data is protected. Plus, they offer fast payouts (2 days to be exact) so that you can quickly accept and use your online donations.
Best of all, Stripe integrates seamlessly with Donately, which means your donation data will funnel into a user-friendly dashboard, giving you a holistic view of your fundraising. Overall, Stripe is a fantastic PayPal alternative!
How much does Stripe cost?
Stripe's regular payment processing fee is 2.9% + $0.30 per transaction. However, they offer a discount for nonprofits. Reach out to the Stripe sales team to apply.
---

PayPal Alternative #3: iATS Payments
What does iATS Payments offer?
Trusted by over 14,000 organizations, iATS Payments is an all-in-one donation processing platform built specifically to meet the needs of nonprofits.
Through its 30 years of expertise, iATS Payments has an unparalleled understanding of nonprofits' needs and is consistently updating its software to exceed clients' expectations with features such as:
An intuitive mobile app. Securely accept payments on-the-go at fundraisers and events to maximize your revenue.
Custom fraud protection. This PayPal alternative focuses on being at the leading edge of fraud protection. To protect organizations and donors, the technology and risk team have prevented hundreds of millions of dollars worth of fraud attempts.
Various payment methods. Process international, ACH, USD credit card, and CDN payments all within a single platform. This way, you can save the time and frustration of using multiple providers.
Why is iATS Payments a great PayPal alternative?
Today, iATS Payments is the only payment processing solution built and designed exclusively for nonprofits. They process billions of dollars annually and boast a client retention rate of an astounding 3.5 times the industry standard!
iATS Payments proudly attributes their success to their cutting-edge technology and implementation of numerous security measures. They offer Level 1 PCI compliance as well as advanced fraud prevention and security tools at no extra cost.
How much does iATS Payments cost?
This PayPal alternative offers competitive credit card and ACH rates, no hidden fees, and one flat monthly rate. Contact their team to learn more!
---

PayPal Alternative #4: Venmo
What does Venmo offer?
With more than 60 million users, Venmo is a peer-to-peer mobile payment system that's widely adopted among younger generations of supporters. While its parent processor is PayPal, it largely focuses on mobile donors. It's a digital wallet that allows users to send money to their friends, and it's been adapted for both business and nonprofit use.
According to MediaPost, around 50% of Venmo users are millennials aged 25 to 34, and the nonprofit sector is taking notice of its ability to engage younger philanthropists. Here are a handful of features that allow you to connect with a new generation of donors:
Mobile app. Venmo makes donating easier than ever for your supporters with their mobile app. They can easily give using their debit cards, credit card, bank account, and more with a few taps.
One-time or recurring donations. You aren't limited to one-off gifts with this PayPal alternative. Use Venmo to collect recurring donations, membership fees, and other online payments quickly and easily.
Touch-free transactions. Venmo gives donors a simple, no-contact way to give. Share your organization's unique Venmo QR code, so supporters can just scan, donate, and go!
Why is Venmo a good PayPal alternative for nonprofits?
Venmo offers a unique social experience with a social media-style feed that displays transactions and comments (for those who have public sharing turned on). That means users can see when their friends donate to your mission. This enables organizations to leverage social proof, a unique phenomenon in which others look to those they trust to determine the right thing to do.
When users see their friends contributing to your cause, they'll be inclined to check out your organization!
How much does Venmo cost?
There's no fee to transfer money from your nonprofit's Venmo account to your bank account via the standard option, which takes 1-3 business days. However, if you're in a rush, there's a 1% charge ($0.25 minimum and $10 maximum) to transfer money via the Instant Transfer option, which is available within minutes.
---

PayPal Alternative #5: Authorize.net
What does Authorize.net offer?
Authorize.Net started strictly as a gateway but has started bundling its own payment processing service. Today, more than 430,000 merchants trust Authorize.Net to accept electronic and credit card payments in person, online, or over the phone. This platform handles more than 1 billion transactions and $149 billion payments every year.
Here are a few features that make Authorize.Net a great PayPal alternative for nonprofits:
Contact management options. With a card-on-file solution, recurring donors can easily give without re-entering payment details. Plus, your team and its donors have complete control with options that allow you to update stored cardholder information.
Online invoicing. Take charge of your recurring donor program by setting up online invoicing. Included with your account, all invoices are mobile-friendly and customizable. Best of all, you can set up automatic reminder emails for unpaid invoices.
Numerous payment options. Let donors give how they prefer. Authorize.Net accepts major credit cards, signature debit cards, e-checks, and more! You can even accept international payments, so long as you're based in the U.S., Canada, United Kingdom, Europe, or Australia.
Why is Authorize.net a great PayPal alternative?
Powered by Visa, Authorize.net is largely trusted in the fundraising space and has been in business for more than 20 years. Their processing services and tools are backed by Visa's advanced fraud detection capabilities, so you can rest assured that all donation data is protected.
How much does Authorize.net cost?
This PayPal alternative has a base rate of 2.9% + $0.30 per transaction and an additional monthly fee of $25.
---

PayPal Alternative #6: TransNational Payments
What does TransNational Payments offer?
Nonprofits and associations depend on effective donor and member management to continue securing support and striving toward their missions. TransNational Payments recognizes this and has developed a solution to accommodate these needs.
With this PayPal alternative, you'll be able to:
Enable multiple users. TransNational Payments has the power to manage a large number of constituents, from donors to members. Not only can you accept payments, but it will automatically send email receipts to those who give.
Easily track donations and fees. Quickly accept payments online, including recurring bill pay. Then, leverage the sophisticated reporting tools to gain a stronger understanding of your fundraising strategy.
Leverage API integration. By integrating with your nonprofit's CMS or donation tools, your donors' payment information will automatically be transferred into TransNational Payments for secure payment processing.
Why is TransNational Payments a good PayPal alternative for nonprofits?
With sector-specific functionality, TransNational Payments offers tools to support nonprofits and associations. This PayPal alternative has the ability to accommodate anything from day-to-day administration to special events, and it aims to simplify the donor and member management process for organizations like yours.
How much does TransNational Payments cost?
TransNational Payments requires an annual fee of up to $95 per year on a three-year contract. Plus, there is an early termination fee of up to $500 if you decide to end your contract before the three years is up.
---

PayPal Alternative #7: CyberSource
What does CyberSource offer?
From donor-friendly payment experiences to easy tech integrations, CyberSource is a PayPal alternative that enables you innovate and scale. Available in 97% of countries and territories, its ability to easily accept payments worldwide makes it stand out among many competitors (including PayPal) that offer mixed experiences for international transactions.
Backed by this PayPal alternative, your team will gain access to a number of features. You'll be able to:
Accept a wide range of payment methods. The integrated platform supports popular payment methods, meeting your donors' needs and boosting conversions.
Protect against fraud. Reduce fraud and exposure to risk with the multilayered fraud management tools. CyberSource uses innovative intelligence paired with data-led machine learning to identify fraud both in real time and in advance.
Leverage dynamic currency conversion. When someone donates, CyberSource identifies the billing currency of the card and asks the cardholder which currency they'd prefer to pay in. This gives them a complete idea of how much they're giving, directly impacting conversion rates.
Why is CyberSource a great PayPal alternative?
CyberSource is the perfect PayPal alternative for larger organizations that are concerned with safety. Its Decision Manager fraud solution uses more than 300 fraud detectors, including biometrics and IP geolocation. Streamline fraud operations with customizable rules, insights and risk scores that enable you to easily adjust your strategy.
The point-to-point encryption for all payment methods make it a fantastic choice for organizations that want to go a step beyond industry-standard PCI-compliance.
How much does CyberSource cost?
CyberSource leverages a quote-based pricing model. Reach out for more information.
---

PayPal Alternative #8: TouchNet
What does TouchNet offer?
Going with a provider that specializes in your field is often one of the smartest moves. That's why Touchnet has developed one of the best PayPal alternatives for colleges and universities. Today, they're a leading provider of integrated, comprehensive and secure commerce and credential solutions for higher ed institutions.
Backed by this PayPal alternative, schools experience enhanced operations with payment processing tools like:
Complete payment management. TouchNet's comprehensive portal simplifies payment acceptance for tuition, events, sponsorships, and more. Their expandable payment solution allows you to offer a wide range of payment options while keeping data compliant and secure.
Vendor storefronts. Easily create, manage, and operate your own online storefronts, registration sites, and secure payment pages. With this, let students, parents, alumni, and other supporters shop online, register for events, and make donations.
Sponsor management. Grow your sponsor program by providing contract transparency and simplified invoicing. Using the user-friendly online portal, sponsors can review accounts collectively or by individual student, view detailed transactions, and more.
Why is TouchNet a good PayPal alternative for nonprofits?
TouchNet has developed a wide scope of tools that are tailor-made for the higher ed sector. A more generic solution like PayPal won't provide the support and specialized tools needed for long-term success.
How much does TouchNet cost?
Reach out to the TouchNet team for pricing information on their specialized payment processing solution.
---

PayPal Alternative #9: Google Pay
What does Google Pay offer?
If you're looking for a fast and simple way to accept donations online or via contactless payments with mobile devices, Google Pay may be the PayPal alternative for you!
Google Pay allows organizations to enable donations across all devices, reducing the frequency of forgotten passwords and missed conversions. Here's a glimpse into this platform's functionality within the nonprofit sector:
Payment requests. Easily request money from your supporters, perfect for event registrations, recurring donors, and sponsors!
Contactless payments. Whether online or with near-field communication tools at one of your events, it only takes a moment for donors to send money to your cause.
Data encryption. Each time a donor sends money to your organization, financial information is encrypted in case it's intercepted along the way, giving you and your donors peace of mind.
Why is Google Pay a great PayPal alternative?
Powered by the world-renowned company Google, this PayPal alternative has been widely adopted with approximately 100 million users.
While this platform caters only to Android and Apple users, these two companies represent 99.4% of all smartphone market share in the United States. In other words, most of your supporters already have access to Google Pay, making it a great choice for your team.
How much does Google Pay cost?
Users can send and receive money with Google Wallet for free so long as they have a Gmail account.
---

PayPal Alternative #10: Giveffect
What does Giveffect offer?
Developed for nonprofit use, Giveffect offers a comprehensive fundraising management solution that can consolidate a number of day-to-day tasks, including everything from donor retention to event planning.
Using this PayPal alternative, you'll be able to streamline development plans and fundraising activities into a single software. You'll gain access to tools like:
Peer-to-peer fundraising functionality. Empower supporters to raise money on your behalf with peer-to-peer fundraising tools, and incentivize participation with powerful gamification features like a free donation thermometer. All data flows directly into your donor database.
Wealth and major gift screening. Build out your major gift program with robust tools for prospect research. Giveffect integrates with the industry's top service providers to consolidate wealth and philanthropic markers.
RSVP management. Manage lectures and client workshops with Giveffect's dedicated tools. Volunteer coordinators can easily manage volunteer training sessions, and nonprofits can host speaker series and conferences without struggle.
Why is Giveffect a good PayPal alternative for nonprofits?
Giveffect is a highly-customizable solution that can be adjusted to specific kinds of fundraising, including event management and crowdfunding. The platform can seamlessly integrate with a wide range of fundraising websites, from auction sites to donation pages.
Plus, Giveffect has a proven track record of success and its nonprofit clients experience an average increase of 32% in fundraising revenue, making this a great PayPal alternative for nonprofits!
How much does Giveffect cost?
Giveffect offers a range of plans for nonprofits. The transaction fee ranges between 1.9% - 3% so you can minimize overhead costs.
---

Bonus: Double the Donation — Matching Gift Tool to Pair with Your PayPal Alternatives
What does Double the Donation offer?
While not a donation processing tool itself, Double the Donation offers matching gift software that pairs perfectly with your PayPal alternatives. That way, you can maximize the donations you collect and process with your preferred payment tools.
Perfect for any nonprofit that wants to increase its fundraising capacity with matching gifts, Double the Donation's database easily embeds in your organization's donation page alongside the PayPal alternative of your choice. With this, your donors can easily:
Determine their eligibility for their employers' matching gift program.
Learn key information like the minimum and maximum donation amounts their employers will match.
Access available forms and next steps for requesting a match.
Why does Double the Donation go well with PayPal alternatives?
With 20,000+ companies and subsidiaries representing 15+ million match-eligible individuals, Double the Donation leverages the world's leading matching gift database. It's the most comprehensive source of matching gift forms and instructions available.
Best of all, Double the Donation integrates with our top PayPal alternative recommendation: Donately!
How much does Double the Donation cost?
Gain access to Double the Donation for $499 per year, which is a small price to pay for the amount of matching gifts it could help bring in. Try the 14-day free trial and see how it fits into your nonprofit's operations.

With ongoing technological advancements, you don't have to rely solely on PayPal as your online payment system. As you can see, there are so many options that exist to improve the online donor experience.
We're not saying you should completely write off PayPal altogether. Rather, you should weigh your options and get a taste of what PayPal alternatives are out there. As we previously mentioned, we recommend starting with Donately as it comes equipped with all the online fundraising tools nonprofits need to connect with donors.
Just remember that not all payment systems are created equally! We recommend taking a platform-based approach and comparing your options, meaning that you should select your PayPal alternative based on your organization's unique needs.
Who knows? You may end up saving a substantial amount of time and money that you can reinvest into your mission and conducting more donor outreach.
Now that you've effectively kicked off your search for your next payment processor, check out these resources to learn more about enhancing your digital strategies: