There's no question that one-time donations are helpful for your organization. But recurring monthly donations are even better, allowing you to budget and plan your programming with the reassurance that you have a consistent funding stream powered by dedicated donors. Many organizations like yours might be missing out on valuable opportunities to collect recurring revenue if you don't have the help of an effective monthly giving program.
Monthly giving programs enable your organization to work more effectively toward your mission without always scrambling for one-off donations and planning complex one-time fundraisers. Plus, monthly giving allows your donors to give actively more often, helping you retain their support and helping them make a greater impact on your cause.
Plus, monthly giving gets excellent results. According to Double the Donation's roundup of 2021 fundraising statistics, "Online monthly giving revenue grew by 40% as recurring donation options become increasingly popular with online donors." Knowing this, you probably want to learn more about setting up (or revamping) your own planned giving program.

Here at Donately, we equip nonprofits with an easy avenue to register supporters for monthly giving programs using streamlined, well-designed online donation forms. In this process, we've seen firsthand the most effective strategies for developing and growing monthly giving programs to turn them into reliable revenue streams.
That's why we've created this guide to explore everything you need to know about monthly giving. We'll provide a crash course for creating an effective monthly giving program with the following sections:
As your team works to create a monthly giving program that suits the needs of your organization and your donors, you can implement what you learn here to ensure that your monthly giving strategy results in successful and sustainable fundraising.

Overview of Monthly Giving
What is a monthly giving program?
A monthly giving program is a type of recurring giving in which donors contribute a specified amount each month to a nonprofit. Monthly giving is an effective way to gain access to a more reliable virtual fundraising stream. The key to a successful program is getting donors to opt in and stick with your organization over the long term.
How does monthly giving work?
Starting up your monthly giving program will require some work on the part of your team, but the time and energy you invest in the project is worth it because of the additional revenue it can provide. You can start your monthly giving program with these three general steps:
Insert a monthly giving option into your online donation page.
Set up your program so recurring donors are billed automatically each month.
Allow donors to make changes to their monthly giving plans, like updating an expiring credit card or changing the day their recurring payment is due.
We'll go into the nitty gritty of your program setup in a later section, but for now, remember that setting up your monthly giving program should help reduce stress, not create more of it.
What is the difference between monthly giving and pledges?
Recurring monthly gifts might sound similar to pledges, but these two gift types are actually quite different and can mean different things for your organization.
When a donor pledges a gift, they're promising to give your organization a specified amount of money over a set time period. For example, a supporter might pledge to give you $1,200 over the course of the year and pay that sum in $100 payments each month. That means you can count on that $1,200 coming in incrementally over a year, but the donor may or may not choose to give another pledge after they've paid the $1,200 in total.
Recurring gifts, on the other hand, are given repeatedly on an open-ended schedule. Donors aren't committed to continue donating — they can stop giving at any time (or, ideally for you, continue their engagement for as long as they want). For example, a donor might see an option on your donation page to make their $25 donation a recurring donation. A gift like this means you can count on that $25 donation each month for as long as the donor wishes to give. And even though you don't know how long the donor is planning to give, with effective donor stewardship strategies, you can retain that monthly donor and encourage them to continue giving far into the future.
Benefits of Recurring Donations
As mentioned, monthly giving offers plenty of benefits for organizations of all sizes, allowing them to scale up their operations with a reliable revenue stream. However, you might want a little more information before launching your own recurring giving program.
Here are three ways monthly giving can benefit your organization and boost your fundraising ROI:
Offers a reliable revenue stream.
Recurring donations can help you create a consistent revenue stream that will supplement the effort your team puts into finding one-time donors and planning big fundraising campaigns. That means monthly giving is a great form of online fundraising because it can also help you ride out any low-fundraising months and make budgeting easier. After all, the beauty of monthly giving is that you have at least one predictable funding source, and your chance of securing more contributions over time increases.
Provides a convenient way for donors to give.
Donors only have to navigate to your donation page, input their payment information once, and opt into recurring giving. Then, they're automatically billed each month and can avoid having to input their information into your donation page each time they want to give.
Automated billing takes a load off your organization's shoulders, too, since you don't have to take the time to continuously remind donors to submit donation forms.
Builds long-term donor relationships.
Even when you commit to something, you still like to have some wiggle room, and the same goes for your donors. With a monthly giving program built with a platform like Donately, you can give your monthly donors the ability to set up their own donation plan, update credit card information, change the day of the month that their recurring plan runs, and allow them the flexibility to decide how much they're willing to give every month.
Because of this flexibility, donors at all levels can be included in your program. For example, it doesn't matter if one donor gives $100 every month and another gives $5 a month. The important thing is you've created a connection with a supporter who wants to back your mission, a connection which you can then cultivate into a lifelong engagement.

How to Start a Monthly Giving Program
Now that you know the benefits of monthly giving, it's time to start thinking through how you can set up your own recurring giving program. Let's go through everything you'll need to do, starting with goal setting.
Determine your goals for the program.
Before you can hit the ground running, you have to have a clear direction for your program. Start with setting SMART goals (specific, measurable, attainable, relevant, and time-based). Here are some examples of goals you might set:
How many supporters you'd like to get involved in the program
A date for sending out information about how to join the program
How much revenue you hope to earn each month from the program
As you set your goals, focus on your organization's specific needs and consider how you can incorporate these monthly giving goals into your overall fundraising strategy.
Decide how you'll brand the program.
You're going to need to come up with a convincing marketing plan for your monthly giving program, so think about how you'll brand it. Consider these questions to determine your branding approach:
Will you give your program a name or its own catchphrase?
What segment of your donor base are you trying to reach with your program?
How can you incorporate your organization's colors, imagery, and logos into the program's branding?
When it comes to branding, consistency is key. Though your program will be a new way donors can participate in furthering your mission, the program will still be part of your larger operations. Your branding should be similar across the board so your organization appears organized and professional.
Add a monthly giving option to your online donation form.
With the right donation page tools, you can easily add an option for users to make their donation a monthly contribution.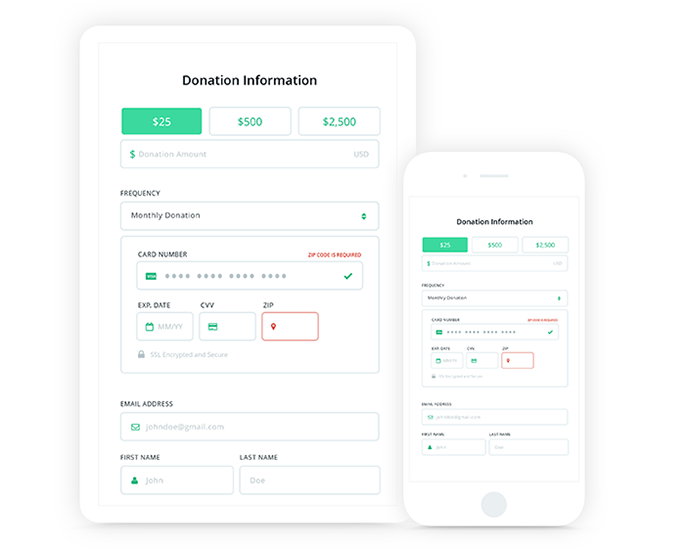 The typical default for a recurring gift program is usually monthly. But with a platform like Donately, you can change this option on your donation page to any desired frequency to better fit your strategy or give your donors more options.
Another element to include in your form is suggested giving amounts, which give donors a better idea of how much they should contribute. This tactic relies on social proof — a psychological phenomenon in which people emulate what they see as correct behavior. For example, let's say a donor navigates to your donation form with the intention to give $10. Upon reaching your giving page, they see suggested amounts of $15, $30, and $60. They'll likely feel that the $15 is a more typical choice and voluntarily increase their donation.
Gain donors' trust by providing a secure giving process.
If donors can't trust your online donation platform to keep their payment and contact information safe and secure, they'll be reluctant to give a one-off donation, much less a recurring monthly gift. You can prevent donors from having this experience by choosing the right donation processing tool.
The best donation processing tools will offer secure data handling and flexible payment options to benefit your donors. You'll also want to find one that has low operational costs so your monthly giving program can be a sustainable operation for your organization.
Spread the word about your monthly giving program.
One of the most important steps in setting up monthly giving is making sure your supporters are aware of the opportunity. Develop a marketing strategy for how you'll communicate the news about the program and how you will inspire your audience to give.
You can market the program using your weekly email newsletter, social media pages, website and blog, and direct mail materials. Planning a multichannel approach around your donor demographics will help you cater to all your supporters' needs and get as many of them involved as possible.


Best Practices for Increasing Recurring Revenue
Now that you know how to get your monthly giving program up and running, it's important to learn some best practices for getting the most out of your program. Optimizing your program will not only help your organization get the funds you need but will also enable you to provide a better experience for each donor that opts in.
Use your CRM to identify prospective monthly donors.
Parse through your CRM database to identify potential monthly donors. These prospects may be previous recurring donors, long-time volunteers, or engaged advocates who interact with your organization frequently online.
These supporters already have a proven affinity for your cause. They have a history of offering their support, whether through donating, volunteering, or advocacy. This means they're more likely to continue supporting your mission and are a receptive audience for your recurring giving program marketing materials.
Make it as simple as possible for donors to get involved.
Don't make prospective donors jump through a bunch of hoops to get involved. Instead, embed your monthly giving option right into your giving form to make it simple. Ensure your form is streamlined by only asking donors for necessary information.
Take a multichannel approach to market your monthly donation program.
Spread the word on your social media pages, email newsletters, and website. Be sure to have a webpage dedicated to the program as well. This is also a great time to segment your donor base and determine how best to reach different groups. For example, to reach an older audience, you could use direct mail.
Build a community for your recurring donors.
Make your monthly giving program feel like an exclusive club that people will want to be a part of. You could invite donors to a special Facebook group, send them free merchandise or swag, host regular drawings and prize giveaways, and create special events just for them. Adding fun incentives like events and swag will motivate your donors to keep giving every month.
A huge part of maintaining your community of recurring donors will be thanking them on a regular basis. Be sure to personalize your thank yous (you can get your donors' names from your CRM) and also encourage them to stay involved with your cause.
Provide ongoing progress updates.
Your donors want to know how their funds are being used, because that will help them determine whether or not they want to continue giving every month. Be sure to provide regular updates on how donor contributions are enabling your organization to help more people or complete a specific project.
Keep a lookout for payment information changes and failed donations.
Everyone's credit card expires eventually, but not everyone takes the time to update their payment information on various websites. This can cause trouble for organizations like yours, but you can be prepared. Choose an online giving platform like Donately that will notify you when donations fail so you can stay on top of payments that don't go through. Also, don't forget to encourage your donors to update their payment information when it changes.
Track monthly donor data.
Store monthly donor data in your CRM. You'll want to track things like donation amounts, donation frequency, and how long individual donors have supported your organization.
Also, take note of other characteristics such as age and location. These can all help you build a prospective monthly donor profile. Then you can find other donors who fit that profile and specifically target them with your marketing efforts.
Ask monthly donors for feedback.
Check in with your donors on a regular basis. We recommend using a feedback survey. You might ask questions such as:
What do you like most about our monthly giving program?
What would you like to see change regarding the program?
What motivates you to stay involved with our monthly program?
How did you hear about our program?
How likely are you to suggest our monthly giving program to a friend?
After you collect your surveys, use your donors' comments to improve your program. Their feedback can serve as a great reminder for you to focus your attention on the donor experience and how you can cultivate lasting relationships.

Wrapping Up: Work with Donately to Kickstart Your Monthly Giving Program
Monthly giving can benefit your organization and your donors in a variety of ways, providing you with more opportunities to focus on donor retention as well as a consistent stream of revenue.
As you get moving with your monthly giving program, you'll need the right tools for the job. When you use Donately as your online fundraising platform, you can easily add a monthly giving option to your giving page and get started boosting your organization's virtual fundraising efforts. Plus, Donately not only offers streamlined, well-designed giving pages to kickstart your monthly giving program. We also offer peer-to-peer fundraising pages and text-to-give software, and these additional tools can help you raise more for your mission.
For more information on how to optimize your virtual fundraising efforts, check out the additional resources below. They'll help you learn more about the many tools Donately users can harness to increase their fundraising potential: