Online fundraising campaigns can take many forms and run through various routes. It can also be challenging to set them up and run them efficiently. But when you're looking to start a new campaign, it's important to do your research and find the route that works best for you. There are several features you should keep in mind when beginning a campaign, and many advantages that come with each.
Running an online fundraising campaign doesn't have to be daunting if you know where to find your inspiration. That's why we've compiled 5 examples of the best online fundraising campaigns to copy. Each of these campaigns takes advantage of a particular software feature in smart ways, driving fundraising results and raising awareness with less effort. These examples include:
1. Custom donation forms and The Clean Water Fund
2. Mobile-responsive giving and the Harckman Family
3. Peer-to-peer fundraising and #LindseyStrong
4. Recurring donations and Stop Climate Abuse
5. Data-driven fundraising and Javan Van Gronigen
The right fundraising toolkit and digital strategies can make or break your success, so study up and learn a thing or two from these successful campaigns. Let's dive in!


1. Online Fundraising Campaign Idea: Custom Donation Forms.
Understanding Custom Donation Forms
Custom donations forms are a great tool for online fundraising campaigns. They allow you to add custom fields to collect donor information, set suggested donation amounts, accept recurring donations, and many other functions.
There are several ways to customize your donation form. For example, you can:
Add an option for recurring donations
Add custom fields for additional information, such as a phone number
Allow for anonymous donations
Change the font to match your website exactly
Redirect to a custom thank-you page
Give donors the option to cover the processing fee so that you get 100% of the funds
You should take advantage of a custom donation form for multiple reasons. By using a customizable option, you can embed the form directly into your website. That way, donors never have to leave your website in order to donate. This creates a sense of consistency and establishes trust in the eyes of donors.
Using a custom donation form can also help you increase your donation revenue. For example, you can promote corporate matching gifts to the donors visiting your form. Include information about how to access a matching gift database so donors can determine if their gift is eligible to be matched by their employer. Individuals are also more likely to donate if they learn that their donation can be doubled.
Lastly, you can accept credit card and ACH (bank transfer) payments directly from your custom donation form, and the payment processor will be secure. Find an all-in-one solution that allows you perform all of the above functions, and you will be on your way to creating a successful and intuitive campaign page.
Best Online Fundraising Campaign: The Clean Water Fund
The Clean Water Fund uses a custom donation form to set up recurring donations, choose a suggested donation amount, round up donations to cover the processing fee, and ask for additional information, such as the donor's employer information.
This clean-cut design makes giving easier for the supporters, and makes the overall process friendlier and more accessible.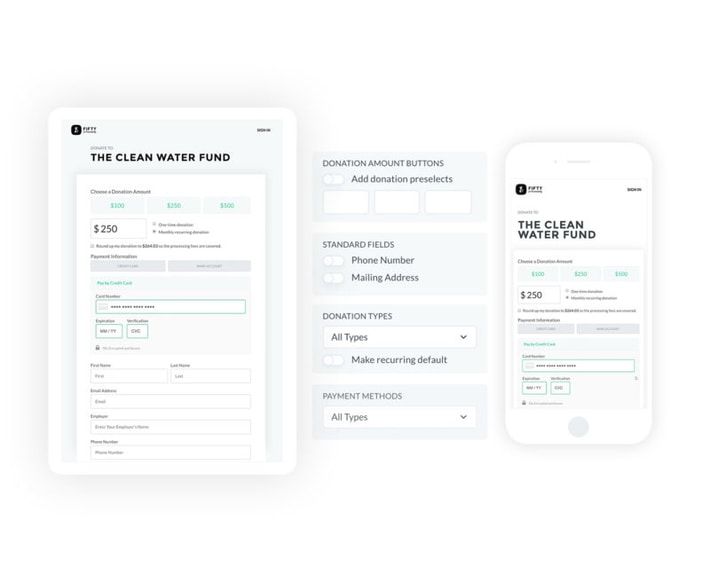 When you tailor your form to exactly what your organization needs, you'll be able to focus on the data you want, without having to sift through any unnecessary fields or extraneous information. Take advantage of custom donation forms and make the most of your donation process.

2. Online Fundraising Campaign Idea: Mobile-Responsive Giving
Understanding Mobile-Responsive Giving
When running online fundraising campaigns, it's important to ensure that your donation page is mobile-responsive. This means that it's designed to look and work great on every device, and adjusts to the screen size on which it's being viewed.
Some advantages of mobile-responsive giving include:
Securing more donors. Don't worry about losing donations as a result of poor formatting or unreadable text.
Accepting donations from any device. The mobile forms are fully responsive, so your donors will easily be able to navigate the page and make a donation from any device.
Viewing your dashboard from any device. You can view your donor and administrative dashboards on mobile devices, as well, so you can manage your giving from anywhere.
It's essential that you incorporate mobile responsiveness into your donation pages. Because more and more donors are accessing your donation pages on their mobile devices, make sure your matching gift database and donation forms are mobile responsive. Doing this will increase the likelihood that they search for their employer and successfully complete the matching gift request.
Once donors have completed their matching gift request, your donations could be doubled, tripled, or more. This is why mobile responsiveness is so important. You'll drive up your donations due to the accessibility and ease that donors find when navigating your forms.
Best Online Fundraising Campaign: Harckman Family
Candace Harckman's campaign supports a mentorship project and uses a mobile-responsive giving page that can be viewed across various devices without issue.
By using mobile-responsive giving, this campaign's personal imagery, donation page, and form easily adjust to any format, whether it's on a mobile device or a larger screen. The "donate now" button is in clear view and clickable, and all of the necessary information can be viewed, regardless of screen size. You can clearly see the amount of money that has been raised, and the amount of supporters who have gotten the campaign to that total.

Meet your donors where they are and make sure your campaign page adjusts to multiple formats and devices. By ensuring your campaign can be viewed across multiple platforms, donors will appreciate the intuitive experience and you'll start forging long-term relationships with them.

3. Online Fundraising Campaign Idea: Peer-to-Peer Fundraising
Understanding Peer-to-Peer Fundraising
Peer-to-peer fundraising is a strategy in which a nonprofit calls on its supporters to fundraise on behalf of the organization. It's one of the best online fundraising campaigns because it can elevate your cause to a more social level and get large audiences more engaged with your mission than ever. Many types of organizations take advantage of peer-to-peer fundraising, and yours can, too!
This is how peer-to-peer fundraising works:
The nonprofit determines its goal for the campaign
The nonprofit sets up its main peer-to-peer fundraising campaign page
The nonprofit recruits volunteer fundraisers to create their own individual campaign pages
The nonprofit instructs the volunteer fundraisers on how to effectively run their campaign pages
The volunteer fundraisers share their individual campaign pages
The nonprofit tracks the donations from the individual campaigns
You should take advantage of peer-to-peer fundraising campaigns because they expand your donor network and bring in more donations—without added expenses. The best part? Your organization can still tell its story, but your fundraisers can also add their personal connection, which will in turn increase your contributions.
Best Online Fundraising Campaign: #LindseyStrong
The #LindseyStrong campaign is a movement of family and friends to remember Lindsey's legacy and raise awareness for a cause she supported: the fight against human trafficking.
Courtney Strong, featured here, has taken part in the #LindseyStrong campaign by creating her own peer-to-peer fundraising campaign page in support of the overall cause. This volunteer fundraiser is on her way to meeting her individual goal, and the page includes information about the main campaign and an intuitive donation form for visitors to utilize.
You can also see who has donated to the cause and what amount they donated, as well as the total funds raised. The progress bar is especially effective, because it offers a visual representation of how far there is to go, which can encourage donors to continue sharing and contributing.

Peer-to-peer fundraising is a powerful tool that should not be overlooked. When you elevate your campaign to a social level, you can inspire a wider group of individuals to become part of it. Humans naturally feel empathy, so offering a compelling voice and personalized touch to your online fundraising campaign will do wonders for your goals.

4. Online Fundraising Campaign Idea: Recurring Donations
Understanding Recurring Donations
Recurring donations are when your donors can opt into having their donation repeat on a particular basis. Offering a monthly giving option on your website helps make your revenue stream more predictable, and by incorporating these into your donation form, you offer donors the ability to set this up according to their own preferences.
When offering recurring donations as an option, you can:
Set the recurring plan to be weekly, monthly, or annual
Give donors the option to make the donation they give today a recurring donation on the online form (or make it the default option)
Allow donors to manage their recurring donations themselves and update their plans
Collect donations via credit card or ACH
Get notified when donations fail so that you can take the appropriate action to fix them
Recurring donations are important to online fundraising campaigns because they can help increase your revenue, and they also give your donors more flexibility in the plans they choose. Your donors retain control of how much they want to give, with the option to adjust their plans at any time. You'll also stay in the loop when donations fail, so you can work to get payment information updated and take other actions to address the issue.
Best Online Fundraising Campaign: Stop Climate Abuse
The Stop Climate Abuse campaign is working to stop the destruction of mother nature from climate change. That's a big endeavor, and in order to do that, they need to increase their revenue stream.
Stop Climate Abuse has set up their donation page to allow donors to select whether they'd like to make a one-time donation, or make their contribution recurring. This causes the donor to consider making a recurring donation instead of a one-time contribution, and it's an intuitive process that allows them to set up the recurring payments, should they choose to.
There's a clear and secure form that allows donors to choose their donation amount, select their method of payment (credit card or bank account), and enter their payment information, as well.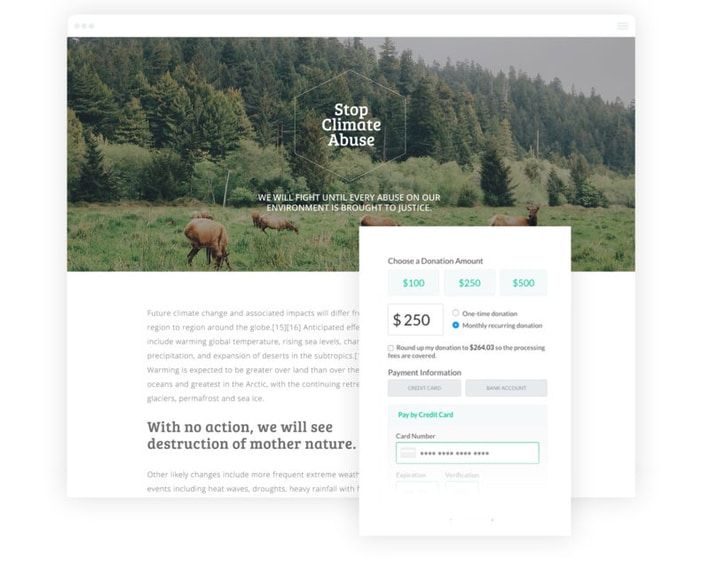 If you set up an option for recurring donations, like the campaign above, you're more likely to secure more contributions over time. Even more, however, you create long-lasting relationships with your donors and give them a certain level of control, which makes them more comfortable with the recurring option and more likely to select it.

5. Online Fundraising Campaign Idea: Data-Driven Fundraising
Understanding data-driven fundraising
Some of the best online fundraising campaigns take advantage of their data and use robust software to keep it organized. With data-driven fundraising, you can gain an understanding of your donors and their giving habits. To do this, be sure to use a platform that integrates with your favorite nonprofit software systems, or a platform that offers an easily-accessible dashboard to help you view and analyze your donor data.
With a fully-equipped donor data dashboard, you can do things like:
View the most active donors
View popular donation amounts
Identify trends, like high volume days of the week
Gain insight into how effective your campaign is
Understand which strategies do or don't work well
You should take advantage of data-driven fundraising because it saves you time from searching for all of this information in separate places. Instead, you can consolidate your data all in one place and focus on your fundraising strategies, putting your time where it's most needed.
Best Online Fundraising Campaign: Javan Van Gronigen
Javan is using his donor dashboard to view his online fundraising campaigns. He can see his giving snapshot, which shows that, through a certain number of donations, he has raised a specific amount. He can also see how many of his campaigns are being supported, as well as the average donation amount, and the total fundraisers.
Javan's dashboard allows him to view people, donations, insights, tasks, and more, and he can apply filters to view a more specific set of data at a time. By staying organized, Javan can focus more on promoting his campaigns and keep his attention where it absolutely needs to be.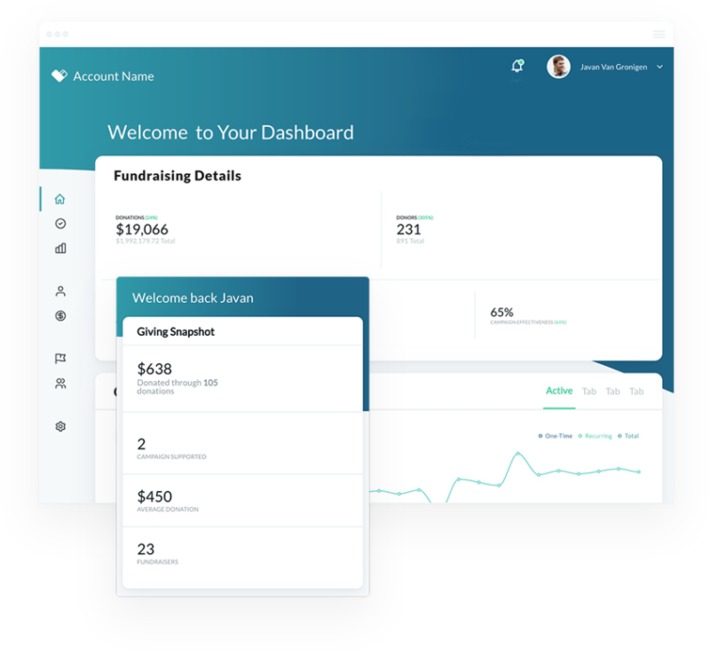 By keeping your data organized, you can sort through your fundraising priorities and run the best online fundraising campaigns possible. You know your time is important, especially in the fundraising world, so every minute you can save counts. Use that recovered time and put it toward the cause you care so much about in the first place.

Following the examples of these campaigns can help propel your online fundraising campaign forward and increase your stream of revenue. By taking advantage of features like custom donation forms, recurring donations, and mobile-responsiveness, you make it easy for donors to navigate through your platform to the point where they complete their donation. Be sure to research these features for nonprofits and incorporate them into your overall system.
From there, you'll be on your way to maximizing your donations and fostering a meaningful relationship with your supporters! Not only will you makes things easier for your organization, but you'll make it easier for your donors, too.
If you're interested in learning more about donation software features and other ways to create the best online fundraising campaigns, check out these resources below!