Used by 4,000 nonprofits, Classy is one of the most well-known software providers in the nonprofit space. But like many large software vendors, Classy focuses primarily on meeting the needs of enterprise-level organizations, which means it comes with a hefty price tag.
Some organizations simply don't have the budgets to supplement a pricy solution, or they're looking to save money that can be reallocated to important projects. Not to mention, many nonprofits report that Classy's complex functionality actually slows down productivity and doesn't quite suit their needs.
As a nonprofit professional, you understand that time and money are of the essence. That's why so many nonprofits seek more affordable alternatives to Classy that don't sacrifice quality or functionality.

What's difficult is finding the right Classy alternative for your organization. Each nonprofit has its own unique set of needs, and not every team will find success in using the same platforms.
Here at Donately, we've been a part of the nonprofit fundraising space since 2013. We understand that the right nonprofit software has the power to transform your fundraising efforts and streamline backend processes. Using our industry knowledge, we've whittled the options down to the 25 best Classy alternatives. For quick accessibility, we've grouped the options into three categories:
Ready to see how Classy stacks up against the competition? Let's dive straight into our top pick: Donately!
---

The Best Classy Alternative
1) Donately
What is Donately?
Since 2013, Donately has empowered nonprofits to fulfill their online fundraising potential and prioritize the donor experience. Today, thousands of nonprofits, churches, and agencies trust our software to handle more than $2 million in donations per month.
Built with simplicity in mind, our features give you more time to reinvest in your mission. We believe nonprofits shouldn't have to waste time using clunky and expensive online donation software. With a substantial amount of tools (and an affordable price tag), our software grows with you without breaking the bank, so the possibilities are endless!
Here's a glimpse into Donately's functionality:
Donor management
Online donor portal
Not to mention, Donately integrates with many other leading nonprofit platforms (including CRMs and communication systems), so you can consolidate all your processes into a single platform. In turn, you can develop a modern tech stack with the same (or even better) features than Classy can provide on its own.
How much does Donately cost?
We have plans for every price range! With only a 4% platform fee and no monthly fees, our Startup plan is perfect for small organizations. Perfect for mid-sized organizations, our Team plan is $49 per month with a 2% platform fee. If your team is raising over $250K a year, you can reach out for a customized plan.
Create Your Free Donately Account!
---

Classy Alternatives for Relationship Management
2) Capsule CRM
What is Capsule CRM?
Capsule CRM is a hosted CRM for tracking donors and donations online. Designed to promote organizational growth, this Classy alternative empowers nonprofits to develop long-lasting relationships. With this platform, organizations can push more donations through the pipeline in less time than ever before.
Capsule CRM offers a host of features for nonprofits, including:
Task management
Contact management
Supporter communication logs
Segmentation
Sales dashboard
Reporting and analytics
Security features
Best of all, you can integrate Capsule CRM with Donately to easily manage your contact list, create tailored opportunities based on giving history, and create customized tags to segment your donors.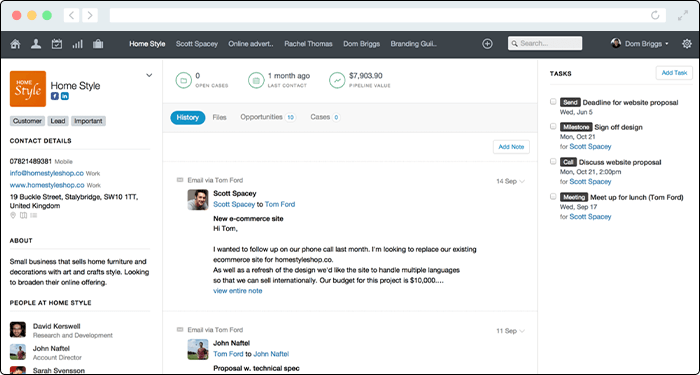 How much does Capsule CRM cost?
Capsule CRM comes at an affordable price for nonprofits. Before investing, test out their starter CRM with basic features for up to 2 users and 250 contacts. If you'd like to upgrade, their paid plans start at $18/user per month for up to 50,000 contacts and 10GB storage per user.
Learn More About Capsule CRM
---
3) Copper
What is Copper?
Built specifically for G Suite, Copper offers a user-friendly CRM that empowers nonprofits to cultivate stronger supporter relationships with many of the tools they already use.
This Classy alternative integrates seamlessly with Google products. Its users often experience improved workflow by easily tracking leads and eliminating manual data entry. Here are some of Copper's most notable features:
Contact management
Lead import
Deal tracking
Security and privacy controls
Project management
Reporting and insights
Not to mention, Copper integrates with Donately to improve constituent management and funnel donor data directly from your online donation form.
How much does Copper cost?
Copper's standard plan starts at $19 per user per month. But their most popular plan is designed to help growing organizations and costs $49/month. Plus, they offer a 14-day free trial, so you can take this Classy alternative for a test run risk-free!
Learn More About Copper
---
4) Insightly
What is Insightly?
Designed for stronger organizational impact, Insightly aims to help nonprofits accelerate the donation process and form lasting relationships with donors.
This CRM and project management app helps to align marketing, fundraising, and projects for a more holistic few of your organization. Here are a few features that make this Classy alternative stand out:
Relationship linking
Workflow automation
Lead routing
Project management
Email marketing
File management
Data encryption
Best of all, Insightly integrates with Donately to streamline data collection. Automatically create contacts for first-time donors, update profiles for returning givers, and proactively track leads with just a few clicks.
How much does Insightly cost?
Insightly offers a few free options for organizations. The platform is free for two users, or you can test drive one of their paid plans by accessing a free trial. If your team is larger and requires increased functionality, paid plans start at $29 per user/month.
Learn More About Insightly
---
5) NeonCRM
What is NeonCRM?
Created by nonprofit professionals, NeonCRM empowers organizations to save precious staff time and reinvest their resources into improving fundraising strategies. At its core, this Classy alternative is a fundraising and membership system, and it helps clients make sense of their fundraising data.
Here's a look into NeonCRM's functionality for nonprofits:
Volunteer, member, and donor management
Prospect research tools
Pledge tracking
Event management and ticketing
Online fundraising tools
Offline donation management
Grant management
Online storefronts
Survey builder
Website development
As an added bonus, NeonCRM integrates with Donately, so you can easily manage vital donor data and hone in on the most promising prospects.
How much does NeonCRM cost?
NeonCRM offers several packages, so you can select the one that makes the most sense for your organization. Their Essentials Light package starts at $49 per month and is great for newer nonprofits with fewer than 500 records and limited staff. On the other end of the spectrum, their Empower package starts at $299 per month and comes with premium training and additional workflows.
Learn More About NeonCRM
---
6) Microsoft Dynamics 365 CRM
What is Microsoft Dynamics 365 CRM?
As Microsoft's own cloud-based CRM, Microsoft Dynamics 365 enables organizations to centralize constituent management and nonprofit finances into a single platform. In turn, its users can modernize operations, tackle today's engagement challenges, and eliminate communication barriers.
With Microsoft Dynamics 365, you can engage supporters, connect with beneficiaries, and manage finances with features like:
Integration with Office 365
Constituent management
Fundraising tools
Personalized relationship tracking
Finance management
Program delivery and impact tracking
Plus, Microsoft Dynamics integrates with Donately, enabling nonprofits to automate donor management. Easily manage leads and automatically sync donation data to take advantage of powerful segmentation capabilities.
How much does Microsoft Dynamics 365 CRM cost?
Microsoft 365 Business is now available for free for confirmed 501(c)(3) organizations that meet the criteria found on this eligibility page.
Learn More About Microsoft Dynamics 365
---
7) Bloomerang
What is Bloomerang?
Bloomerang is a cloud-based donor management system that helps nonprofits decrease donor attrition and increase revenue. Backed by this Classy alternative, nonprofits can reach, engage, and retain the supporters they depend on easier than ever before.
Rooted in principles of philanthropy, this platform is an effective (and affordable) choice for growing donor relations. Nonprofits depend on features such as:
An interactive donor dashboard
Reporting and data extraction
Personalized marketing
Website integration
Social media marketing
Donor management
Communication tracking
Bloomerang is a great choice for any organization looking to hone in on their donor relationships and cultivate lasting relationships!
How much does Bloomerang cost?
Bloomerang is priced based on the number of records (or individuals) within your database. Nonprofits can get started with a free plan for up to 250 records. Paid plans start at $19 per month for 500 and increase incrementally up to 40,000 records. Pricing for databases over 40,000 records is available upon request.
Learn More About Bloomerang
---
8) CharityEngine
What is CharityEngine?
Created for data-focused nonprofits, CharityEngine is an all-in-one nonprofit CRM and fundraising platform that centralizes and automates workflow. Show donors you care by building an informed fundraising strategy, hosting engaging events, and delivering highly-personalized communications.
With more than $2.6 billion in charitable donations processed, CharityEngine aims to power good in the world through features like:
Online fundraising tools
Event management
Advocacy tools
Constituent management
Peer-to-peer fundraising
Corporate gift tracking
Marketing tools
Backed by this Classy alternative, your organization can easily collect, save, and synchronize all donor data. That way, your team can spend much more time focusing on what really matters: connecting with donors on a deeper level.
How much does CharityEngine cost?
Schedule a demo to learn more about this Classy alternative and to get custom pricing information.
Learn More About CharityEngine
---
9) Salsa CRM
What is Salsa CRM?
Trusted by more than 10,000 nonprofits, Salsa has made a name for itself in the online fundraising space. It's a leading provider of constituent management, marketing automation, fundraising, and advocacy software. This cloud-based donor management system comes equipped with plenty of reporting and management tools for improved operations.
Salsa aims to help nonprofits attract new donors, cultivate existing relationships, and establish lifelong partnerships. They accomplish this through features such as:
Donation tracking
Major gift cultivation
Donor profiles
List segmentation
Online fundraising tools
Customizable workflows
Direct mail fundraising
Email and social media marketing
Grow your cause and scale your impact with these easy-to-use tools. In no time, you'll boost staff efficiency, deepen donor relationships, and accelerate fundraising growth.
How much does Salsa CRM cost?
Salsa's pricing is based on each organization's specific needs. Request a custom quote on their website.
Learn More About Salsa CRM
---
10) Kindful
What is Kindful?
Backed by Kindful's cloud-based donor management system, nonprofits can supercharge their relationship management strategies and take donor engagement to the next level. Built for relationship cultivation, you'll gain powerful insight into your constituents thanks to data gathered directly from your online donation pages.
Gain a deeper understanding of what drivers your supporters' generosity with features such as:
Up-to-date contact records
Segmentation
A donor dashboard with real-time data
Wealth insights
Online fundraising tools
Offline and in-kind gift entry
Relationship tracking
Automated donation receipts
Solicitation emails
With Kindful's integrated approach and intuitive interface, you'll spend less time managing your constituents and more time engaging them.
How much does Kindful cost?
For this Classy alternative, pricing is based on the number of constituents an organization has, with the lowest option being $100 per month for 1,000 contacts.
Learn More About Kindful
---
11) Virtuous CRM
What is Virtuous CRM?
As one of the leading Classy alternatives, Virtuous CRM is a plausible fit for organizations looking to personalize communications and enhance donor relationships. Created to help nonprofits grow and retain giving, Virtuous eliminates tedious processes for your team, reveals connections between donors, and locates new revenue opportunities. That way, you can focus on stewarding donors and moving your mission forward.
Backed by Virtuous CRM, your team can increase productivity and quickly build relationships with tools like:
Donor insights
Personalized cultivation plans
Task management
Segmentation capabilities
Pipeline management
Wealth screening
Grant management
Revenue forecasting
Mobile apps
Virtuous aims to unify fundraising, marketing, and donor development activities. In turn, this rids teams of redundant back-office tasks, and surfacesthe insights needed to deliver dynamic donor experiences.
How much does Virtuous CRM cost?
As one of the pricier options on this list, Virtuous CRM starts at $350 per month and includes 1,000 contacts. There are two additional packages that cater to mid-sized and larger organizations. Each comes equipped with several tools for an all-in-one marketing, email, and CRM solution. Alternatively, you can purchase the CRM and marketing solutions individually.
Learn More About Virtuous CRM
---
12) Little Green Light
What is Little Green Light?
Trusted by 6,500 nonprofits, Little Green Light is a complete fundraising and donor management platform designed to streamline backend processes and give nonprofits confidence in their stewardship efforts. Thanks to a wide array of software integrations with leading platforms like Stripe and QuickBooks, it can be customized to fit your team's needs.
With this platform, you can consolidate your spreadsheets to see and analyze your data more clearly than ever before. It's flexible enough to grow alongside your organization with features like:
Constituent profiles
Donor, membership, and volunteer management
Security and backup tools
Personalized emails
Customizable forms
Goal tracking
Gift and pledge tracking
Automated backups
Security features
Best of all, Little Green Light integrates with Donately to simplify supporter management with rich supporter profiles and intuitive organization tools. Whether you're brand new to donor management or are an experienced nonprofit professional, Little Green Light will be with you every step of the way to ease your transition to their software.
How much does Little Green Light cost?
This Classy competitor offers competitive rates that start at $39/month for up to 2,500 constituents. You can receive a 10% discount by paying annually instead. Best of all, they offer a free trial, so you can try it out risk-free!
Learn More About Little Green Light
---

The Best Classy Alternatives for Fundraising
13) Shopify
What is Shopify?
Shopify is an eCommerce platform that empowers nonprofits and individual fundraisers to build compelling online storefronts. By tapping into this powerful marketing opportunity, you can encourage supporters to promote your cause through branded merchandise.
Trusted by more than 2.1 million monthly users, Shopify's fundraising platform offers a range of features, including:
Product fundraising
Donation tools
International shipping
Customizable themes
Digital marketing tools
Reporting dashboard
Available on Donately's Team & Enterprise plans, Shopify's integration with Donately takes this platform's effectiveness one step further. You'll be able to embed a donation form directly into your Shopify store.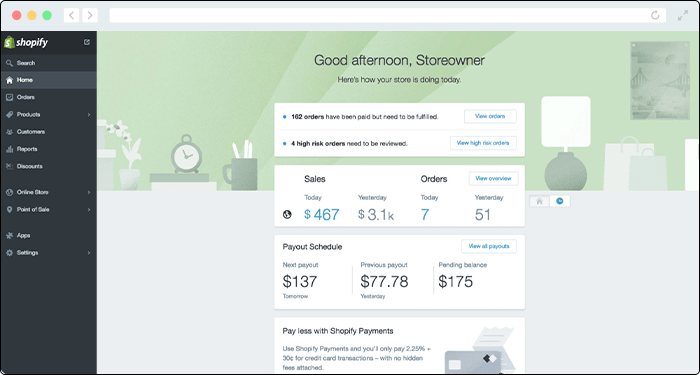 How much does Shopify cost?
Shopify's cheapest plan starts at $29 per month, although they offer reduced fees for nonprofits, so contact their team for specific pricing details. Plus, you can get started with a 14-day free trial.
Learn More About Shopify
---
14) Morweb
What is Morweb?
Build an online presence and expand your digital fundraising strategy with Morweb's web development tools. With straightforward functionality, organizations can build fully-customized, mobile-responsive fundraising websites that live up to their creative potential.
Built for nonprofits, this platform works as a two-in-one solution by spearheading website management and online fundraising at once. It provides organizations with sector-specific functionality and fundraising tools that generic website builders don't offer, like:
Web development tools
Mobile-responsive donation pages
Custom donation receipts
Event management
Integrated donation processing
Unlimited fundraising pages
Contact management
Custom forms
With more than 1,800 projects completed, Morweb understands exactly what it takes for organizations to be successful online. Their team offers the perfect balance of strategy, design, software, and support to manage and grow a powerful online presence.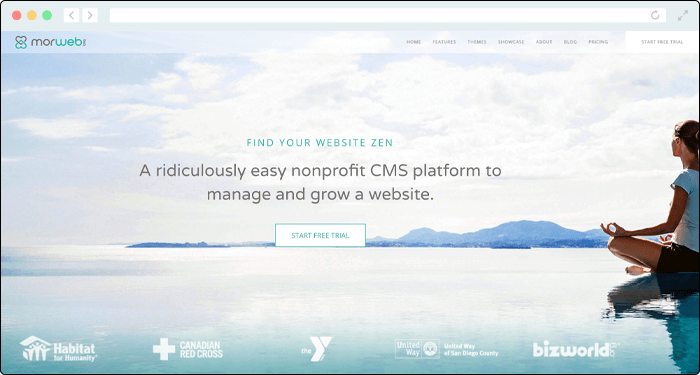 How much does Morweb cost?
Plans cost between $99 and $199 per month depending on the features needed, ranging from the essentials for small nonprofits to powerful development tools for large organizations. Like many of these Classy competitors, you can start with a free, no-risk trial.
Learn More About Morweb
---
15) 99Pledges
What is 99Pledges?
If you're strictly looking for a peer-to-peer fundraising platform, 99Pledges may be the right Classy alternative for you. This provider has a firm belief that fundraising should be a team effort, which is why they went with a team-based approach to their school fundraising tools.
The vendor claims that users raise 2 to 3 times more with their fundraising platform than before, which can be attributed to its wide reach and straightforward usability. With this Classy alternative for fundraising, schools gain access to features like:
Social media sharing tools
Built-in communication tools
Mobile-responsive giving
Real-time reporting
99Pledges' platform simplifies setup for parents, students, and teachers alike. Check out their platform to harness the power of social fundraising.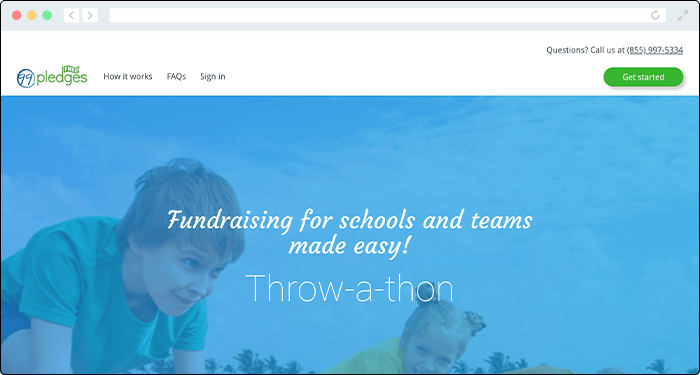 How much does 99Pledges cost?
99Pledges is free to use. There are no startup costs and no platform fees. You only pay standard credit card and PayPal fees of 2.9% + $0.30/transaction.
Learn More About 99Pledges
---
16) Handbid
What is Handbid?
If you're transitioning to virtual events, check out Handbid. It's an all-in-one auction management platform that's well-suited for nonprofits, schools, faith-based organizations, sports teams, and other organizations in the fundraising space. Plus, they offer dedicated fundraising tools that allow you to harness the power of peer-to-peer fundraising and crowdfunding.
With their platform, users see an average of 120% more bids per item and a 60% increase in revenue per item compared to paper-based auctions. With more than $175 million raised, Handbid empowers nonprofits with tools like:
Auction management
Peer-to-peer fundraising
Streaming tools
Crowdfunding tools
Fundraising reporting and analytics
Mobile apps
Bonus: Check out this recent post on top virtual fundraising ideas that Handbid wrote for the Donately blog!
How much does Handbid cost?
Their auction platform starts at $695 per year plus a 3.5% + $0.30 per transaction processing fee. They also offer a simple pricing package for their peer-to-peer and crowdfunding tools by charging 3% of fundraiser revenue in addition to the processing fee.
Learn More About Handbid
---
17) Greater Giving
What is Greater Giving?
Greater Giving is dedicated to providing technology solutions that enhance nonprofits' fundraising efforts. Since 2002, this provider has processed more than $6 billion in credit card payments for thousands of organizations across the United States and Canada.
Powered by this Classy alternative, your team can automate, track, and manage events and other fundraising efforts with features like:
Event management
Donation management
Online bidding
On-site payment collection
Integrated payment processing
Peer-to-peer fundraising
GreaterGiving offers everything you need to get started—from the platform itself to the consulting, training, content and service our Customer Success team provides.
How much does Greater Giving cost?
Reach out to the Greater Giving team to inquire about their pricing, or start a 14-day free trial through their website.
Learn More About Greater Giving
---
18) Click & Pledge
What is Click & Pledge?
Click & Pledge is an easy-to-use fundraising solution that rivals Classy's fundraising tech. They enable nonprofits to improve their digital fundraising toolkits with unique features like their fundraising video creator and their giving day platform, GiveBig.
This all-in-one platform includes many features that will help your team get up to speed on digital giving:
Mobile-friendly giving pages
Credit card reader and payment processing
Peer-to-peer campaigns
Donor management
Event management and registration
SMS giving
Video fundraising tools
After 20 years serving the nonprofit sector, Click & Pledge has a proven track record of success with more than 20,000 causes. Because of this, you can trust that their solution is one of the most comprehensive ones on the market.
How much does Click & Pledge cost?
Get up and running with a free merchant account. Processing fees include 3.75% + $0.37 per transaction and $1.50 per batch deposit.
Learn More About Click & Pledge
---
19) CallHub
What is CallHub?
CallHubis a mobile-based giving platform that was built to drive timely conversations and inspire supporters to take action. The platform makes personalized communication scalable for nonprofits, allowing them to send customized campaign messages and sync activity with their CRM.
With half of nonprofit website traffic coming from mobile users, mobile giving is a smart move for today's nonprofits, and CallHub enables organizations to harness this power. Powered by CallHub's mobile donation platform, organizations can expand their digital giving with features like:
Text-to-donate
Text marketing
Automated follow-up
Surveys and polls
Data and reporting
Check out this article on conversational donor communications that CallHub wrote for the Donately blog!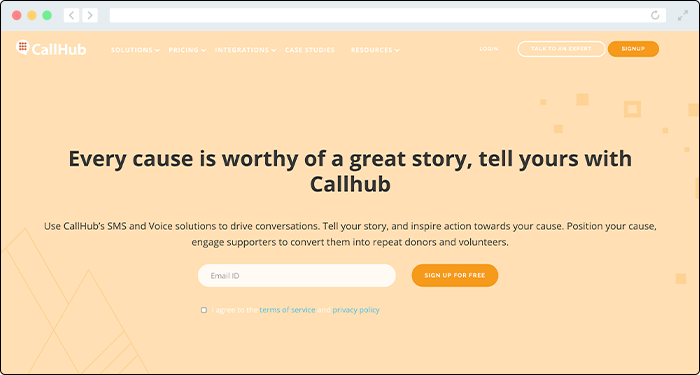 How much does CallHub cost?
CallHub is a pay-as-you-service platform, so you only pay for what you use.
To use their mobile giving tools, you'll pay $25 per month for each keyword plus $2 per month to claim a phone number. Then, you'll be charged $0.05 per text sent and $0.03 per text received.
Learn More About CallHub
---
20) GivingTools
What is GivingTools?
Giving Tools is an online fundraising platform that connects nonprofits to their donors. To maximize giving, nonprofits like yours gain access to flexible fundraising tools, such as embedded donation forms and text-to-give. The platform enables you to predict future giving and manage donors all in one place. Plus, supporters can log in at any time to see their giving history and manage their personal details.
Here are a few of GivingTools' core features:
Donor and pledge management
Volunteer management
Online donation tools
Event management
Mobile giving
Membership tools
Payment processing
To make the switch as easy as possible, they offer plenty of support features to get you up and running. With tutorial videos, illustrated guides, and speedy customer support, they make sure you have everything you need.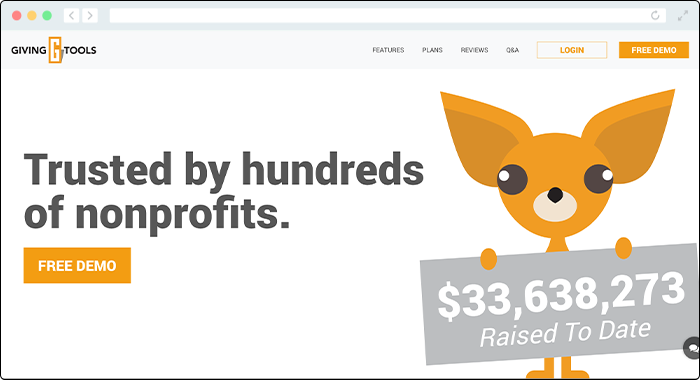 How much does GivingTools cost?
GivingTools offers a Flex plan with no monthly fees, so you only pay for ACH processing. However, upgrading to a paid plan will provide more functionality.
Learn More About GivingTools
---
21) NetworkForGood
What is NetworkForGood?
NetworkForGood offers innovative online communication tools, effective fundraising capabilities, and organized donor data—all rolled into an easy-to-use platform. With an abundance of data-based fundraising tools, you can reach supporters wherever they are and never miss another fundraising opportunity.
With NetworkForGood, you'll gain access to tools such as:
Optimized appeal templates
Mobile-responsive fundraising pages
Peer-to-peer fundraising
Pledge management
Donor insights and reporting
Event management
Email and direct mail marketing tools
This all-in-one fundraising software was built specifically for small nonprofits that want to make a big difference. They packed powerful donor management and fundraising tools into one beautiful, easy-to-use platform.
How much does NetworkForGood cost?
This Classy alternative offers three pricing packages. Get started for $200/month for up to 1,000 contacts, $300/month for up to 5,000 contacts, and $400/month for up to 10,000 contacts.
Learn More About Network For Good
---
22) Gyve
What is Gyve?
Gyve simplifies generosity and offers an innovative way for modern donors to support their favorite charities. When donors sign up and make purchases at businesses, every transaction rounds up to the nearest dollar, which is donated to the nonprofit.
In addition to this, Gyve offers a host of helpful features that can supercharge contributions further, including:
Personalized emails, texts, and videos
Text-to-give
Automated communications
Events and ticketing management
Payment processing
Data and analytics
Thanks to platforms like Gyve, charitable donations have never been easier. Backed by modern giving software, you'll boost your fundraising and reach your revenue goals in no time.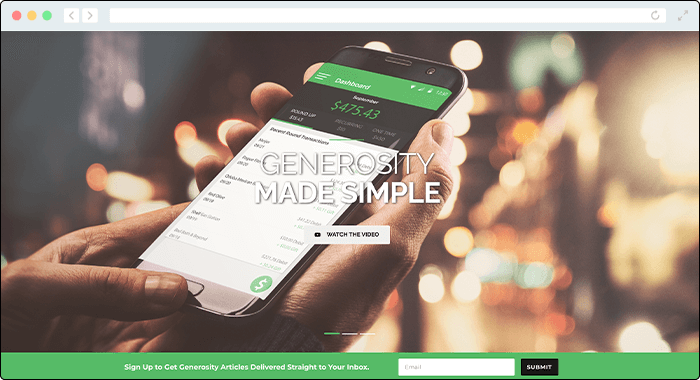 How much does Gyve cost?
The use of Gyve's platform is free, but they do charge a 2.5% + $1.30 processing fee for round-up donations and 2.5% + $0.30 for regular payment processing.
Learn More About Gyve
---
23) GiveGab
What is GiveGab?
GiveGab is one of the leading Classy alternatives for giving days and year-round fundraising. The platform offers a complete suite of products that make online fundraising easy, enjoyable, and effective for everyone involved.
Trusted by more than 40,000 nonprofits, GiveGab offers custom-tailored options that suit each organization's needs. This modern and secure technology is backed by unparalleled customer support and comes equipped with the following features:
Donation forms
Crowdfunding
Peer-to-peer fundraising
Giving day tools
Project management
GiveGab's underlying message is that everyone should experience the joy of fundraising. With straightforward tools like this, both your team and your donors will enjoy fundraising.
How much does GiveGab cost?
Pricing information is available by request, so book a demo to learn more and see the product in action.
Learn More About GiveGab
---
24) MyPLEDGER
What is MyPLEDGER?
MyPLEDGER empowers nonprofits to exceed annual fundraising goals and turn one-time donors into lifetime advocates. This intuitive platform allows you to be intentional with every effort through trackable fundraising campaigns, segmentation abilities, and impactful follow up.
On average, organizations that use MyPLEDGER boast increased collection rates of 45% of their original fundraising goals through optimized communications and additional fundraising opportunities. Here are the platform's core features:
Pledging tools
Event pages
Real-time leaderboards
Automated communications
Gift tracking
Reporting
MyPLEDGER reimangines the donor experience. Through personalized and scalable communications, data collection, and accurate reporting, you'll have everything you need to supercharge your appeals.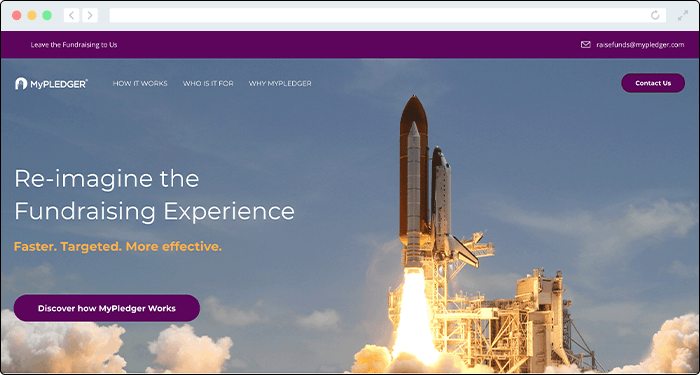 How much does MyPLEDGER cost?
To use MyPLEDGER's donation platform, you pay minimal setup fees, and the overall platform is priced based on your organization's performance.
Learn More About MyPLEDGER
---
25) GiveCentral
What is GiveCentral?
Built primarily for churches, GiveCentral is an innovative web-based platform designed to help organizations connect with their audiences. The platform conforms to your specific community and donor needs with smooth administration and extensive customization features. The vendor is rooted in the belief that donors should have complete flexibility in how they give, and this ideology has helped nonprofits raise more than $560 million to date.
Here are some of GiveCentral's powerful fundraising tools that make this possible:
Secure donation pages
Crowdfunding
Text-to-give
Payment scheduling
Live streaming tools
Communication portal
Bonus: Check out this recent post on church fundraising that GiveCentral wrote for the Donately blog!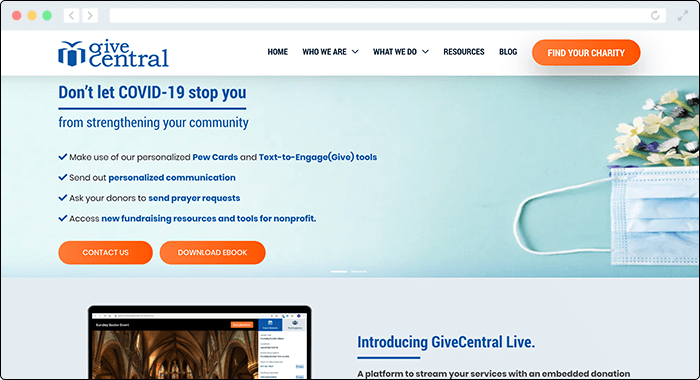 How much does GiveCentral cost?
Contact the GiveCentral team for pricing information.
Learn More About GiveCentral

With so many Classy alternatives available, nonprofits don't have to sacrifice functionality for a cheaper price tag. These options give you more bang for your buck, so you can reinvest your money and time into cultivating lifelong supporters, enhancing your programs, and fulfilling your mission.
By exploring this list and making direct software comparisons, you're off to a great start in finding the right Classy alternative that will support your team's efforts. Remember to check out Donately if you're looking to enhance your donor relationships and overall fundraising efforts. With a heavy focus on online fundraising, Donately can provide you with innovative tools to supercharge your strategies and cultivate lifelong donors.
If you're looking to learn more about nonprofit software, check out these resources: