This guest post was contributed by CallHub.
On October 10th, I tuned in to HRC Foundation's Power of Our Pride Presidential Town Hall.
It started with a Facebook message I got from them a month before the event asking me if I'd be willing to watch the live event.
On replying positively, I was directed to an event page on the HRC website where they collected my email and phone number. The conversation ended with a prompt asking me to share the event with others in my network.
Human Rights Campaign got me to tune in to their event and share my contact details without lifting a finger. They used a Facebook Bot.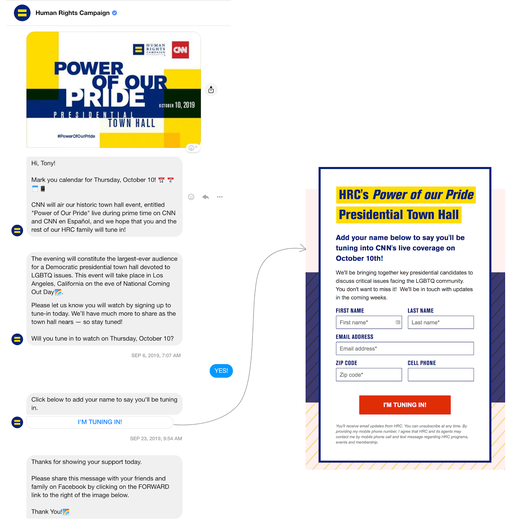 Conversational messaging is helping organizations like HRC create committed supporters and encourage them to take action, online and offline. They put the hook of one-to-one conversation to work to create engaged donors whose expectations of constant availability from organizations are met.
Today, interactions that make people feel like they're another name on a list are ignored and those that feel one-to-one are favored and actively sought after.
The struggle of maintaining relationships
When you grow beyond a certain size, it is an everyday struggle to maintain the close-knit relationships you had with donors when you first started out.
As you keep growing, there isn't any more room for personal conversation. They get sacrificed at the altar of scalability to be replaced with good looking templates. We end up communicating to groups, not to individuals. In fact, 18% of donors leave a nonprofit due to poor service or communication.
Research suggests that adopting a philosophy of relationship fundraising that values long term relationships and small dollar donations across longer periods, over a single large donation is the best way to plug this leak.
But unlike transactional marketing which is built to be scalable, relationship fundraising can be slower and a bigger drain on resources. Which is why it hasn't gained much traction in smaller nonprofits beyond adoption as a philosophy.
That's where Conversational Messaging channels like Facebook bots and peer to peer texting come in to help organizations adopt relationship fundraising at scale.
Using conversational messaging to improve donor relations
A recent survey from Twilio says that more than 90% of people now prefer to talk to a business over messaging with 47% opting for SMS.
Columbia University's John McWhorter refers to texting as "a new kind of talking".
It's light, fast and alway-available. And it gives people individual attention.
While Facebook bots help organizations field low-barrier actions (Taking a quiz, Watching a video, Signing a petition), peer to peer texting uses one-to-one conversations over text to drive high-barrier actions like attending an event, making a donation or becoming a volunteer.
And they can do it at scale. Facebook messenger bots remain active 24/7. Peer to peer texting lets every staff member or volunteer initiate more than 3000 conversations per hour.
So, how do you get started?
Facebook Messenger
Facebook messenger bots are free to use. If you have a developer on the team, you can build one yourself like MissioUSA did or you could do what Direct Relief did and use a service like ChatFuel.
You can drive people to engage with your messenger directly from your Facebook page or through a prompt on your website like the one below.

Peer to Peer Texting
Peer to peer texting lets you engage in one-on-one conversations over SMS with large groups of people, collect data on each interaction and move them to action. The conversational nature of the medium combined with the ability to sync with databases like BlackBaud and Salesforce makes each conversation personal. Which in turn improves the chance of a supporter following through on your call to action.
You can get started with peer to peer texting through open-source tools like Spoke or paid tools like CallHub.
Let's look at some areas where nonprofits are putting conversational messaging to use.
Examples of Conversational Messaging in Donor Relations
Initiate follow-up actions from new subscribers
New supporters are highly motivated to take action for your cause. But while some people might not be ready to, say, make a donation, others would want to get started straight away. Bots let you show supporters an array of options and give them control over the action they want to take. Your list of options can range from low-barrier actions like taking a survey or watching a video to high-barrier actions like signing up for a volunteer shift or making a donation.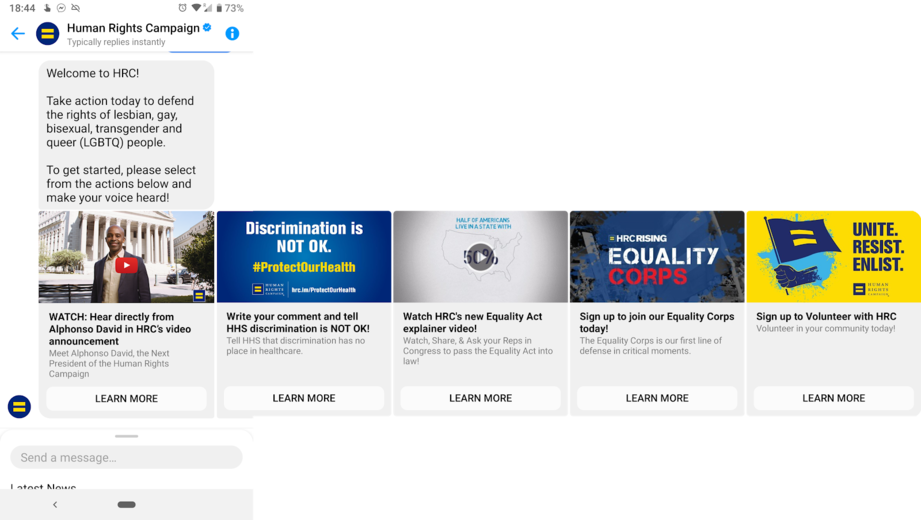 Answer support queries
7% of donors cite poor quality of support and unhelpful staff as their reason for leaving an organization. Some of these queries can be handled simply by directing them to the right information within your website.
That's exactly what Direct Relief does with their Messenger bot. People starting a conversation with the bot have the option to "Ask a question" where they are directed to the FAQ section on the organization's website. If they don't want to visit the FAQs, the bot shows them multiple other ways to get in touch with the organization.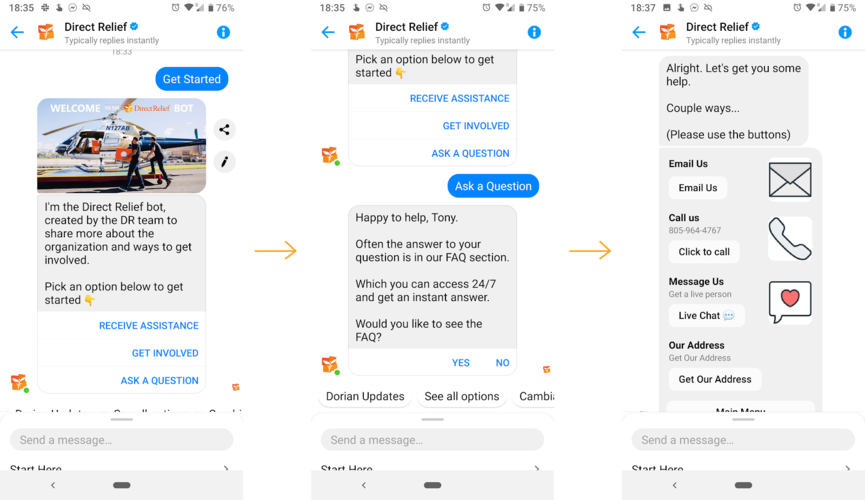 Invite supporters to events
Unlike an online action such as signing a petition, getting someone out into the real world requires targeted and personal communication. Peer to peer texting tools sync with donor management platforms so you can bring in relevant information, filter supporters and engage them in a one-to-one conversation. With invites going out as a personal message from a volunteer or staffer, supporters are more inclined to respond and attend.
Hospo Voice, a union of Australian hospitality workers uses peer to peer texts to build relationships with workers and prompt them to attend community events such as rallies, poster runs, snap protests, demonstrations and social events. They successfully campaigned the Victorian state government to criminalize wage theft.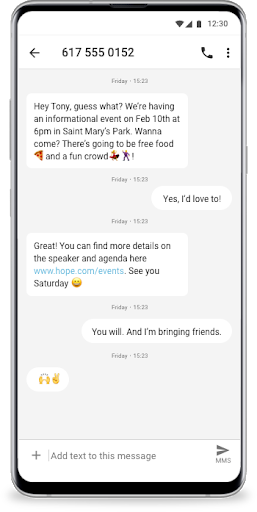 Drive donations (and thank donors)
Email still accounts for 13% of all online giving, but the key metrics, from open rates to page completion rates are on the decline. While email metrics declined, click-through rates for fundraising text messages soared by 49% to reach 13% (email is at 0.44%). This points to relatively high engagement on conversational channels like texting. Peer to peer texting helps drive community fundraising efforts, increase ticket sales for events and re-engage lapsed donors.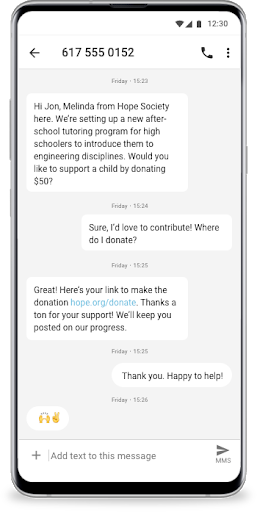 Adopting the ethos of Relationship Fundraising
Two key parts of the relationship fundraising ethos are building 'deeper' relationships with donors and developing genuine two-way communication.
Conversational messaging serves that ethos, whether it's through automated bots for lower-barrier actions or peer to peer messaging for high barrier asks. These tools are part of the front line that's plugging the current state of enormous churn and low retention at nonprofits.