If you've been fundraising for a while, you know that your website is one of your nonprofit's greatest assets. It's likely the first place people go to learn more about your mission and where supporters can make a gift using your digital donation page embedded on your site.
Besides ensuring your website and online giving page are navigable and well-designed, there are accessibility requirements you need to keep in mind.
Understanding website accessibility and how to comply with the Americans With Disabilities Act (ADA) is key to the success of not only your online fundraising efforts but your entire virtual presence. While you need to ensure your website and online donation page feature the necessary design elements to maximize your digital success, these elements also need to be accessible for all viewers regardless of ability.
At DNL Omnimedia, we're experts in web accessibility compliance, as we work exclusively with nonprofits to help them develop their web presence. We believe it's crucial that you have a clear understanding of every aspect of your website in order to use this outlet and your online donation page as a viable fundraising stream. In this guide, we'll be answering the following questions about how accessibility and ADA compliance affects your nonprofit website and online giving page:
What is web accessibility?
What is the ADA, and how does it affect your nonprofit?
What are the benefits of full nonprofit web compliance?
How can you increase your website's accessibility?
Accessibility and compliance are more than just following a set of guidelines and protocols set forth by others. It's a way to expand your nonprofit audience, no matter their language, disability, or the device they're using.
What is web accessibility?
Web accessibility is the concept that the Internet and its content are for use by all people, no matter their location, device, language, or ability. When the internet becomes 100% accessible, then people with diverse ranges of hearing, movement, and sight can interact and contribute to the online world.
Sometimes websites, applications, and tools are not designed with web accessibility in mind and unintentionally create barriers that exclude certain people from engaging online. For example, some users with visual impairments have a hard time seeing text on a low contrast background. If your website's color theme utilizes light text on a light background or dark text on a dark background, visually impaired users will not be able to read and interact with your site.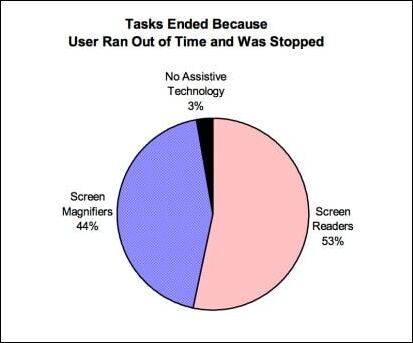 In regard to your nonprofit, web accessibility relates to how convenient and usable your website and donation pages are.
Your nonprofit web presence is an essential aspect of your organization's tech strategy and a critical part of any online fundraising campaign. To ensure baseline accessibility, your website and donation pages need intuitive and navigable design and to be within regulatory compliance.
Your organization can achieve regulatory compliance by taking steps to comply with relevant laws, policies, and regulations regarding web accessibility.
What is the ADA, and how does it affect your nonprofit?
The ADA became law in 1990 to prohibit discrimination against individuals with disabilities and ensure that people of all abilities have the same opportunities. In 1998, the U.S. Congress added the section 508 amendment to the Rehabilitation Act, requiring all federal agencies to make their software accessible. This set the standard for website accessibility.
The ADA applies to any organization with 15 or more employees or any "public accommodations." Public accommodations refer to services or facilities that are open to the general public. Your organization likely fits these guidelines, so remaining ADA compliant in your operations is crucial. Even on the off chance that your nonprofit doesn't fall under these guidelines, there's no harm in always trying to include all potential supporters in your mission.
To determine if your website is ADA compliant, you should look into the Web Content Accessibility Guidelines (WCAG).
What are the WCAG?
The WCAG are a set of usability standards developed by the World Wide Web Consortium. These guidelines dictate how your website code should be written in order to make your site accessible by all users and assistive devices such as screen readers.
The WCAG have three levels of compliance, A, AA, and AAA. A higher level of compliance means people with more extreme disabilities can successfully read and interact with your site. To be legally considered compliant with the ADA, your nonprofit's website needs to adhere at least to the AA level of the WCAG. To learn more about the WCAG, see their official page.
What are the benefits of full ADA compliance?
Even if you're still undecided about whether your organization needs full web compliance, it's clear that all the best nonprofit websites prioritize accessibility and compliance.
An accessible website ensures that a wider audience can successfully view, read, and interact with your site. Additionally, when your organization's donation forms are accessible, it removes barriers for people with disabilities and encourages them to donate. When users have the ability to quickly complete an action on your site, it translates into better conversion rates.
Full accessibility compliance has the following additional benefits:
Protects you from potential compliance charges
Fosters a more inclusive culture on your website and within your organization
Promotes an overall more user-friendly and pleasant experience
Minimizes loss of website visitors or donors due to inaccessibility or user disability
Improves search engines' ability to read and understand your website
Boosts your overall fundraising efforts
Each of these elements helps drive online engagement and fundraising revenue for your organization. As you invest in new website tools or update your donation pages, make sure that any new additions also meet accessibility and compliance standards.
How can you increase your website's accessibility?
Now that you understand why web accessibility and regulatory compliance are so important take a look at your own nonprofit's website. Are you doing all you can to provide a fully accessible and compliant experience?
If you examine your site and realize it's time for a comprehensive website redesign, we recommend reading our Nonprofit Website Design guide. However, a lot of nonprofit websites are compliant with many requirements, so it's likely that your organization's website may only need a few updates.
To evaluate where your site could use an accessibility refresh, let's review some of the WCAG's core principles of accessible design: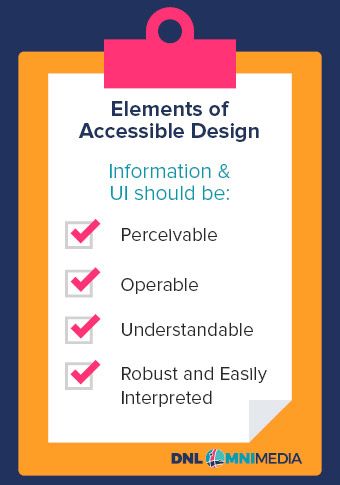 Perceivable information
Operable user interface (UI) and navigation
Understandable information and UI
Robust content and reliable interpretation
These core principles prioritize user experience (UX) with regard to convenience and accessibility. It can be hard to determine your own website's user experience, especially from a third-party perspective. Consider the following common ways that you can improve your website to have a more accessible UX:
Ensure that your color scheme uses colors with a high contrast ratio
Provide clear page titles and headings throughout pages
On website forms, make sure entry fields include matching labels for each input
Provide visual feedback for visitors using keyboard navigation to indicate where they are on a page
Hide redundant links and decorative images from screen readers
Do not use images to communicate written text
If you do have text-only images, provide the text depicted in the image as an alternative text attribute
Embed only videos with closed captioning or provide a written transcript of the video
Don't use flashy elements or any other bright lights, which can be harmful to those who are seizure-prone
Design the entire website user experience so that it is intuitive and easily navigable with clear calls to action and a menu
Take a closer look at each of your website's pages to ensure they adhere to these guidelines and make changes where they don't. One page you want to ensure is fully accessible is your donation page, as this is your supporter's portal for contributing to your cause quickly and easily from your main site. If you need guidance for creating a fully-accessible, elegantly-designed donation page for your website, see Donately's guide to top donation software choices.
---
Your website is the center of your nonprofit's Internet presence, and it is how most people will be introduced to your organization. Making your website accessible is another way you can tell your visitors "you are welcome here." And, as re:Charity notes in their nonprofit fundraising guide, accessibility compliance may translate into higher revenue in online giving.
---
Author: Carl Diesing, Managing Director at DNL OmniMedia
Carl co-founded DNL OmniMedia in 2006 and has grown the team to accommodate clients with on-going web development projects. Together DNL OmniMedia has worked with over 100 organizations to assist them with accomplishing their online goals. As Managing Director of DNL OmniMedia, Carl works with nonprofits and their technology to foster fundraising, create awareness, cure disease, and solve social issues. Carl lives in the Hudson Valley with his wife Sarah and their two children Charlie and Evelyn.