donation pages
5 Ways to Get Association Members Involved in Fundraising
Fundraising is a great way to engage your association's members, rallying them around a common goal. Here are five ways to involve members in fundraising.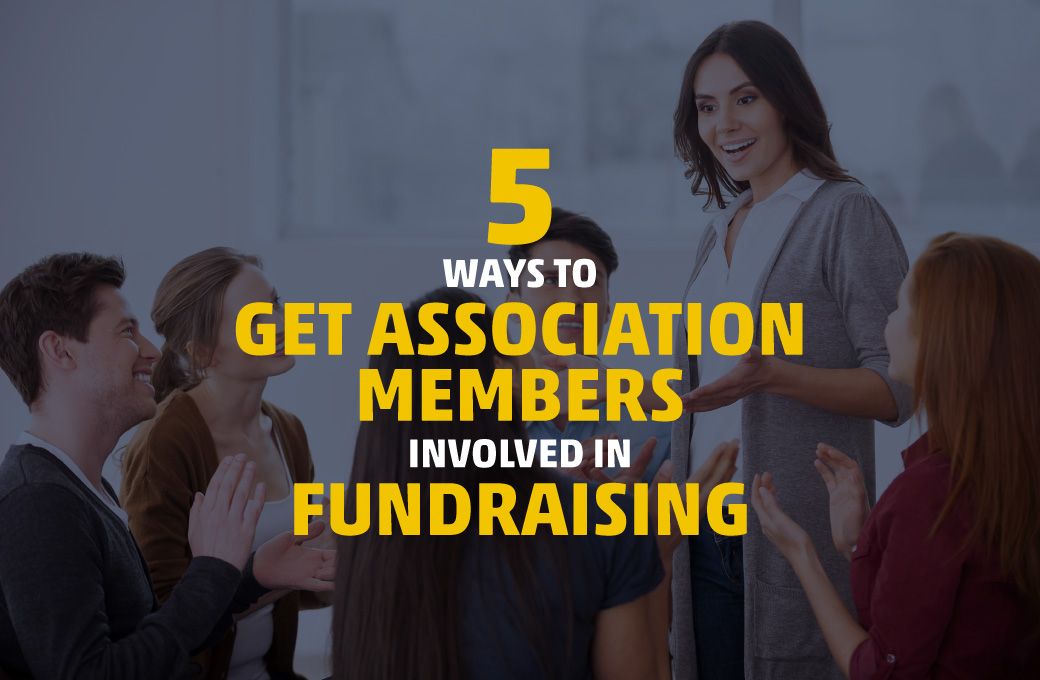 Your association may turn to fundraising from time to time to support your programs and continue offering valuable benefits to members. In addition, you might launch a fundraiser to support a local community organization or nonprofit.
It can be challenging to engage enough donors or volunteer fundraisers to meet your goals when it comes to fundraising. Luckily, you already have a built-in audience for your fundraising initiatives: your association's members.
Involving your association's members in fundraising helps you raise more and brings your members together for a common purpose, strengthening their ties with your organization. Whether you're looking to engage members in an online, in-person, or hybrid fundraising experience, consider these ideas to boost participation:
1. Launch a peer-to-peer campaign.
2. Incorporate text-to-give in your operations.
3. Provide fundraising incentives.
4. Spread awareness of matching gifts.
5. Thank donors genuinely and frequently.
As you kickstart your fundraising initiatives, one of the most powerful tools you can use to stay organized is your membership management software. Reference the member data stored in your software solution to identify top prospective fundraisers and reach out to them. With this in mind, let's dive in!
1. Launch a peer-to-peer campaign.
Even if you haven't been in the fundraising realm for long, you've probably heard of peer-to-peer (P2P) fundraising. P2P initiatives involve empowering audience members to fundraise on behalf of your organization.
According to this peer-to-peer fundraising guide, the process looks like this:
1. Set a fundraising goal. Assess your past fundraising successes to set a reasonable goal for your upcoming campaign.
2. Invest in a peer-to-peer fundraising platform. Search for a solution that offers robust features such as a streamlined design, sharing tools, and the ability to track donor data.
3. Design the main P2P page. This page serves as the blueprint for your volunteer fundraisers to emulate in their personal fundraising pages.
4. Recruit volunteer fundraisers and encourage them to create their own fundraising pages. Provide a brief style guide or instruction manual that offers tips and best practices for designing a P2P page.
5. Promote your campaign and motivate fundraisers to reach their personal goals. Promote your campaign on your communication platforms. In addition, include tips in your fundraising style guide about the best way participating fundraisers can market their P2P pages.
Parse through your membership database to find the right individuals to invite to become P2P fundraisers. These individuals might be long-time members with a long-standing relationship with your organization or new members who may be interested in getting more involved.
Your P2P fundraising guide will play a major role in encouraging members to get involved in your campaign, especially your new members. When you provide clear, thorough instructions on how to get involved, it reduces barriers to participation and gives members greater confidence.
2. Incorporate text-to-give in your operations.
One of the obstacles that members face when getting involved in fundraising is the potential time commitment these initiatives require. Most of your members likely lead busy lives, with not a lot of free time to devote to fundraising.
You can make fundraising easy and convenient with a text-to-give campaign. Text-to-give fundraising allows you to engage members on a device they use in daily life — their mobile phones.
In a text-to-give campaign, your organization sets up a dedicated phone number. When supporters text a specific keyword to the number, they'll receive a link to your online donation page.
Incorporate text-to-give into your organization's fundraising initiatives in the following ways:
Combine your text-to-give initiative with your P2P campaigns. Encourage volunteer fundraisers to include the text giving number within their individual fundraising pages or social media posts.
Incorporate text-to-give in your events. Promote your text giving number throughout the event and encourage attendees to help reach hourly goals.
Share your text giving number on your communication platforms. Take a multi-channel marketing approach and share your text-to-give number on your association's social media pages, email newsletters, direct mailings, and website.
Keep donors in the loop regarding the progress of your text-to-give fundraising campaign. Provide frequent updates about what these donations have been able to help you accomplish. For instance, let donors know that their contributions helped your association fund a lobbying trip to the state capital or a scholarship for local high school students interested in entering your field.
Updating donors on the impact of their contributions proves that their gifts do make a difference, encouraging them to stay involved in fundraising.
3. Provide fundraising incentives.
Your association's members are a receptive audience for your fundraising initiatives because they already have a pre-existing relationship with your association. But even though members already have a proven affinity for your cause, it never hurts to offer a few incentives to encourage members who may be on the fence about fundraising.
MemberClicks offers several volunteer incentive ideas that can easily be translated into fundraising incentives, such as:
Fundraising badges or points for top participants and donors.
Free merchandise such as t-shirts, water bottles, or tote bags.
Prize drawings or gift cards for top fundraisers.
Exclusive events for fundraisers and donors.
You can use these initiatives whether you're seeking to recruit peer-to-peer fundraising participants or donors. Promote your fundraising incentives in social media posts and email newsletters to spread awareness.
4. Spread awareness of matching gifts.
If your organization is a nonprofit with a membership program, hosting a matching gift drive is an engaging, convenient way to involve members in fundraising. Or, if your association partners with a nonprofit, you can use matching gift funds that members contribute to support their charitable cause.
Matching gifts are a type of corporate philanthropy wherein companies match donations made by their employees to eligible nonprofits. Most companies match at a 1:1 ratio, but some match at a 2:1, 3:1, or even 4:1 ratio.
According to Double the Donation's matching gift statistics, 84% of donors say they're more likely to give if a match is offered. Plus, over 18 million people work for companies with matching gift programs, meaning it's likely that many of your association members work for such businesses.
The first step to earning more matching gifts is promoting these programs. Most individuals don't even know matching gift programs exist, let alone whether they're eligible for such programs or not.
Donately offers a few tips for encouraging matching gifts among your audience, including:
Incorporate a brief matching gift program explanation into your donation page.
Share matching gift information in your donation confirmation email.
Dedicate a page on your association's website to explain matching gift programs and how to apply for a matching gift.
Members are often highly motivated to get involved in fundraising if they know their contributions are match eligible because they see how they can make a greater impact without having to open their own wallets again.
5. Thank fundraisers genuinely and frequently.
Members are much more likely to get involved and stay engaged in fundraising if they're recognized for their contributions.
You likely already conduct ongoing member appreciation efforts such as sending personalized welcome letters or hosting member appreciation events. Adapt these gratitude efforts to thank your fundraisers and donors for their participation.
Use the following ideas to thank fundraisers and donors for their support:
Shout out top fundraisers or donors on your social media pages. Highlight your most successful P2P fundraisers or your major donors on your Facebook, Twitter, and/or Instagram pages. Be sure to turn on post sharing so members can share their accomplishments with their friends and family.
Send heartfelt thank-you letters. Your supporter thank-you letters are a simple, yet effective way to show appreciation for fundraisers and donors. Ensure your letters are personalized with each supporter's preferred name and that they reference their specific contributions. For instance, you can say, "Dear Jonah, thank you for your dedicated peer-to-peer fundraising efforts. We are so proud that you reached your goal of raising $100!" This lets members know that you're keeping tabs on them and recognizing them as individuals.
Ask for feedback. Take your appreciation efforts a step further by proving to members that your organization is invested in their success and satisfaction. Send feedback surveys to fundraisers and donors to gather opinions on your organization's fundraising initiatives and campaigns. This allows members to make their voices heard while providing valuable feedback that your organization can use to improve its fundraising efforts.
Showing gratitude to your members for their fundraising participation builds goodwill, making it more likely that they'll be receptive to your next fundraising campaign. You might even influence other members to get involved once they see your social media shout-outs or hear about the great experience their fellow members had with fundraising.
The more you can make your fundraising opportunities convenient, fun, and appealing, the greater success you'll have with engaging your association members in your initiatives. When you offer members a positive, enriching fundraising experience, you can boost membership satisfaction and even retention. Happy fundraising!
Andrew McWhaw
Andrew leads the Inbound Marketing team for Personify's MemberClicks and Wild Apricot products, helping non-profits, associations, and clubs discover the software they need to empower their missions. A veteran of the SaaS space, Andrew focuses on the use of data and analytics to create demand generation campaigns and content assets that speak to the most pressing needs of Personify's audience. When he's not overseeing the marketing activities of MemberClicks and Wild Apricot, you can find him volunteering with his local residents association.