Simply put, nonprofit crowdfunding is the practice of raising money for a social cause through small donations given by a large number of people. This is usually done online, where nonprofits can reach hundreds, even thousands, of people who are sympathetic to their mission.
While a quick definition is helpful in understanding nonprofit crowdfunding, there's a lot more to it than tapping into your social network for donations. Effective crowdfunding requires a multifaceted approach with digital and traditional tactics so you're reaching as many people in your donor base as possible.
To help you get started with nonprofit crowdfunding, we're going to answer some of the most commonly asked questions about this topic and share strategies for initiating your own campaign.
#1: Can Nonprofits Use Crowdfunding?
Since this concept is often seen in the business space, you may be wondering how to use crowdfunding for nonprofits. Crowdfunding is actually a very common way for nonprofits to fundraise and helps these organizations expand their donor network. In fact, there are even nonprofit crowdfunding sites dedicated to helping organizations like yours create and manage online fundraising campaigns.
#2: What Are Nonprofit Crowdfunding Campaigns?
Nonprofit crowdfunding campaigns refer to fundraising efforts that rely on small donations from a large number of people to benefit a charitable cause. The money earned from these campaigns is used to fund specific efforts, such as paying for a shelter, animal surgery, or funding cancer research.
While crowdfunding campaigns come in different forms, you're most likely to come across these types of fundraising strategies on the web. If you're active on social media, you've probably seen a number of nonprofit crowdfunding campaigns posted by friends, family, celebrities, or organizations.
One prime example of a nonprofit crowdfunding campaign is a charitable effort in response to a current event, such as a hurricane relief fund or donations to help a neighbor affected by a house fire. However, not all crowdfunding campaigns start with an unfortunate event. This type of peer-to-peer fundraising can also be used to benefit your local schools, community art classes, animal shelters, and so much more.
#3: How Successful is Nonprofit Crowdfunding?
When done right, crowdfunding can be extremely successful. Just ask organizations like the American Red Cross and Save the Children who regularly use crowdfunding campaigns to help those in need. And while large nonprofits like this benefit from recognizability and reach, you don't need to be a global entity to be successful in nonprofit crowdfunding. Whether you're raising money to feed your local community or repair a flooded football field, you too can benefit from a crowdfunding campaign.
#4: How Long are Typical Nonprofit Crowdfunding Campaigns?
We understand that when you're passionate about your cause, you want to make an impact quickly. Since many crowdfunding campaigns are developed with specific and timely goals in mind, they often take just a few weeks or months to complete. Crowdfunding campaigns are also extremely flexible and can be molded to fit your short or long-term goals.
Want to raise money quickly? A great way to do this is to focus on your campaign's virality. An effective nonprofit crowdfunding strategy is to recruit others to engage in peer-to-peer fundraising on your organization's behalf. This means that individuals will create their own donation pages linking to your campaign to earn donations from their peers. The more people who post your campaign, the more likely you are to earn donations quickly.
Nonprofit Crowdfunding Ideas to Try
Ready to try your hand at starting a crowdfunding campaign of your own? Choose from one of these simple nonprofit crowdfunding ideas or employ a combination of them to see the best results from your fundraising efforts.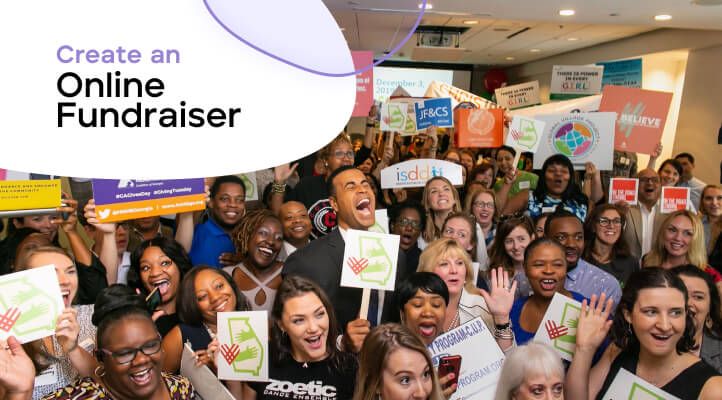 Create an Online Fundraiser
Are you looking to attract new donors, build awareness around your mission, and tell your nonprofit's story? An online fundraising campaign can help you do all this and more. A popular nonprofit crowdfunding idea for a reason, online campaigns have the potential to engage your ideal audience no matter where they're at in the world.
To begin an online fundraising campaign, your organization first needs to have an online presence. This includes a website and profiles on relevant social media platforms, such as Facebook and TikTok. To decide which social media sites you should be active on, take a look at where your donor demographic is spending their time online. You can do this by analyzing data about age, gender, location, and other defining characteristics, then pinpointing which social media sites this demographic is likely to use.
Next, you'll need to create a donation page for your campaign. This provides interested supporters with a place to learn more about your mission and submit donations when they're ready. Luckily, nonprofit crowdfunding sites like Donately make this step simple. Our easy-to-use tools enable you to create customized, on-brand donation pages in a matter of minutes. Plus, you can embed donation forms directly onto the page, helping you convert more donors.
Here are a few elements that can help you create a successful donation page:
Images & Video - Evocative images and video have the power to inspire your audience to make a difference. Focus on your mission, volunteers, and the impact your organization makes on those you help.
Tell Your Story - Donors want to know why they should give and where their donations are going. In compelling yet succinct prose, tell your nonprofit's story and how donors can help.
Donation Forms - Feature a donation form front and center so supporters can give more easily. Don't ask for more information than necessary so as not to spook donors.
Once you've set up your crowdfunding donation page, you're ready to start sharing your fundraiser with others. On social media, create posts and stories about your campaign, linking directly to your donation page. This will help create visibility for your campaign and give others the opportunity to share your posts with their own followers. You can also send out an email blast to your donor list with information about your nonprofit crowdfunding campaign.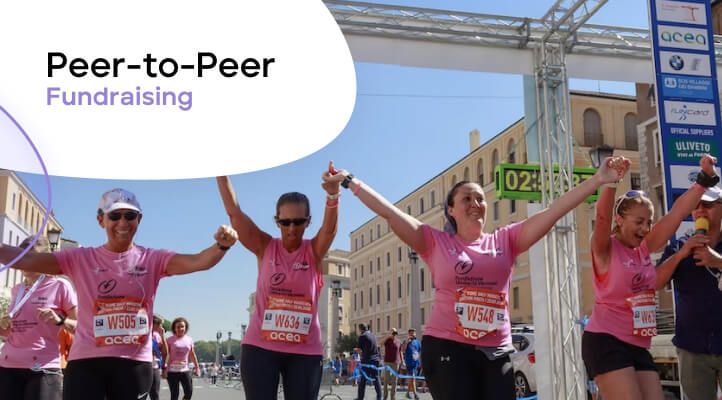 Peer-to-Peer Fundraising
Building off the momentum you gained with an online fundraiser, you can begin to recruit supporters to promote your nonprofit crowdfunding campaign. Peer-to-peer fundraising empowers your advocates to raise money on your behalf and helps spread your message to more people. This can be done both online via social sharing and in-person using traditional strategies.
To benefit from online peer-to-peer fundraising, you'll need to enable your supporters to create donation pages of their own. When selecting a nonprofit crowdfunding site and tools, we recommend choosing one that allows you to develop a primary template for your peer-to-peer fundraising efforts. Your volunteers will then use your template to create donation pages of their own, helping you establish consistency in branding and messaging.
Peer-to-peer fundraising isn't just for the web. Fundraising events can be an excellent opportunity for volunteers to gather pledges from their personal network in support of your cause. For example, volunteers at a walkathon or 5K race can ask their donors to give a particular dollar amount for every milestone passed. To learn more ways to use peer-to-peer fundraising at your nonprofit, check out this blog post.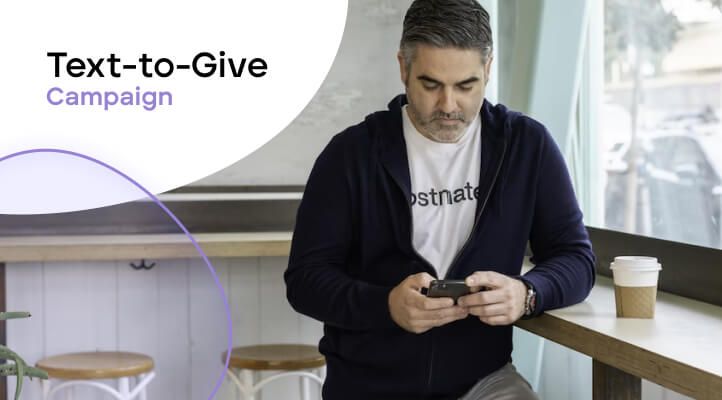 Text-to-Give Campaign
When was the last time you left home without your cell phone? If you're like most people, you probably keep your smartphone within reach. What better way to engage your donors than via their favorite device? Text messaging is a simple nonprofit crowdfunding idea that can help you earn more donations in just a few clicks.  
A text-to-give campaign enables nonprofits to solicit donations from their network through mobile messaging. Simply send donors a customized link to your donation page where they can enter their information and contribute to a worthy cause. Instead of laboriously texting each donor one by one, we recommend choosing donation software that includes text messaging tools. This will allow you to send mass messages, increase donations, and keep supporters informed of upcoming events.
Please note, this strategy hinges on the information you have about your existing one-time and regular donors. So, it's important your organization has processes in place to collect and analyze donor information. Some nonprofit crowdfunding sites, like Donately, enable you to track and view insights about your donation campaign performance, including donor data. You can then use this information to create targeted text-to-give campaigns that engage your audience.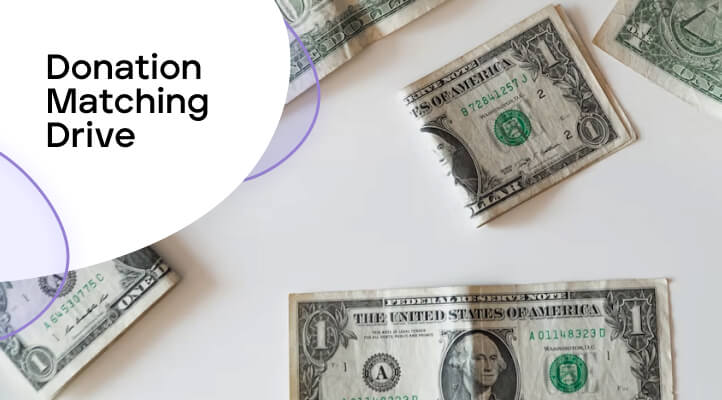 Donation Matching Drive
More and more corporations are prioritizing philanthropic efforts as the market demands companies take responsibility for their impact on the world around them. This trend gives your organization an opportunity to capitalize on corporate giving to benefit your cause and create more buzz around your nonprofit.
Plus, your organization isn't the only one who benefits from this partnership. Harvard Business School found that employees who are able to give to charities through their employers report better workplace satisfaction than those who can not. The business can also benefit from this relationship by promoting their philanthropic efforts to bolster their image. We love a win-win-win!
In a donation matching drive, a business promises to match donations made by employees to a particular nonprofit. This may be dollar for dollar or a certain percentage, depending on the size of the corporation and the campaign. These types of campaigns usually run for a limited time, attaching urgency to your efforts.
To create a donation matching drive, you'll first need to find a business partner. Your donor and volunteer base is a great resource here. You can try sending out an email or text message asking your network to reach out with donation matching partnership inquiries. Representatives of your organization can also try getting in touch with the charitable arms of corporations to earn support.
When choosing a partner, you may want to start with corporations that align with your mission. For example, a nonprofit focused on climate or nature conservation may aim to partner with a major outdoor retailer like REI or Patagonia, both of which have made pledges to do better for the people and the planet. Do a little research to learn about the company's history of philanthropic giving and who you may need to contact to jumpstart a partnership.
If you're part of a smaller nonprofit, you can still benefit from donation matching programs. Instead of aiming for large corporations, hunt for influential businesses in your own community with a reasonable amount of employees who may support your cause.
How to Choose a Nonprofit Crowdfunding Site
The right donation management software can make a huge difference in your ability to fundraise, raise awareness, and grow your nonprofit. With a variety of options to choose from, it can be difficult to know which is best suited for your organization. When searching for a software service, first take note of a few key traits that will help you understand your nonprofit's needs.
The Size of Your Organization
Are you a small, local nonprofit with limited scope? You may not need costly, high-performance software and can likely use free donation software to accomplish your goals. Donately offers a free version of our tools to help small organizations like this make a big impact. If you're a larger organization, you'll need a software service that's able to do some heavy lifting and may be able to invest more resources into this program.
Your Nonprofit's Goals
As a mission-driven organization, you're no stranger to setting goals. When it comes to choosing a nonprofit crowdfunding site, just make sure those goals are specific and quantifiable. Are you looking to raise awareness for your mission? Double your donors by the end of the year? Understanding what you hope to accomplish with your donation management software will help you pinpoint which features you need and which you can do without.
Budget
Nonprofits have to be particularly savvy about how they spend their money, so you'll want a platform that does the most for the best price. Many sites will have various options to choose from based on the features you're looking for. Be conscious of the platform fee, charged per donation. A lower platform fee can help you maximize your donation earnings.
Nonprofit Crowdfunding Tips to Keep in Mind
Before you hit the ground running, we want to leave you with a few tips to keep in mind as you create your own crowdfunding campaigns.
Maintain control over your message.
When you have advocates all over, it can be a challenge to ensure your nonprofit is being accurately portrayed in peer-to-peer fundraisers. This is why it's so important to create a main donation page that your supporters can simply copy and paste to start earning donations.
Multiple strategies are better than one.
Want to see the most impact from your efforts? Combine them! All of the nonprofit crowdfunding ideas we discussed today can be used together.
Track and analyze your performance.
Collecting data about your campaign performance helps your nonprofit continue to improve and grow. Review what worked and what needs to be tweaked to see better results in the future.
Happy crowdfunding!