This guest post was contributed by Aly Sterling Philanthropy.
You've seen other nonprofits succeed with large-scale fundraising campaigns and earn recognition, excite their donor base and expand their impact. Your nonprofit may be considering a fundraising campaign of your own, but how can you achieve the same results?
If your organization is looking to invest money, time and manpower into a large campaign, you first need to assess whether or not your team is ready to overcome the challenge. While your nonprofit has already implemented the essential tools for minor campaigns to acquire new supporters, major fundraising campaigns are an entirely different beast to take on.
Before you launch a successful capital campaign, you need to first invest in determining the potential success and accessibility of your goals–you need to conduct a feasibility study.
Feasibility studies are one of the cornerstone components of planning a successful major nonprofit fundraising campaign (or avoiding a destructive one).
Feasibility studies are valuable tools that can help you enhance donor relationships, strengthen internal operations and plan for a fundraising campaign with the most pertinent, immediate information available to your organization.
So, how can you use feasibility studies to positively influence your campaign? In this article, we will explore what it takes to conduct an instructive feasibility study and how to leverage the study's findings to help your campaign succeed.
Nonprofits investing in feasibility campaigns should consider a multi-step process to achieve their goals. Be sure your organization is knowledgeable about your investments in:
Preparation
Nonprofit consultants
Resources
Donors
Results
Are you ready to maximize your nonprofit's next feasibility study? Let's dive into these strategies to make the most of your investment!
1. Investing in preparation.
If you do not prepare to succeed, you prepare to fail. By preparing for your feasibility study, your nonprofit will maximize the study's effect on your campaign's overall success.
A comprehensive feasibility study is designed to reveal how key stakeholders feel about your upcoming campaign and whether or not you can count on their support.
The only way to become privy to such pertinent information is by beginning with proper preparation–your nonprofit's fundraising history.
By clearing the dust off of your organization's fundraising history, you will be able to better analyze your nonprofit's capacity to reach your campaign goals. Not only will you be able to identify the strongest components of your fundraising strategy, but working with a fundraising advisor to analyze these records can also help you better assess your weaknesses.
Looking to exceed your campaign goals? Analyze these elements of your fundraising strategy:
Your communication strategies. How you market your campaign determines how well your campaign will fare. Measure the success of the marketing techniques you employed in previous campaigns by assessing the effectiveness of your outreach to major donors and their response rates.
Your prospect research. Use your past prospect research results to get a headstart on collecting new information for this campaign. What do you already know about your mid-tier and major donors? Figure out how you can streamline or amp up your efforts for future campaigns by evaluating your current resources.
Your donation "ask". How compelling are your fundraising asks? Have they brought results in past campaigns? By reviewing notes and metrics, you can search for and identify key opportunities to make each ask more impactful. Be sure to look for elements like personalization of the ask or platform of communication.
Your follow-up. How quickly can you follow-up with your donors? More importantly, how do you follow-up? Do you surpass donor expectations? Try to revitalize your follow-up for this campaign and really go above and beyond to thank all the donors who make your campaigns possible as quickly and effectively as possible. Make sure they know how much you appreciate them.
By analyzing your past fundraising strategies, not only will your fundraising strategy improve, but the effectiveness of your feasibility study will increase.
Due to the human inability to maintain complete objectivity when it comes to the cause you care about so much, your feasibility study will always be more effective if you invest in an outside perspective. We always suggest hiring a capital campaign consultant to get started.
2. Investing in nonprofit consultation.
Here at Aly Sterling Philanthropy, we always recommend conducting a feasibility study with the guidance of a nonprofit consultant so that your organization can create its strategy with the oversight and input of a third-party, objective perspective.
The process of your nonprofit pointing out its own fundraising flaws during a feasibility study is a difficult task, so seeking the unbiased advice of an expert will ensure your results are accurate.
Throughout the feasibility study, your consultant will:
Research your organization's fundraising strategy and history with an unbiased eye.
Impartially interview your nonprofit's stakeholders and make them more inclined to be entirely candid about their true feelings of the campaign.
Assess the results of the study strategically to determine the viability of your proposed campaign.
Provide their transparent and honest evaluation of the best strategies to prepare for your campaign.
With an impartial eye, a campaign consultant can highlight inadequate aspects of your campaign that you might have otherwise overlooked and underscore the reality of your fundraising campaign's potential.
Though hiring a dedicated campaign consultant to conduct your feasibility study allows your nonprofit to focus on fundraising, it's important that you investigate before investing.
Your organization should seek a consultant that best aligns with your fundraising goals and specific needs. To determine if a consultant is right for your organization prior to hiring them, consider the following:
What are my nonprofit's current fundraising goals?
Does the consultant specialize in the services I need?
Which fundraising consulting firm exhibits values that align with my nonprofit's mission?
Is the consulting firm local or remote?
Have they helped organizations like mine in the past?
Do they seem like a good fit for my organization?
Above all else, ensure that the campaign consultant you hire is someone who is candid, honest, strategic, transparent and who genuinely wants to benefit your cause.
3. Investing in resources.
As your organization embarks on the exciting journey of a new campaign, you must ensure that you are equipped with the manpower and technological resources you need to efficiently reach your fundraising goals.
During the course of your nonprofit's feasibility study, your consultant will determine if you have the necessary resources to effectively market your campaign, raise donations, recruit volunteers and reach your ultimate goal.
With the guidance of your nonprofit consultant, your organization can plan your campaign journey in the two necessary phases–the quiet phase and the public phase–each of which requires its own form of nonprofit technology.
Let's map out each phase a little more:
The Quiet Phase is the part of your nonprofit's journey where you will reach out to your major gift prospects and steady stakeholders to receive the majority of funds your campaign will raise. Your organization has not yet announced the campaign to the public. This is, however, when you raise the bulk of your funding for the campaign.
The Public Phase is the part of your nonprofit's journey where you will publicly announce the campaign and begin soliciting donations from your lower-level supporters. It is here that you will continue stewarding your donors to ensure the safe travels of your campaign.
In order to set sail, you must be sure you have the manpower to steer your campaign's ship toward success. If your consultant is your organization's first-mate, determine if you have the rest of your crew. Other important team members include:
Superb staff. The second mate of your organization's expedition, without a dedicated staff, you cannot achieve your campaign's mission.
Vibrant volunteers. The chief engineers, vibrant volunteers are crucial to your everyday operations and to the ultimate productivity of your nonprofit. Volunteers provide varying skill sets, expertise, leadership qualities and physical support.
Dedicated donors. Just as you cannot set sail without the means to build a ship, you cannot pursue a campaign without the support of your donors!
With a crew in place that is eager to embark on their journey, it is important you provide them with the best tools for your organization to reach your destination. Throughout your journey, your crew will always need access to your donor database, the powerful platform that will assist you in tracking gifts you've cultivated and all of the donor information you need to secure support.
Equip your crew with online fundraising tools to integrate with your database and streamline your donor data to improve donor stewardship and acquisition. Customize your communication strategy with major and mid-tier donors to make the most of your conversation between your major gift officer and your prospect during the quiet phase.
To get donor relationships started on the right foot, try updating your donation page to incorporate more tech best practices to better resonate the relevancy of your organization with new supporters. With software catered to your needs, you can more easily acquire donors and pursue a deeper relationship.
Be ready for the public phase by ensuring you have the necessary tech to ask donors to support your campaign through email campaigns, mobile giving, peer-to-peer fundraising software, direct mail software and more. While the bulk of your fundraising comes from the private phase, you don't want to leave the public phase out to dry!
For advice on purchasing the right software in preparation for your campaign, click here.
4. Investing in donors.
When implemented properly, a feasibility study can strengthen your organization's relationships with your current and prospective donors for all of your current and future fundraising campaigns.
People take kindly to their opinions being valued. So, when your nonprofit inquires and takes note of your donors' opinions, you develop a stronger bond. Your organization gains the perspective of your supporters and your supporters feel appreciated and involved!
Take advantage of this opportunity to cultivate relationships with supporters during the feasibility process with these strategies:
Inform supporters of their importance. Tell stakeholders, volunteers, donors and others who are interviewed during the feasibility study that their involvement in the study is of the utmost importance.
Express your gratitude. Your supporters' time is valuable, so make sure you thank them accordingly. Going above and beyond to thank your supporters will encourage them to continue their involvement with your organization.
Follow-up with participants. After they've invested their own time into the feasibility study, follow-up with participants to inform them of the results and what your future plans are.
When used correctly, feasibility studies offer so much more to your nonprofit than purely just preparation for a campaign. They can be a device to develop donor relationships, boost morale and encourage potential. By addressing the direct concerns and cares of donors throughout the feasibility study, you are proving to them that you are responsible, trustworthy and always pursuing progress.
For more ways to invest in your donors, check out Double the Donation's guide to donor recognition!
5. Investing in results.
According to the results of your feasibility study, your nonprofit will have a better idea of the potential for success and whether or not you should move forward with the campaign at this time.
Your organization can also use the results as a way to focus on the areas of improvement before continuing with your campaign to maximize your success.
The one thing your organization should not do is ignore the results. The results of the feasibility study ultimately assess whether your nonprofit is ready to move forward with your campaign or if you're simply not prepared to execute such an enormous endeavor.
No matter what the results of your feasibility study are, your organization should devise a plan to move forward together.
Moving forward with the campaign?
Congratulations! Celebrate and then get right to work planning your campaign.
Now that the feasibility process has ended and the results have confirmed that you're ready for a successful campaign, it's time to make the necessary adjustments to your campaign strategy:
Your communication and marketing strategy. You will need to develop materials and an outline of when you'll reach your supporters during both the quiet and the public phase.
Your case for support will document the information gathered during your feasibility study and highlight key points that are important to your donor base. Include your vision for the future, the purpose of your campaign and the intended benefit for your community.
The cost of your campaign should be confirmed and laid out for your nonprofit board and leadership team.
Your fundraising goal should be mapped out with a gift range chart to help your team visualize how they will attain your goal. Donor prospect lists should be created with the help of your board and leadership team.
Your nonprofit's goal now is to keep track of key activities throughout your campaign. Staying organized will mitigate stress and help you produce accurate reports. Last but not least, get ready to revel in your success!
Not moving forward with the campaign?
Fear not! Your investment in the feasibility study was still worth it! Imagine how destructive an unsuccessful campaign would have been to your nonprofit… Now, aren't you glad you didn't fully invest in it?
With the results of your feasibility study, your organization can still:
Use the feedback and the results to identify weaknesses, solidify successes and optimize your fundraising strategy.
Grow stronger by finding solutions to your challenges and potentially pursue your campaign later on after you've built a more secure foundation.
Keep your stakeholders and supporters updated to keep them invested in your organization's development and future successes.
No matter what your nonprofit does, do not give up! Now is the time to revitalize your efforts, revamp your supporters and reconnect with your community.
---
If your nonprofit is ready to embark on the long journey of large fundraising campaigns, make sure you have a ship that can handle the currents.
Investing in a feasibility study will inform your organization if it's ready for a campaign of that magnitude and making you privy to your nonprofit's fundraising strengths and weaknesses.
Consider these 5 strategies to make the most out of your feasibility study and help you set sail!
About the Author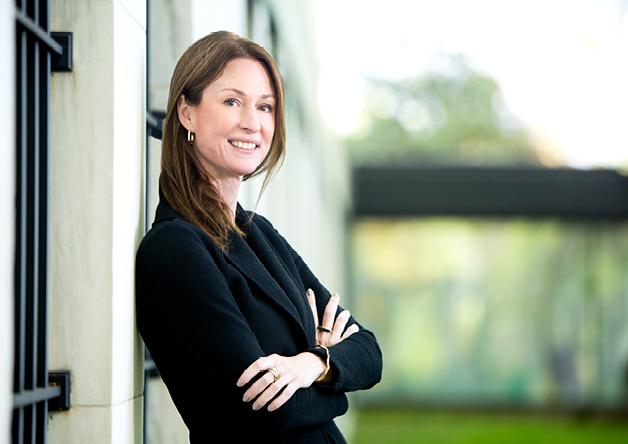 Long before Aly Sterling founded her eponymous consulting firm, she was solving the unique yet similar problems encountered by nonprofit organizations.
Her decision to start her own business in 2007 was driven by her belief in leadership as the single most important factor in organizational success, and her determination to work with multiple causes at one time to scale societal change.
Aly's expertise includes fundraising, strategic planning, search consultation and board leadership development for the well-positioned nonprofit. She is regularly sought for comment by trade and mainstream media, including the Chronicle of Philanthropy and U.S. News & World Report. She has contributed to publications of BoardSource and The Governance Institute, as well as the Toledo Chamber of Commerce and The Giving Institute.