This post was contributed by Keela.
How can you be sure your message is being heard?
You maintain a presence on social media, you throw events either virtually or in-person to make sure you're getting in front of new potential donors, or you experiment with new forms of fundraising initiatives like peer-to-peer programs.
While these are all avenues you should be exploring, it's important not to overlook the centerpiece of your communication strategy: Email.
Why Nonprofit Email Marketing is Effective
Nonprofit email marketing certainly isn't a new trend, but it is consistently one of the most effective weapons in your arsenal. That's because email communication is fast, inexpensive, and relatively simple to pull together.
You can send many different types of emails:
Welcome Emails
Newsletters
Community Impact Stories
Donor Spotlights
New Campaigns and Fundraising Asks
Organizational Milestones
Seasonal or Holiday Messages
And the most important: Thank You Emails
More importantly, emails do the one thing that all of your new fundraising campaigns cannot: They reach out directly to your donors, whether they're on their phones on the go, on their tablets at home, or in their office at work. This is why emails have the highest return on investment (ROI) for any marketing channel. It's about $40 for every $1 spent.
To ensure you're getting the most value out of your investment, you need to start your nonprofit email marketing journey on the right foot with these 8 tips.
1) Keep it Concise, But Engaging
When your content is engaging, your supporters are more likely to interact, share, or even donate to your organization. So how do you craft relevant copy?
Start with a great subject line. This is the first thing readers will see, and if it doesn't grab their attention enough to open it, then all your work is for nothing. Keep it short, sharp, and compelling.
Think about the end goal. Why are you sending this email? Keep this in mind as you craft relevant messaging that will guide readers towards your goal. Keep copy to the point and 'skim-friendly'. You can do this by breaking text into short paragraphs, using bullet points, or standout features to allow readers to quickly find the information they're interested in.
2) Personalization Tags
While sending mass emails out may not feel very personal to you, using personalization tags goes a long way in letting your readers know you care. These are merge tags that allow you to customize your emails with not only your reader's first name, but organization name, title, location, impact area. Anything you collect in your database, you can generally use as a merge tag.
And it works! Personalized emails can improve click-through rates by up to 14% and conversions by up to 10%.
3) Well-Defined Calls to Action
Remember the goal of your email? It should carry over into your ask. What do you want your readers to do? Is it to donate? Watch a video? Read a report? Whatever your main call to action is, you should ensure that you give your readers clear instructions on what steps they should take next.
Once you've sent the email, you can make sure they interacted with your emails the way you wanted them to by tracking your conversions in the campaign report.
4) Design and Visual Elements
While we know not to judge a book by its cover, humans are drawn to pretty things. And this includes your marketing emails.
Creating templates that are on-brand with your organization gives the reader a nice look and feel. Going a step further and incorporating images and videos can even help to increase your donations. This is because multimedia elements grab attention and can convey more meaning and emotion than words ever will.
5) Pay Attention to Timing
Depending on the type of email your sending, there are certain days, weeks, or even months where those emails will be read the most.
If you're asking for a donation, global giving is at its highest during the holiday season, especially with campaigns like GivingTuesday. Sending your emails out during this time will guarantee you're reaching your donors when they're at their most generous.
On a more micro level, the day and even time you send your emails out also matter. While there's no sure-fire science, studies generally suggest sending emails between 6 a.m.-noon or 6 p.m.-midnight between Tuesday to Thursday yield the best open rates.
However, your database is unique, and you could find your emails are best received Saturdays at 4 p.m.
In order to find your cadence, test, test, and test again. Segment your list and trial sending emails until you find what works best.
6) Mobile and Tablet-Friendly
60% of nonprofit email marketing campaigns were opened on mobile in 2019. And as we continue to look to Millenials and Gen Z donors to make up the brunt of our donation force, having emails that resize to suit whatever device they're opened on has never been more important.
7) Data Analytics
In order to truly make sure you're amplifying your message, it's important to rely on data to drive your decision making. You can identify areas for opportunity and improvement by analyzing the following metrics:
Open Rates: The number of times your email was opened.
Click Rates: How many readers click on a link or your call to action. This indicates how engaged your readers were.
Conversion Rates: This is when a donor follows through with a call to action. If your click-through rates and email conversions match, you're doing great. If there's a big discrepancy, it might be time to review your content and actions.
Unsubscribe Rates: The number of people who disengage from your emails. If you notice it is high, you could be sending too many emails, or sending your campaigns to the wrong donor segment.
Donation Tracking: The number of donations attributed directly to your nonprofit email marketing. The higher this number is, the better the ROI you have.
Once you're finished deep diving into your numbers, see how you stack up against other nonprofit organizations using MailChimp's nonprofit benchmark data.
8) Send an A/B Test
It's not just timing you can test. You can try out different variations of subject lines, images, content, CTAs, and which donor segments you send them to. This is done through a process of A/B Testing.
Low open rates? This could indicate you need to try a more engaging subject line. High opens but low click rates? Then your content wasn't what the audience expected. Change up how you deliver your message and see if that improves.
It's a game of testing, optimizing, testing, optimizing until you hit your sweet spot. This, above all else, should be a driving force of your nonprofit email marketing strategy.
---
It doesn't matter what type of email you want to send to your database. It's all about how you deliver the message. By creating a strategy based on mission-driven messaging and backed up with data analytics, your next email campaign should be a success. Just make sure you note what works and what doesn't and tweak your strategy accordingly. That way you'll never be blindsided when something doesn't perform as expected. If you want to learn more about the power of email marketing, check out this complete guide.
---
Author: Samantha Lego
Marketing Director at Keela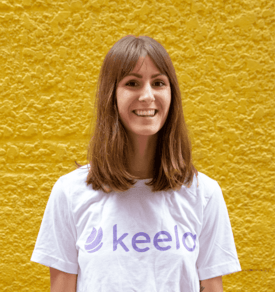 A storyteller by nature and an organizer by inheritance, Sam enjoys crafting meaningful content equally as much as colour coding spreadsheets. As Keela's Marketing Director, she is always on the hunt for new and innovative ways to educate nonprofits and help them maximize their impact.