giving tuesday
Giving Tuesday 2023: Guide For Nonprofits
Turn Giving Tuesday 2023 into one of the best days of the year for your nonprofit with these helpful tips and a campaign creation guide.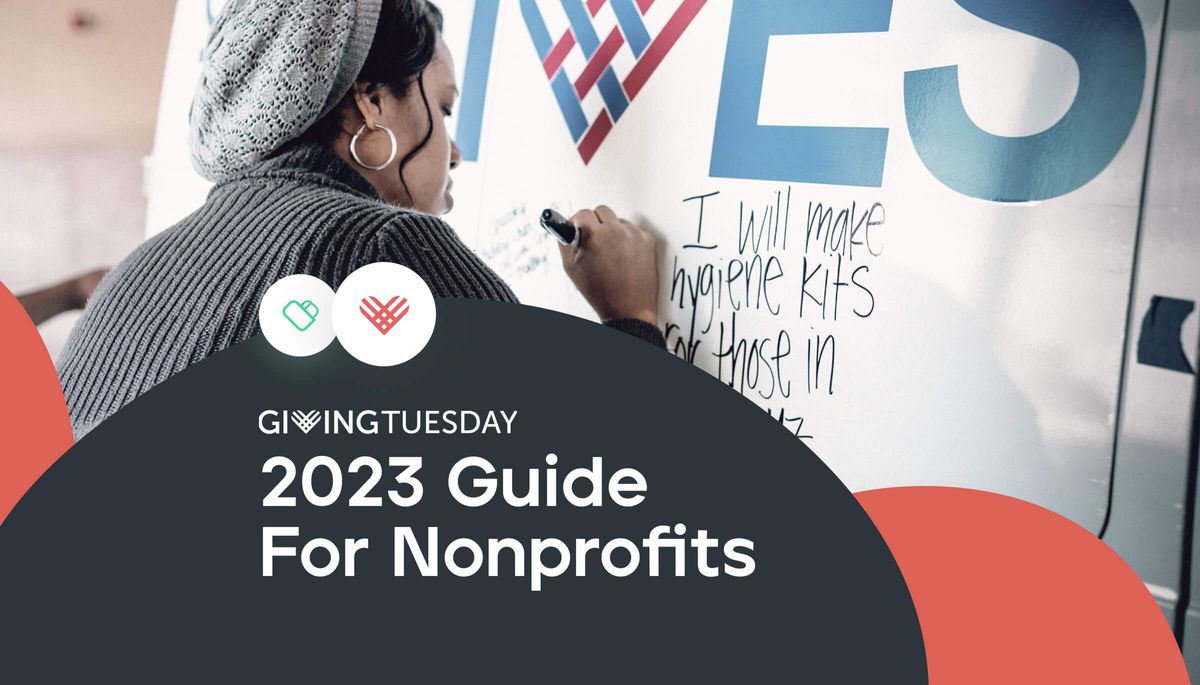 Each year, nations around the globe celebrate the unofficial holiday of Giving Tuesday. A designated day for choosing kindness and spreading generosity, Giving Tuesday reminds millions of the impact we can make when we focus on doing good together. And it's not just individuals that celebrate this holiday, businesses and nonprofits also support Giving Tuesday through events, donations, and other cause-related activities.
To help your nonprofit get the most out of Giving Tuesday this year, we're sharing need-to-know information and a guide to developing a campaign that drives results.
What is Giving Tuesday?
Giving Tuesday is a global day of giving and generosity movement. The day encourages people to spread generosity in the ways they can, such as donating, volunteering, or simply helping out a fellow human. Giving Tuesday is spearheaded by an organization of the same name with branches all over the world.
Many nonprofits, businesses, schools, and other organizations use Giving Tuesday to inspire people to give back to a worthy cause. Through fundraisers, donation drives, social media campaigns, and more, these organizations can create more awareness around their mission and increase charitable donations.
On an individual level, Giving Tuesday is a reminder to choose generosity, not just on this day, but all year round. While individuals are encouraged to take a charitable action on Giving Tuesday, the hope is that the joy of doing good extends well past the holiday season.
History of Giving Tuesday
Started in 2012, Giving Tuesday was an idea cultivated by the minds at the Belfer Center for Innovation and Impact at the renowned 92nd Street Y, New York and the United Nations Foundation, a global charitable organization.
A community center focused on culture, education, and social good based out of New York City, 92Y has spent the past 140 years changing lives for the better through classes, programs, scholarships, and other helpful resources available to all. From fostering young musicians' creativity to providing a safe space for families to learn together, this organization aims to create community connection through its many offerings. 92Y is now a global organization with programs stretching far beyond the confines of New York City.
The United Nations Foundation is a charitable extension of the U.N. focused on issues of global impact. Founded by entrepreneur and philanthropist Ted Turner, the United Nations Foundation has tackled some of the world's most pressing problems for nearly 25 years.
In 2012, the two organizations had a bright idea. Inspired by the consumerism of Black Friday and Cyber Monday, leaders of the organizations began to think about how they could give people an opportunity to give back. At first, Giving Tuesday was little more than a hashtag and resources for nonprofits on how to benefit from a push for charitable giving. Today, Giving Tuesday has become its own independent nonprofit focused on continuing the global movement of radical generosity in more than 260 communities.
In 2022, Giving Tuesday saw some remarkable trends. A significant finding was that 84% of people worldwide participated in giving, with many contributing in multiple ways. This year, it's essential to build on this momentum by crafting campaigns that resonate with the diverse giving preferences of a global audience. Moreover, we need to address the decrease in both donors and dollars observed in the USA, a challenge that calls for innovative engagement strategies.
When is Giving Tuesday 2023?
Get excited, Giving Tuesday 2023 is coming up on November 28th! Every year, Giving Tuesday occurs just after the Thanksgiving holiday at the end of November.
This was no accident. The invention of Giving Tuesday was inspired by the holiday season in the U.S. Black Friday and Cyber Monday focus on promoting consumerism through one-day-only sales. If super sales get their own holidays, why couldn't charitable giving?
The holiday season also tends to usher in a charitable mood, making November the perfect time to remind people to practice generosity. During the stress of coordinating flights and finding just the right gift, many people feel compelled to look outside themselves by donating to causes they care about.
Why do Nonprofits Participate in Giving Tuesday?
Giving Tuesday presents nonprofits with the opportunity to maximize their visibility and donations during a time when many people are feeling the need to give back to others. In fact, this now globally celebrated day was created with nonprofits in mind. The founding organizations even made resources to help nonprofits learn how to promote themselves and earn more donations by participating in Giving Tuesday.
The first year Giving Tuesday came about, a strategic marketing blitz helped nonprofits raise almost $10 million in online donations! And the results have gotten even better since then. In 2020, when the world was experiencing unprecedented challenges, people still made it a point to contribute what they could. Giving Tuesday became one of the top donation days that year by far. Then, in 2021, $2.7 billion was raised in the U.S. alone by November 30th! For a comprehensive look at last year's data, we encourage you to check out Giving Tuesday's 2022 Lookback Report, which highlights significant trends such as the cultural dependence of giving behaviors.
Nonprofits can benefit from these trends by leveraging the popularity of Giving Tuesday to promote their own cause. After all, Giving Tuesday was invented to help bring attention to worthy organizations like yours.
How Can Nonprofits Use Giving Tuesday 2023?
Anyone can participate in Giving Tuesday, from those looking to make charitable contributions to the organizations that benefit from those efforts. Nonprofits that create campaigns leading up to Giving Tuesday have the potential to gain more exposure, attract new donors, and share their stories.
There are countless ways nonprofits participate in Giving Tuesday, each with its own unique advantages for the organization and the communities they serve. Here are a few of our favorites:
Fundraise through events that bring your community together and spread joy, such as a carnival or bake-off.
Promote another organization that could benefit from more exposure. This is a great idea for larger organizations, sister nonprofits, and local groups.
Invite volunteers, old and new, to join you for a day of giving back. For example, you may run a food drive, plant trees, host a beach clean-up, or collect gifts for the underprivileged.
Develop online and social media campaigns to tell your nonprofit's story. Make sure that whatever you create can be shared by others to enhance your visibility!
Mobilize your community to take a specific action, such as signing a pledge, calling their representatives, or joining a rally.
Team up with other organizations through events or campaigns that benefit both of your causes.
Fundraising Ideas for Giving Tuesday 2023
Giving Tuesday for nonprofits is one of the most exciting days of the year. It's an opportunity to fundraise, recruit regular donors, drive awareness, and ultimately promote generosity.
The founding organizations made it simple for nonprofits to participate—no need to register or pay fees. All your nonprofit needs to do is use Giving Tuesday in your campaign and communications.
Many nonprofits choose to celebrate this unofficial holiday through fundraising, and for good reason. Giving Tuesday is one of the biggest donation days of the year. For many, Giving Tuesday also kicks off the holiday season, a time of cheer and goodwill. What better time to help supporters make an impact?
Fundraising for nonprofits can take on many forms, from digital campaigns to one-time events. For inspiration on effective fundraisers, no matter your nonprofit's category, check out this blog post. We cover a variety of easy fundraising ideas, such as community events, donation matching, and social media campaigns.
How to Create a Giving Tuesday Campaign
Next up, we'll go over the details on how to create a full-fledged Giving Tuesday campaign that inspires your supporters to take action. The key to a successful Giving Tuesday campaign is preparation. Simply sending out a donation collection email or hosting an event the day of is not enough–you need to ramp up excitement about your cause and show supporters how they can help.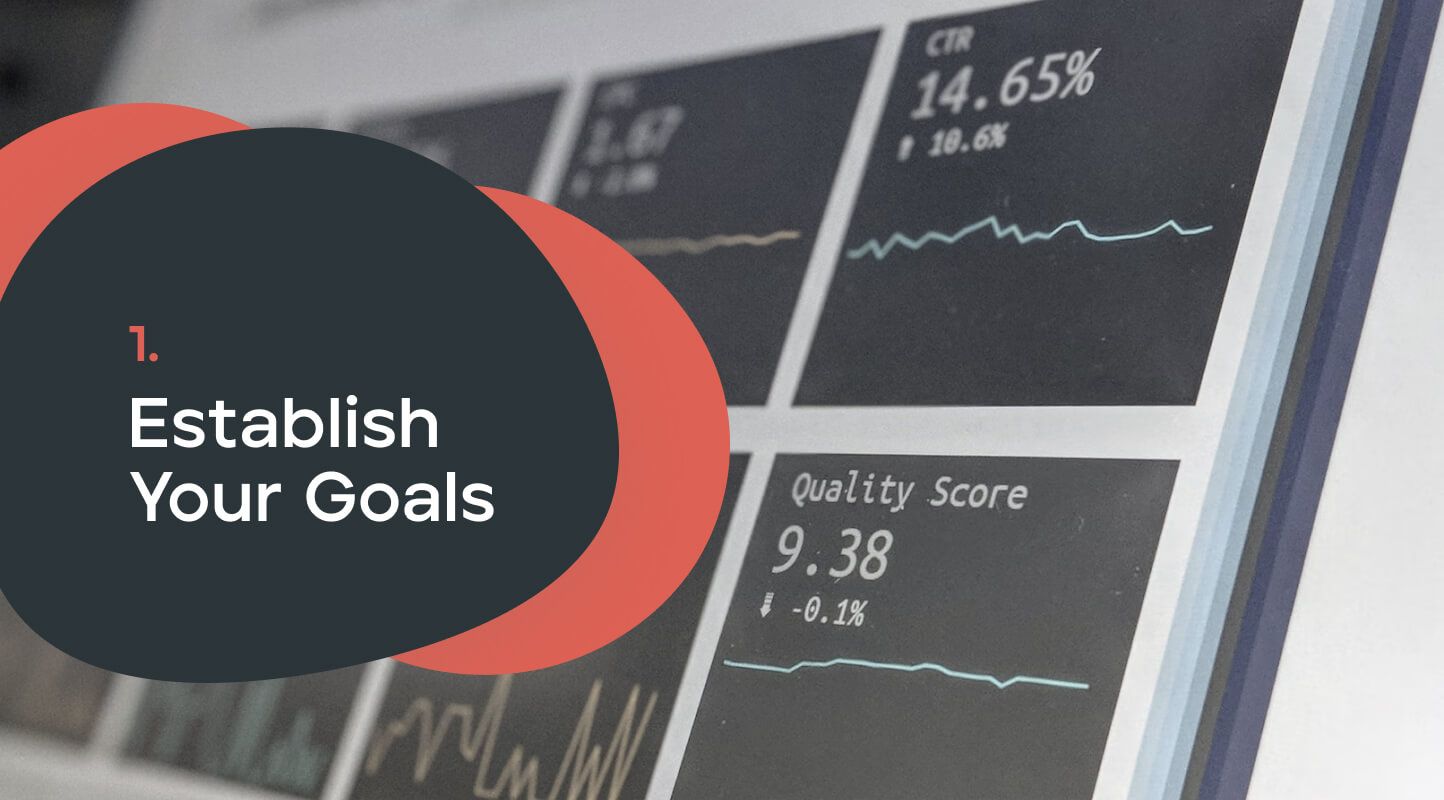 1. Establish Your Goals
First things first, set your goals for your Giving Tuesday 2023 campaign. Are you looking to raise a certain amount in donations? Or maybe you're hoping to recruit recurring donors. Turning volunteers into donors might also be a goal for this giving season. Whatever your goal, make sure to disseminate this message to your team so everyone knows what they're working towards.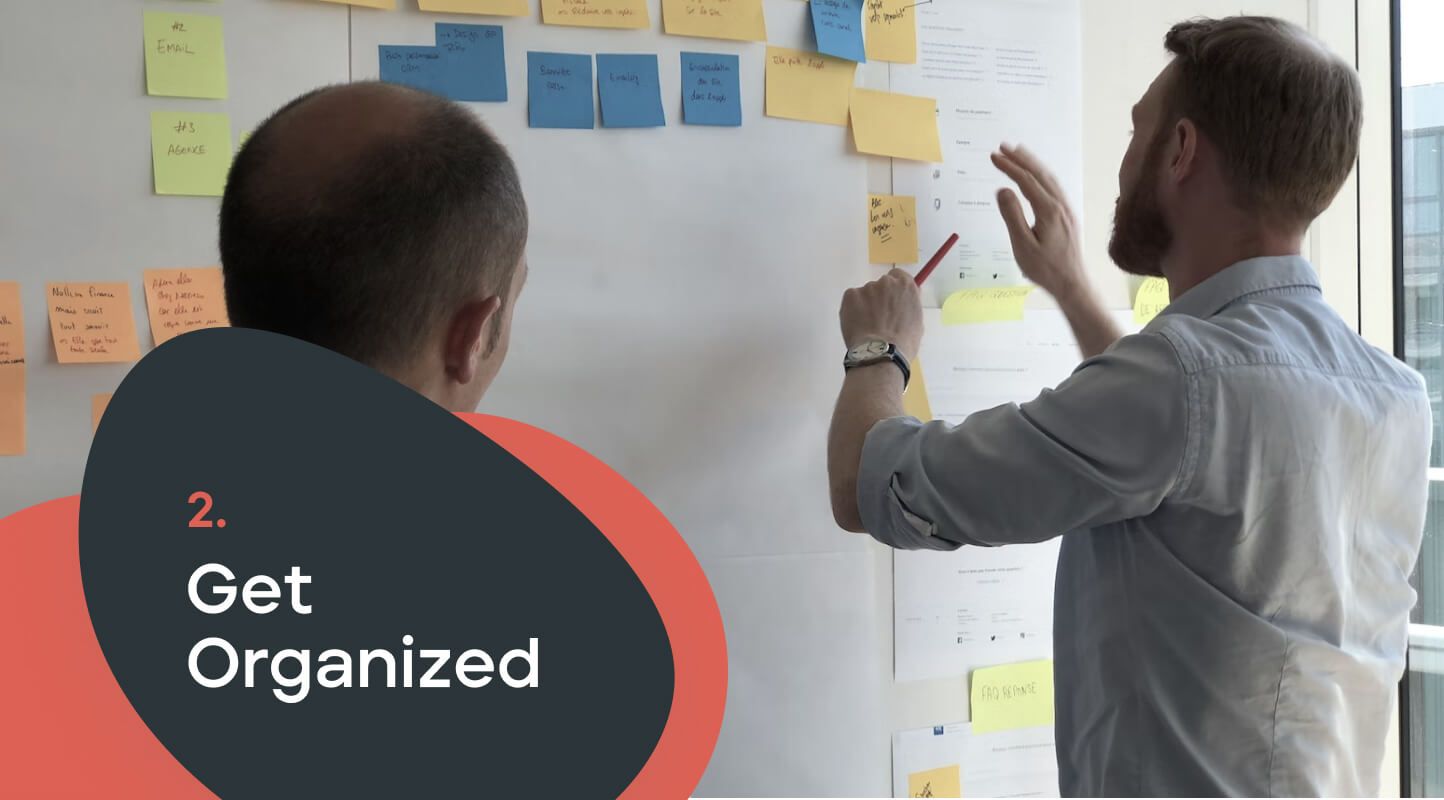 2. Get Organized
Determine who will be a part of your Giving Tuesday campaign and who is responsible for what. Once you've straightened that out, together you'll create a plan. Keep in mind that, as a nonprofit, you can look beyond your full-time staff for support. Volunteers and prominent donors can also make amazing contributions.
Additionally, digital fundraising is becoming more crucial, with tools that provide complete traceability of donor funds and automate tasks, allowing organizations to reach a wider audience efficiently. Utilizing best-in-breed tools, like Donately, provides seamless integration to streamline your important data, so fundraising remains organized throughout the year and not just during Giving Tuesday.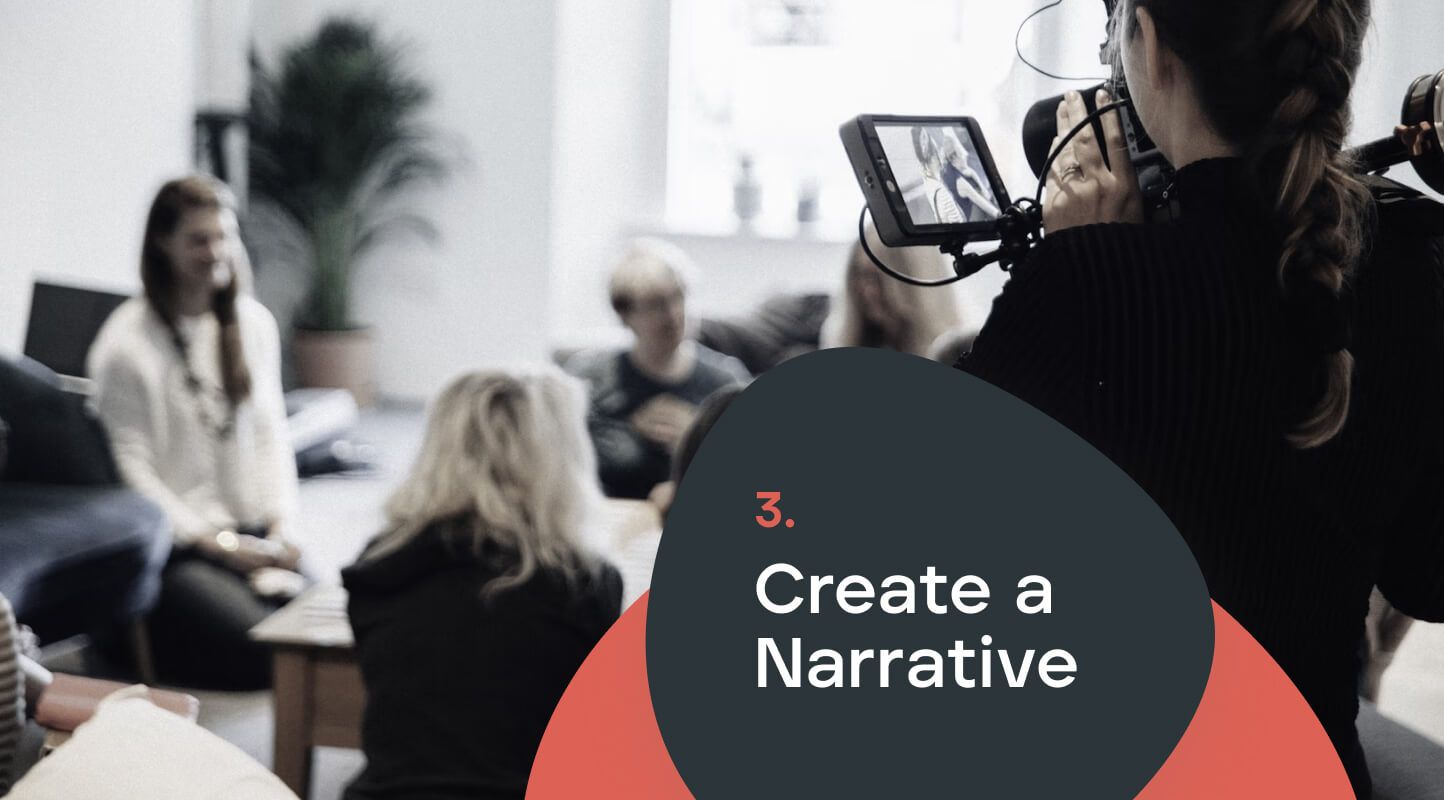 3. Create a Narrative
To compel potential supporters to take action, they need to understand the importance of your cause and the impact of your work. Storytelling is a powerful tool that can help you do just that. Your Giving Tuesday campaign should be its own distinct effort with dedicated creative, materials, events, and whatever else you think might contribute to your success.
Here a few things to keep in mind when creating your campaign narrative:
Determine what the theme of your campaign will be, then ideate taglines and visuals to support it.
Video is one of the top ways to tell your story. According to Statista, online video has an audience reach of 92%. This is no surprise considering more and more people prefer to consume information through video.
Do you have supporting data? Include this information in social posts, donation pages, and videos as you see fit. This can really put your cause into context.
Testimonials go a long way. Consider if you have beneficiaries, experts, volunteers, or leaders who are willing to be a part of a video interview.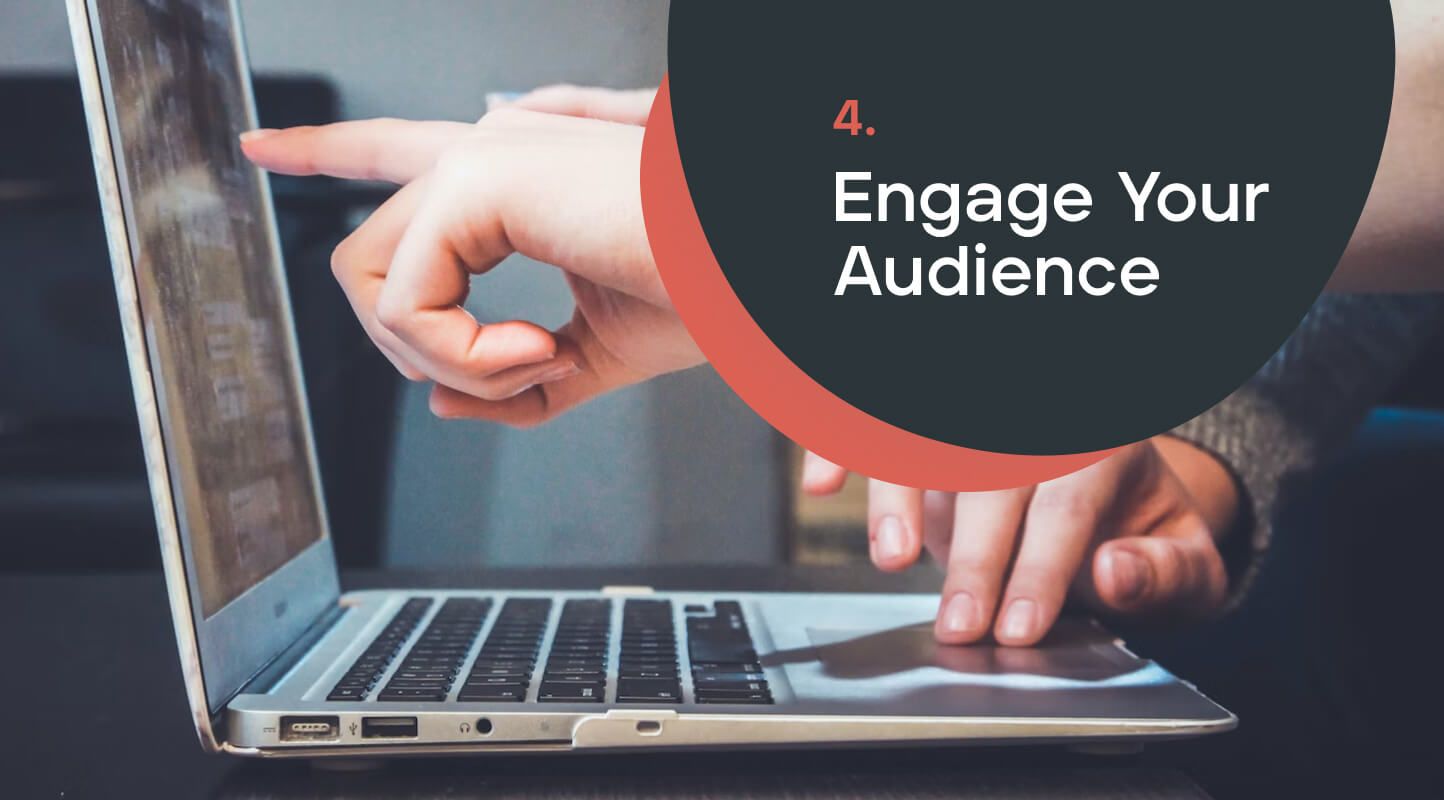 4. Engage Your Audience
Now that you have a campaign narrative, how will you communicate it? Your Giving Tuesday campaign should be comprehensive and use multiple channels to reach your target audience. Luckily, you have plenty of tools at your disposal.

Social Media
For Giving Tuesday 2023, it's more important than ever to have an online element to your campaign. Social media is a great way to reach new supporters through images, videos, stories, and even live streams. The visual aspect of social media can help you illustrate your message and elicit an emotional response. Don't forget to include links to your donation pages!
Press Releases
As a member of a nonprofit organization, you're likely no stranger to press releases. Ensure your Giving Tuesday campaign makes headlines by choosing the right outlets to share your story. Be sure to include why your organization is participating in Giving Tuesday and how people can join you.
Website
Your website acts as a home base for your nonprofit, helping supporters learn more about your cause and organization. Make sure this is up to date before you launch your new campaign.
Email
Email campaigns are ideal for engaging your volunteer and donor base. Create an email campaign telling your supporters what your goals are for Giving Tuesday and how they can help.
Text Messaging
Keep your supporters informed and give donors the opportunity to contribute all through text messaging. Donation tools, like Donately, have this capability built into their platform, helping you streamline this process.
Fundraising Pages
Fundraising pages are the perfect place to house messaging, images, and videos around your campaign. Think of them as a one-stop shop to learn about your mission and make a contribution. These should also feature built-in donation forms so supporters can give directly to your nonprofit.
Diversify Revenue Streams
Diversifying revenue streams, including various fundraising methods like recurring donations, customizable fundraising pages, and crowdfunding, is essential for financial health amid inflation and decreased government and foundation giving.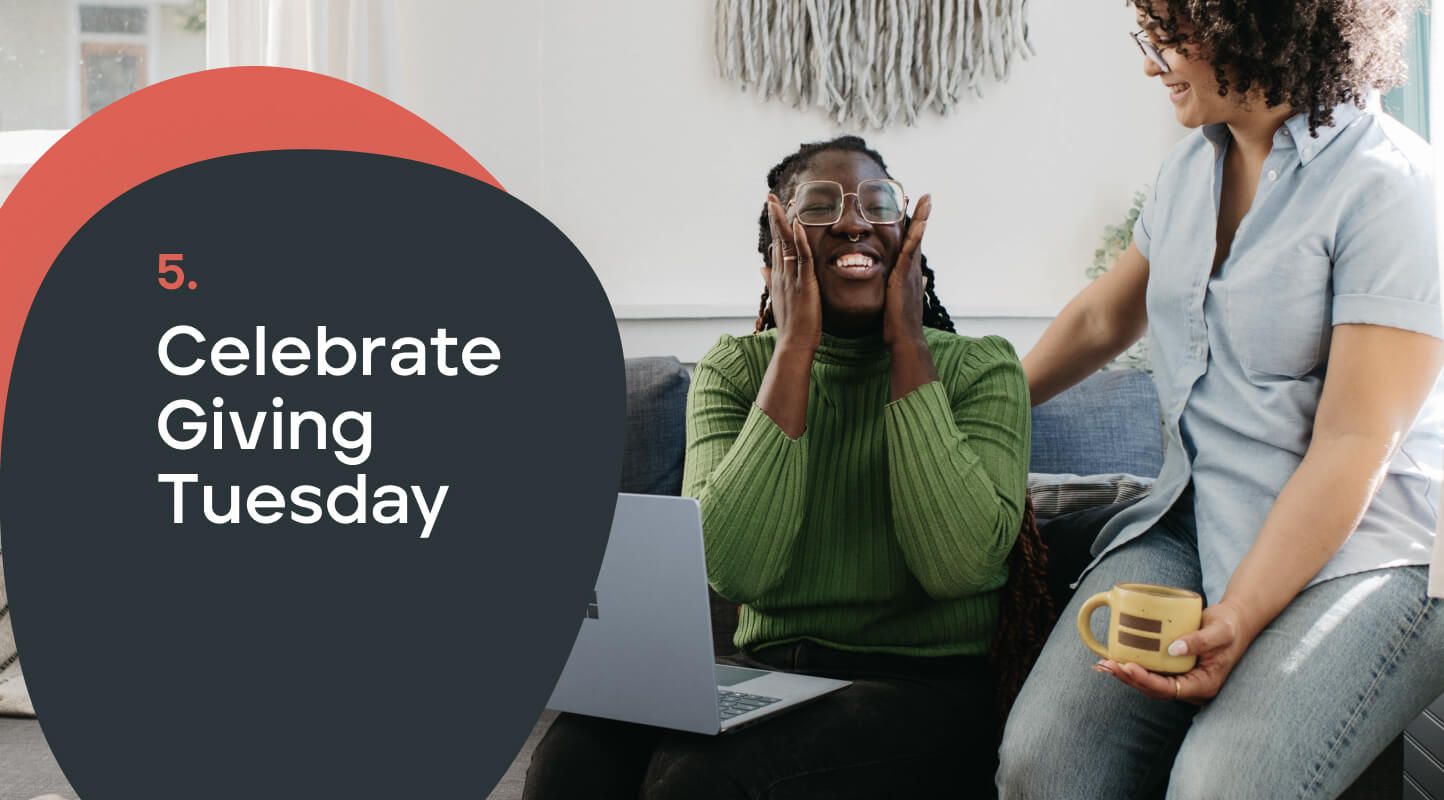 5. Celebrate Giving Tuesday
When the day finally arrives, make sure you're prepared! Whether you're hosting an event, pushing for donation matching, or any other kind of charitable initiative, today is the day you've been working for. Be sure to do a final push on social media and other communication channels to let people know how they can support your organization.
How to Keep the Spirit of Giving Tuesday 2023 Going
Giving Tuesday has become much more than a day on a calendar. The founding organizations behind this internationally recognized campaign see Giving Tuesday as a way to spur generosity all year.
Try these ideas to keep supporters engaged into the new year and beyond:
Follow up with donors through email and text messaging. Let them know when you have upcoming events, donation campaigns, or other newsworthy information.
Host special events, banquets, or other group activities for your regular donors and volunteers. Having fun together will create a better sense of community.
Ask for input from your supporters. We're willing to bet they have opinions on important issues facing your organization and would be willing to share their thoughts.
Recruit your biggest supporters to act as ambassadors for your organization. This may include tabling, posting on social media, presenting at events, and other duties.
We hope you feel prepared to make Giving Tuesday 2023 one of your most impactful nonprofit campaigns yet. To find out how Donately's donation management platform can help you reach your fundraising goals, reach out to our team. We'd be happy to have a one-on-one with you to answer any questions and give you a demo of what Donately can do for your nonprofit.