Featured Partner Insight
Ideas for Converting Volunteers to Donors
Your volunteers already love supporting your mission. Find out how to tap into this enthusiastic supporter base to boost your donor program as well with these great ideas.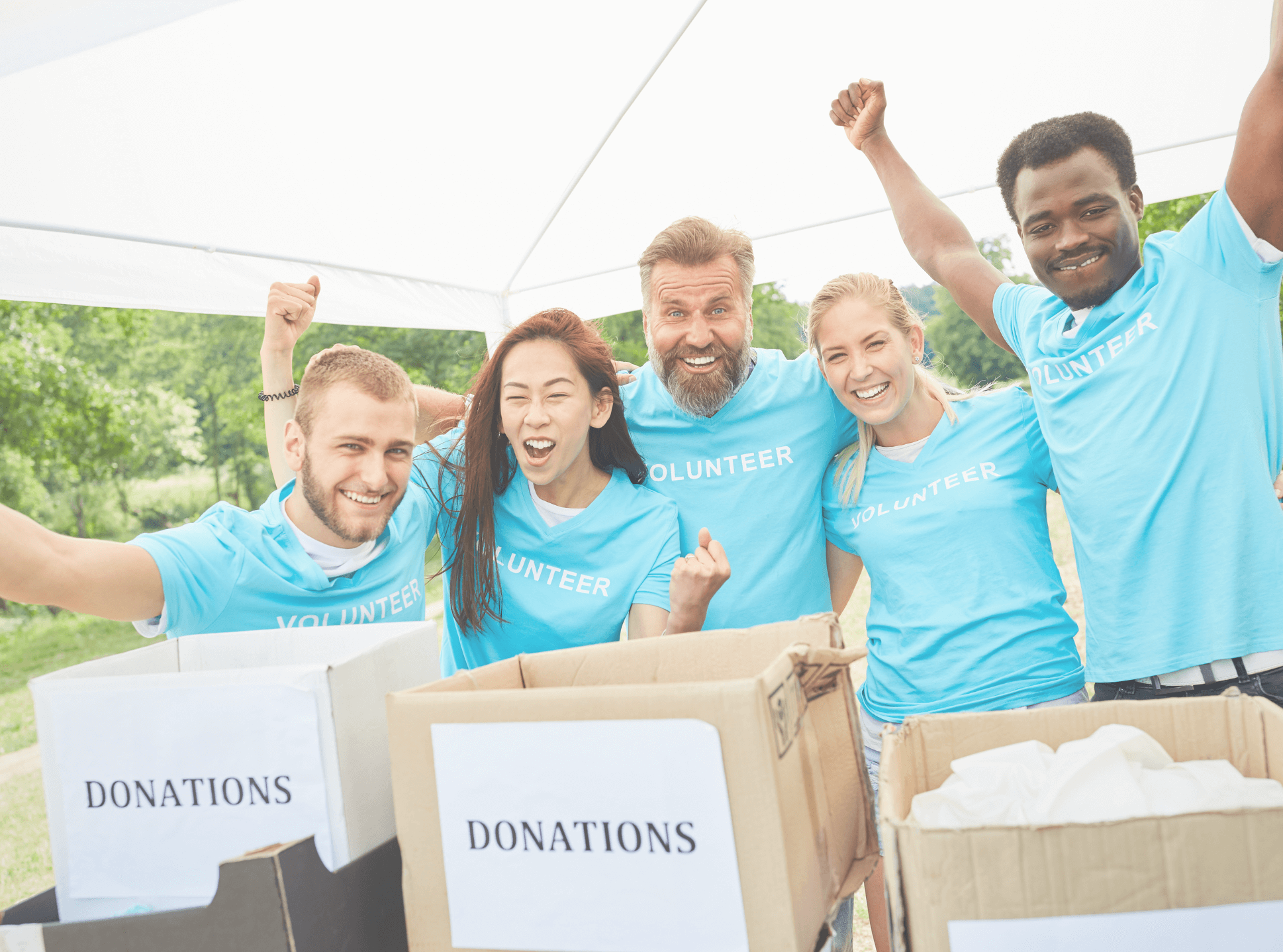 Written by: Lindsey Beatrice, Communications at POINT
Volunteers are the heart and soul of your nonprofit, and they often possess a deep passion for your mission. They are generous with their time and energy, which is hugely impactful. But we all know that it's a lot easier to source donations from people who already love your nonprofit. So how can you turn that volunteer passion into financial support? Here are some creative ways to encourage your dedicated volunteers to become generous donors:
Get Serious about Volunteer Appreciation
When volunteers feel valued, they're more likely to want to contribute financially. There are a ton of ways to show your appreciation and make them feel like an essential part of your nonprofit (...because they really are!). Thanking them while they are volunteering is an absolute must, but here is how you can go beyond that to truly make volunteers feel valued.
🙌 Recognition & Acknowledgment: Regularly recognize volunteers' contributions. Highlight their achievements in newsletters, social media, or during events.
🎁 Exclusive Benefits: Offer exclusive perks to volunteers, such as early access to events, volunteer appreciation parties, swag like tote bags and hats, or special recognition plaques.
💌 Personalized Thank-You Notes: Send personalized thank-you notes expressing your gratitude for their time and dedication. Make it personal and heartfelt.
⌚ Respect Their Time: Use a volunteer management system like POINT that makes it easy for them to sign up instantly to volunteer with you. Go a step further and make it easy for them to donate and easy to track their impact. People are much more willing to support your organization in multiple ways when you respect their time by making everything easy and quick.
Volunteer Engagement through Fundraising Strategy
Did you know that over 85% of volunteers see themselves as likely donors? Not only do they want to contribute their time and energy, but they also want to support your nonprofit by making sure you have the financial resources you need. Get them involved in fundraising by becoming donors themselves and bringing their friends and family along.
🎉 Microdonations: Small donations can add up to a significant contribution. Asking volunteers to give your nonprofit a "tip" for $5 - $20 is a great way to source these smaller donations. And when volunteers sign up for your event with POINT, they can donate using your Donately forms right from your profile.
🙌 Peer-to-Peer Fundraising: Empower volunteers to become fundraisers themselves. They can create personal fundraising pages and reach out to their networks to support your cause. Encourage them to share about the great experiences they've had with your organization and how it enables them to do more good in their community.
🌐 Online Giving Campaigns: Launch online donation campaigns that make it easy for volunteers to give with just a few clicks. Share compelling stories about the impact of their donations. Encourage your volunteers to donate as well as share your campaign with their friends, family, and even their employer. Why? Keep reading!
Encouraging Donation Matching
Did you know that many employers offer donation matching programs to their employees? It's a fantastic way to double the impact of your volunteers' donations. Here's how to encourage them to explore this opportunity to amplify their impact:
💼 Check with Their Employer: Encourage volunteers to check with their employers to see if they offer donation matching. Many employees are unaware of these initiatives, even though tons of companies offer them or other social impact-related benefits like paid volunteer time off or volunteer grants.
📢 Share the Benefits: Explain to volunteers how donation matching doubles their impact. Highlight that it's an easy way to maximize their contribution without breaking their bank!
🤝 Help with the Process: Offer support in navigating the donation matching process. Provide step-by-step guidance to make it as seamless as possible. Or, offer to reach out to the employer on their behalf to ask if they are open to creating a matching gift program.
Respectful Ways to Ask Volunteers for Donations
Asking volunteers for financial support can be delicate. You want to respect their generosity of time while encouraging monetary contributions. You don't want them to feel that donating time and money is expected for them to be valued by your organization. Rather, you want them to feel empowered and inspired to donate.
💬 Open Dialogue: Initiate an open and honest dialogue about financial needs with your volunteers—it does take money to provide necessary resources to your community. Showcase the impact that donations have on the communities you serve.
🤗 Show Appreciation First: Express your gratitude for their volunteer efforts before discussing financial support. Let them know that you greatly value their support and that you appreciate whatever and however they are resourced enough to give.
🌱 Start Small: Suggest volunteers make a small contribution, such as $10 per month. Highlight how even a modest monthly donation—the price of a Chipotle burrito—can have a big impact.
Creative Ideas to Empower Volunteers to Donate
Ready to get creative? Tapping into your volunteer base to become donors can be rewarding in more ways than one!
🌟 Impact Storytelling Workshops: Organize workshops where volunteers can share their personal stories about why they support your mission. These stories can be powerful volunteer recruitment and fundraising tools.
🚴 Fundraising Challenges: Create friendly volunteer competitions with exciting prizes for the most successful fundraisers. This can turn volunteering into a fun challenge and help you tap into new donor pools.
⛓ Donation Chains: Use the power of your volunteer's social media reach to start a donation change. Ask them to donate and share about it on social media, then tag 3-5 people to keep the donation chain going. Think: ice bucket challenge but without getting soaked with freezing water!
👍 Tip your Nonprofit: Ask volunteers to give a "tip" to your nonprofit if they had a great experience. Encourage smaller donations like $5 or $10 so it doesn't feel like a big ask. You can use it to contribute to your mission, or offset the cost of snacks or perks you provide to your volunteers. Streamline donations by asking volunteers to tip you online or through POINT, or add a little tip jar by the volunteer check-in station with a catchy phrase or a meme.
🍝 Do the Math: It can help to put donation impact into concrete terms. Tell your volunteers how much impact they can create with different donation levels. For example, $10 per month over 1 year provides 300 meals that go to the unhoused. Or a one-time $50 donation buys diapers for 2 families for the week.
Make Donating Easy with Donately + POINT
Making donating as easy as possible converts volunteers into donors. We really mean it! So how do you do that? By allowing your volunteers to donate from the same platform where they sign up to volunteer. With the POINT + Donately integration, you keep all your donation information in the same system and volunteers can donate from your profile page in the POINT app. They just tap "Donate" and your custom Donately form pops up. 🪄 Boom. It doesn't get any easier than that!
Ready to get started? Create your free POINT account today!
We can't wait to help you do more good! 🧡