The success of a capital campaign will depend on 10-15 large gifts that together will amount to well over half the campaign goal.
Those lead gifts usually result from 20 or 30 solicitations. And you've got to get those right — if you don't, you probably won't be able to make up that money by increasing the number of small gifts you secure later in your campaign.
Here are some of the most important things you need to know if you want those lead gift solicitations to be successful:
Make sure you are soliciting the right people. That is, solicit lead gifts from people with the ability to make gifts of the size you need, people who have a strong affinity to your organization, and people with whom you have real, personal contact.
Develop a plan for each of those prospective donors, informing and involving them in your planning well before you ask them for their gifts.
Prepare the material you need to solicit those top prospects. Though you will individualize each solicitation, there are two core documents that will work for all these important asks. Let's take a deeper dive into these solicitation materials.
The 2 Documents You Need to Solicit Lead Campaign Gifts
There are two documents you should prepare to get ready to solicit your largest prospects, a draft of your case for support and a donor discussion guide. You will send one of them before you meet with the donors and you will use the other during the solicitation meeting.
1. A Compelling Case for Support
Begin by drafting a clear capital campaign case for support. Think of this as the workhorse of your campaign materials. It's NOT a campaign brochure. Instead, it's the set of ideas that makes the case for why a donor should give to your campaign. It quite literally makes the case for supporting your campaign.
All cases for support begin as simple word documents and go through many drafts, often with the help and feedback of both staff members and volunteers.
The case is not a statement of what the money you raise will buy. Rather, it captures something far more important. It articulates why a gift to your campaign really matters and why a donor should invest in your project.
Here's a loose template for a capital campaign case for support. Fill out each section as briefly and simply as possible.
Introduction: Why does the campaign matter?

How will the community you serve benefit from a successful campaign?
What will be the impact of the projects your campaign will fund?
How will this campaign further your organization's mission?

The Need: What is driving this campaign?

What are the challenges your campaign is designed to solve?

The Plan: What will be accomplished?

How do you intend to address the challenges your organization is facing?
What specific projects will your campaign fund?

Organizational Background: Why your organization?

How is your organization uniquely qualified to undertake this growth?
What is your organization's track record?

Timing: Why now?

Why are you undertaking this project now?
What are the driving forces that make this urgent and compelling?

Theme for Your Case: What would be a good title for this campaign?

After filling out the first five items, you will have a sense of the primary theme of your campaign.
Suggest three short titles or themes that emerged as you wrote the answers to the first five questions.
Once you've made an outline, you can draft the case for support. Be sure to mark it clearly as a draft, and keep it as short as possible. The most effective ones are often between three and five pages. Plan to go through many drafts, incorporating feedback from your key stakeholders. Through that process, you will clarify the ideas and the language that you will use throughout your campaign. The process of developing the case establishes the foundation for all your later campaign materials.
Pro tip: Send the case for support to your lead donors before your meetings with them.
In many cases, the people on your lead donor list are likely to be already engaged in your organization as volunteers or recurring donors and are aware of your campaign plans. Use the process of drafting the case for support to ask for their advice and suggestions on the draft.
Then, as you get ready to solicit them, you can send the most recent version to them to review on their own before your meeting. But when it's time to actually solicit the lead gifts, you will need something quite different.
2. Donor Discussion Guides
To understand the material to use during your solicitation meeting, you've got to consider the ideal nature of that meeting. The best solicitation meetings are not "pitches." They are genuine, authentic conversations in which you, the solicitor, is exploring with the donor the ideal gift that donor might make to your campaign.
Because you will have sent the case for support document before your meeting, the donor you meet with will have some background information. And, if they've been actively involved in the planning process, they may already know quite a bit.
What remains to be done during the solicitation meeting, therefore, is to discuss with your donor the right gift for them in the context of your campaign. As in any real conversation, both people need plenty of time to talk. Traditionally, people used a campaign brochure to guide the process.
We have found, however, that a multi-page document with blocks of text is not ideal as it focuses too much attention on the document itself.
Instead, we suggest developing a Donor Discussion Guide. That's a one-page graphic that outlines these topics in summary form.
Why are you trying to accomplish?
Where will a donor's money go?
How can the donor help?
With a minimum of words and simple key phrases, you can use a Donor Discussion Guide to help shape the conversation with your largest donors. If your Discussion Guide is large, perhaps 18"x24," and has ample white space, you can sit next to your donor and look at it together.
You can ask your donor what they think of one aspect or another of your project. You might circle items of interest. You can add question marks or exclamation marks. It's intended to be an interactive, open experience.
In this schematic drawing of a Donor Discussion Guide you can see that the page is broken into
three sections, each of which focuses on one of the key questions: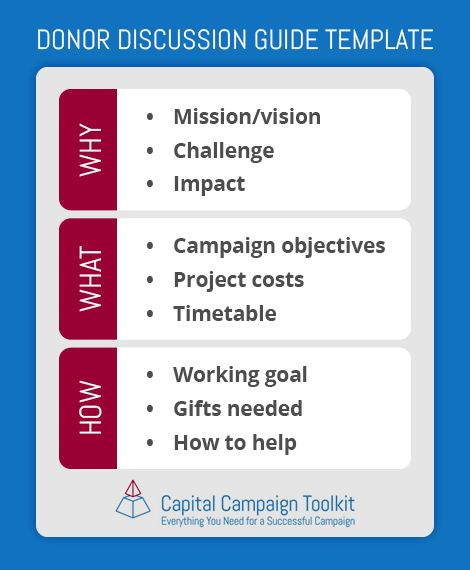 Your Donor Discussion Guide should also include a gift range chart that shows the pattern of gifts needed. As your conversation with the donor moves toward how much the donor might consider giving, you can draw the donor's attention to that chart to indicate the range of gifts needed and at what levels. As the donor talks, you might underline a gift amount or draw an arrow pointing to a specific gift.
Once your meeting is over, you can take a photo of the Donor Discussion Guide with all of its markings and then leave the marked up original with the donor.
Rather than printing many of these Donor Discussion Guides, you can print them one by one. That will give you opportunities to fine-tune them and even to individualize them for particular donors to highlight a specific interest of theirs.
3. 3 Reasons Donor Discussion Guides Work
Information at a glance: A well-designed Donor Discussion Guide helps a donor take in information without having to read blocks of text. And when they can easily grasp ideas, they will be able to converse about them more comfortably.
Big, one-page format: The big one-page, oversized format with lots of white space invites active participation. Because the material is on a single page, you don't have to hunt through slides or pages to find it.
Discussion rather than presentation: The simple graphic format with ample white space opens the way to discussion. The informal approach to writing on the page itself stimulates interactive response.
Get Ready to Approach Your Lead Donors
Once you've developed a solid draft of your case for support and a well laid-out donor discussion guide, you'll be ready to start having conversations with your largest donors. As you become more experienced in using these two documents, you will find that you become more comfortable with the solicitation process.
Step-by-Step Campaign Checklist & Guide
This intuitive guide breaks down each step of your campaign, and the timeline allows you to visualize your whole campaign, from start to finish! Download this free campaign checklist now!
Amy Eisenstein, ACFRE, and Andrea Kihlstedt are co-founders of the Capital Campaign Toolkit, a virtual support system for nonprofit leaders running successful campaigns. The Toolkit provides all the tools, templates, and guidance you need — without breaking the bank.