donation
Make the Most of the Holiday Season with Matching Gifts
The holiday season is notoriously important for effective fundraising⁠—but you can raise even more for your organization by incorporating matching gifts.]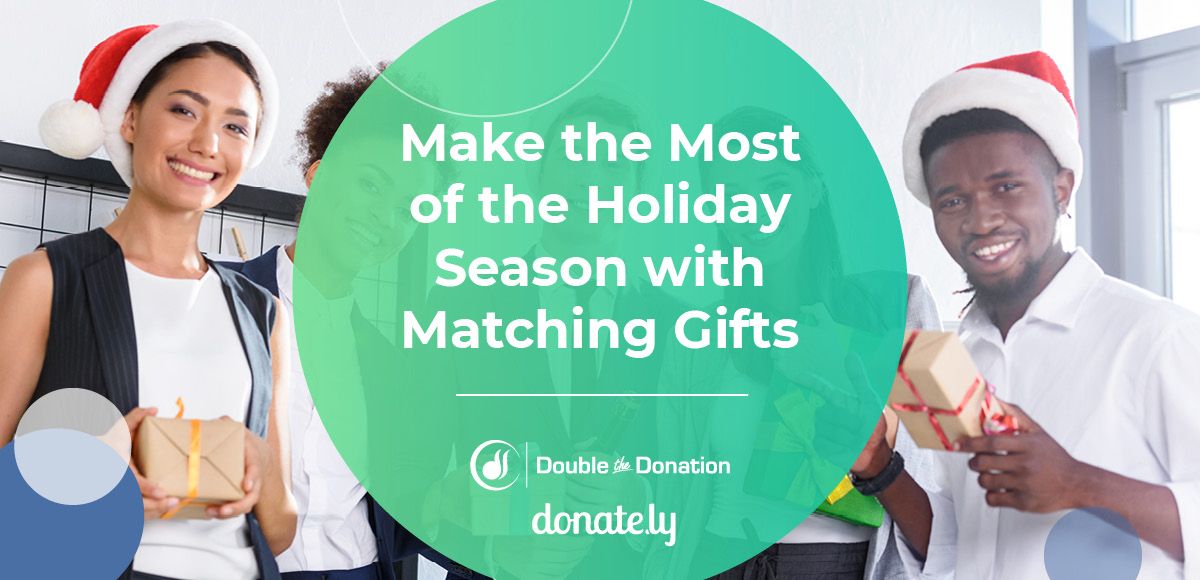 The holiday season is a big deal for nonprofits. Donors are feeling particularly philanthropic and are eager to support the causes that they care about. One of the most impactful and profitable ways to make the most of the increased generosity surrounding the holidays is by promoting matching gifts.
In this quick guide, we'll share what we know about the holiday giving season and how to maximize your nonprofit's efforts this year (through leveraging corporate gift-matching) with a few simple tips. Let's dive in!
Holiday Season + Increased Giving
You might be wondering why you should prioritize fundraising during a time when so much else is going on. That's because the data points to its importance in successful nonprofit efforts!
Fundraising research shows that the holiday season tends to be a lucrative time for nonprofits of all shapes and sizes. In fact, 30% of annual giving tends to occur within the month of December — and 10% of total donations within the final three days of the year.
This is largely due to the holiday spirit that often lends itself to increased charitability and overall generosity. After all, the holiday season is already all about giving, whether that means presents for loved ones or donations to favorite nonprofit causes.
Want to make those donations go even further for your mission? Be sure to prioritize matching gift initiatives as well!
Incorporating Matching Gifts This Giving Season
Looking to integrate matching gifts in your holiday fundraising efforts? Here are a few of our favorite strategies for leveraging matching gifts within the giving season.
But don't worry, many of these tips can be employed year-round for ongoing success!
1. Highlight matching gifts in your donation form.
Donors tend to be at their highest level of engagement while completing your online donation form. At this point, you already know that they care about your cause and are willing to support your organization. Make the most of this opportunity by incorporating matching gifts directly into your donation form!
Here's how the process typically works:
A donor fills out your online donation form as usual.
The donor is prompted to include their employer's name in an optional field within the form.
The donor enters their employer's name.
The donor completes the online donation process and submits their gift.
Upon being redirected to the donation confirmation page, the donor is met with company-specific information about their employer's matching gift program.
If you're looking to ensure donors are exposed to matching gift information, incorporating it into your online giving process is one of the best ways to go. After all, their social media feeds and email inboxes are likely going to be flooded with outreach from other businesses and organizations seeking their attention during the holiday season. But you know they've seen and interacted with your donation page!
2. Integrate matching gifts into Giving Tuesday.
Giving Tuesday is one of the most important fundraising opportunities for nonprofits within the entire holiday giving season. Making sure your fundraising team is equipped with the right resources and strategies to emphasize matching gifts during this campaign is critical.
Consider the following data-driven best practices to help maximize your success once Giving Tuesday rolls around:
Begin strategic matching gift marketing leading up to Giving Tuesday. Don't wait until the day of Giving Tuesday to begin promoting matching gifts. The more you share about corporate gift-matching ahead of time, the more comfortable your donors will be with the concept, and the more likely they'll be to partake. Incorporate matching gift content in your email blasts, social media content, digital marketing campaigns, and more.

Highlight matching gift opportunities in your day-of Giving Tuesday appeals. Mentioning matching gift opportunities in fundraising appeals is one of the best ways to encourage on-the-fence donors to give, coax larger donation sizes, and secure additional company matches. On the day of Giving Tuesday, it can be exactly what you need to ensure your fundraising appeal stands out in your donor's inbox.

Follow up with match-eligible donors in the days after their initial gifts. If donors provide you with their employer information through your online donation page (as outlined above), be sure to incorporate detailed information about that company's matching gift programs in the days following the donor's original gift. This will keep your organization at the forefront of your donors' minds for longer after Giving Tuesday and remind them about impactful company matching opportunities they may be eligible for.
Taking place each year on the Tuesday immediately following Thanksgiving, Giving Tuesday leverages the increased feelings of thankfulness and gratitude to inspire charitable-minded individuals to help provide blessings to others. When you highlight matching gift opportunities during this annual worldwide giving campaign, you can equip donors to make an even more significant impact on your mission⁠—which they love!
3. Send last-minute matching gift reminders.
It's important to keep in touch with donors throughout the entirety of the year⁠—but in the last few days and weeks of the holiday season, it's essential. In these communications, be sure to highlight and remind donors of matching gifts before it's too late.
Year-end matching gift reminders are one of our favorite promotional strategies to market this invaluable corporate giving source. Though each company sets its own eligibility criteria and deadlines for employee match requests, many offer generous grace periods between when the initial gift is made and when the match request must be submitted. And a lot of these companies align their deadlines with the end of the calendar year.
That's why we suggest sending out last-minute end-of-year reminders to your match-eligible donors. They might still be able to request a match from their employer!
Here's an example: "John, we appreciate your generous donation of $500 to our 'Save the Puppies' campaign in March. Did you know that your employer, the Home Depot, may be willing to match it to help out twice as many furry friends? You have until the end of the year to submit your request!"
If you know which companies your donors work for, be sure to provide them with as much detailed information and eligibility criteria as possible⁠—including direct links for request forms if available. And don't forget to remind donors of the deadlines as well, as this instills a sense of urgency that can help drive additional matches.
The more you raise for your organization this holiday giving season, the better prepared your team will be for the year to come. Don't miss out on significant matching gift opportunities — make sure you have the right tips and tools for long-term success. Good luck, and happy holidays!
Author: Adam Weinger
Adam Weinger is the President of Double the Donation, the leading provider of tools to nonprofits to help them raise more money from corporate matching gift and volunteer grant programs.
Double the Donation's robust solution, 360MatchPro, provides nonprofits with automated tools to identify match-eligible donors, drive matches to completion, and gain actionable insights. 360MatchPro integrates directly into donation forms, CRMs, social fundraising software, and other nonprofit technology solutions to capture employment information and follow up appropriately with donors about matching gifts.