fundraising software
The 15 Best Blackbaud Competitors and Alternatives
Looking for an alternative to Blackbaud's platform? Explore the top Blackbaud / Raiser's Edge alternatives! From fundraising to donor management, find robust tools for nonprofits to secure data and maximize impact.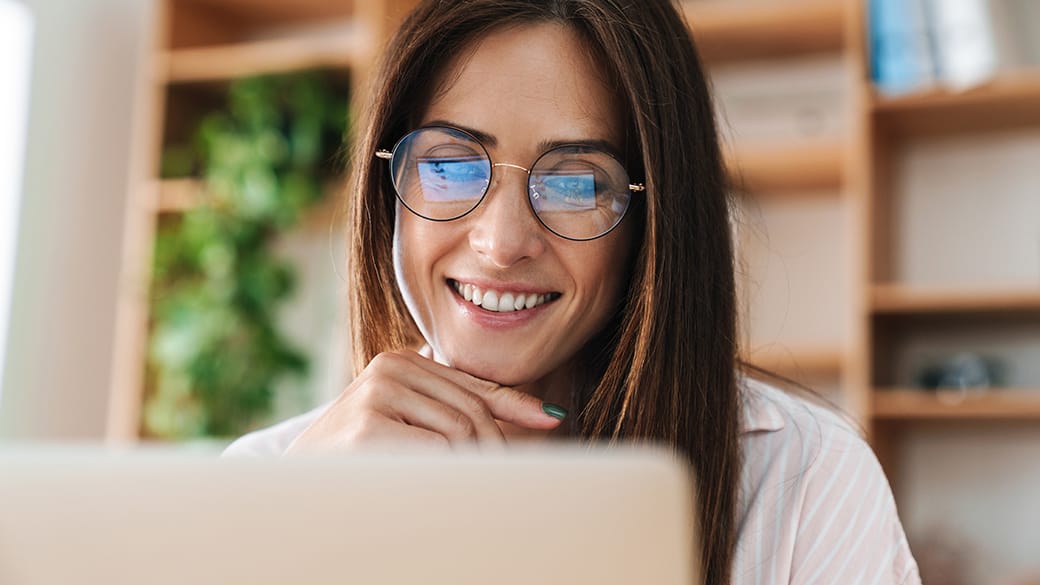 Tracking nearly $31 billion from over 7,000 organizations in U.S.-based charitable giving, Blackbaud is a quality choice for nonprofits looking for a robust solution to handle massive amounts of data. While this nonprofit software is widely adopted, it does pose two inherent pitfalls: price and security.
Like many large software vendors, Blackbaud comes with a hefty price tag. Not all nonprofits can afford to dish out their hard-earned fundraising dollars on software. And with the recent data breach that caused ascertainable losses in the form of out-of-pocket expenses, many nonprofits are wary to continue using Blackbaud's services.
That's why many organizations are looking to Blackbaud alternatives to locate a secure and affordable platform to handle sensitive data.
At Donately, we understand that finding the right software is challenging. After working with thousands of organizations and causes, we have a strong sense of which tools nonprofits find the most success in. Using this firsthand experience, we've pulled together 15 of the top Blackbaud competitors within the nonprofit space.

In this article, we'll cover some of the best Blackbaud alternatives, grouped into four primary categories:
With the evolving technological landscape, there are plenty of alternatives to Blackbaud that can match up to your needs. If you're ready to dive into some of the top players in the space, let's get started!
---

The Best Blackbaud Alternative
Blackbaud Competitor #1) Donately
Since 2013, Donately has empowered organizations to fulfill their online fundraising potential and enhance the donor experience. Today, thousands of nonprofits, churches, and agencies trust our software to handle more than $2 million in donations per month.
Built with simplicity and usability in mind, Donately's robust tools enable you to connect with supporters across the globe and effortlessly expand your donor network. With features like fully customizable donation forms and reporting capabilities, you'll gain access to all the tools you need to improve your donor experience, simplify your processes, and increase online revenue.
Not to mention, Donately integrates with dozens of leading nonprofit platforms (including payment processors, email marketing tools, and CRMs), so you can consolidate all your processes into a single platform. The system works seamlessly with many of the other tools suggested in this article, giving nonprofits a modern tech stack with the same (or better!) features than Blackbaud can provide on its own!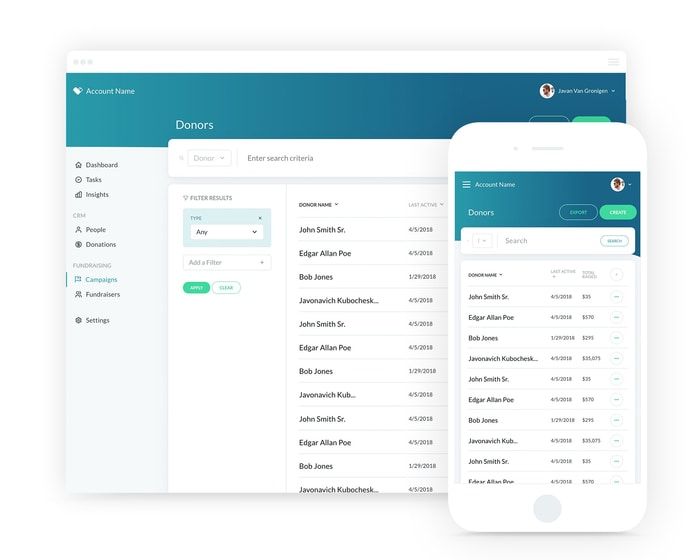 Key Features
As the leading Blackbaud alternative, Donately empowers organizations to take charge of their online fundraising and donor management with features like:
Donor management
Online donor portal
Pricing
We have plans for every price range! Our Free plan is perfect for small organizations—with only a 4% platform fee. Our Starter plan is $19 per month with a 3.5% platform fee has added features for those looking start or continue their fundraising journey. Perfect for mid-sized organizations, our Team plan is $49 per month with a 2% platform fee, making it an affordable (and high-quality!) Blackbaud alternative. If your team is raising over $250K a year, reach out for a customized plan that is built to fit your unique fundraising needs and growth.
Claim your free account and get started with Donately!
---

Top Blackbaud Competitors for Small Organizations
Blackbaud Competitor #2) Copper
Built specifically for G Suite, Copper helps small nonprofits form stronger supporter relationships with many of the tools they're already using.
This Blackbaud alternative integrates seamlessly with Google products and makes data entry a thing of the past. With just a simple click, you can import leads from Gmail conversations or import prebuilt lists within minutes.
With this Blackbaud alternative, Copper users often experience simplified workflow by eliminating tedious data entry and improved lead tracking for donation opportunities. Overall, Copper is a very user-friendly CRM that allows nonprofits to create custom fields, manage multiple pipelines, and much more.
Best of all, Copper integrates with Donately, so you can easily manage your contacts and funnel donor data directly from your donation form.
Key Features
When you invest in Copper's CRM, you'll gain access to features like:
Contact management
Lead import
Deal tracking
Project management
Reporting and insights
Task automation
Security and privacy controls
Pricing
Their standard plan starts at $19 per month and is great for small teams. But their most popular plan is perfect for growing organizations and starts at $49 per month. Plus, they offer a 14-day free trial—no credit card required!
---
Blackbaud Competitor #3) Insightly
Insightly is a CRM platform that's designed to help accelerate donations and form lifelong relationships with supporters. Perfect for small nonprofits, this CRM and project management app helps manage donors, track relationships, monitor donations, and organize projects across all devices.
Not to mention, Insightly integrates with Donately to streamline data collection even further. Automatically create contacts from first-time donors, update donor records for returning contributors, and proactively track and follow up on leads.
Key Features
Here are some of the features that make Insightly one of the best Blackbaud alternatives:
Relationship linking
Project management
Workflow automation
Lead routing
Email marketing tools
Opportunity tracking
Custom data tracking
File management
Calendar sync
Encryption to safeguard sensitive data
Pricing
Starting at a mere $29 per month, Insightly is one of the best Blackbaud alternatives available. Plus, you can test out the Plus or Professional plan for free!
---
Blackbaud Competitor #4) DonorSnap
DonorSnap is a comprehensive donor management and CRM system that enables nonprofits to track all types of supporters, whether they're donors, volunteers, or members. This Blackbaud competitor provides nonprofit professionals with a single place to manage communications, donations, and constituents with ease.
Plus, they have a proven track record of success dating back to 2008. Their customers see an average increase of 40.9% in the first year of switching to this platform, and they work with a range of causes from animal welfare to schools. They even offer integrations with other leading software, so you can consolidate your processes.
Key Features
Backed by this Blackbaud competitor, you'll gain access to features like:
Constituent management
Deduplication capabilities
Email marketing
Online donation tools
Donor retention software
Automated email reports
Custom dashboards
Goal tracking
Pricing
Perfect for small organizations, DonorSnap lets you get started for just $39 per month for up to 1,000 contacts. Further, the plans scale up to 30,000 contacts for $199 per month. Regardless of which plan you go with, you'll receive access to every feature.
---
Blackbaud Competitor #5) Kindful
Gain a holistic view of your supporters with Kindful, a cloud-based donor management system that offers built-in fundraising automation.
Since its inception, Kindful has made a name for itself in the nonprofit space, with more than 10,000 nonprofit users, $6.8 billion donations tracked, and a 98% customer satisfaction rate.
Built for smaller organizations, Kindful's mission is to provide nonprofit professionals with powerful software for organizing their data and managing their donors. That way, they can get back to what matters: making a greater impact on the world.
Plus, an open API allows organizations to easily connect their donor database with best-in-class systems that they're already using like MailChimp, Eventbrite, and more!
Key Features
By investing in this Blackbaud competitor's platform, you can leverage features such as:
Contact records
Email marketing
Reporting and insights
Online donor portal management
Unlimited donation pages
Embeddable donation buttons
Event management
Deduplication tools
Task management
Pricing
To get started with this Blackbaud competitor, pricing is based on the number of constituents an organization has, with the lowest option being $100 per month for 1,000 contacts.
---

Blackbaud Alternatives for Mid-Sized Nonprofits
Blackbaud Competitor #6) NeonCRM
Built specifically for nonprofits, NeonCRM empowers organizations like yours to raise more, save precious staff time, and focus on your mission's impact. At its core, this Blackbaud alternative is a relationship-focused fundraising and membership system. But it goes a step further by helping nonprofit leaders raise more through automation and the streamlining of day-to-day processes.
Not to mention, their online fundraising tools easily integrate with donation tools (like Donately!), auto-feed data directly into the CRM, and allow for real-time transaction processing and recurring payments.
However, the art of offline fundraising isn't dead! NeonCRM also offers offline fundraising options like powerful mailing list queries, mail merge tools, and batch donation entry tools — all included with NeonCRM's scalable solution.
Key Features
NeonCRM stands out for its extensive features, some of which include:
Web development tools
Event management and ticketing
Volunteer management
Membership and association tools
Fundraising tools
Offline donation management
Relationship tracking
Grant management
Online storefronts
Survey builder
Pricing
Starting at $49 per month, NeonCRM is a great Blackbaud alternative. For a more robust system, scale up to one of their larger packages that handle higher capacities of donors.
---
Blackbaud Competitor #7) Virtuous CRM
As one of the leading Blackbaud competitors, Virtuous CRM is a great fit for mid-sized organizations looking to boost fundraising by personalizing their communications. It's built specifically for nonprofits to help fundraisers grow and retain giving.
This Blackbaud alternative eliminates tedious processes for your team, supports omnichannel fundraising strategies, reveals connections between donors, and locates new revenue opportunities with in-depth reporting tools.
Overall, this platform streamlines donor management and provides data-rich insights, so your team can spend more time pushing your mission forward and stewarding lifelong donors.
Key Features
Gain access to a range of tools with Virtuous CRM, such as:
Donor insights
Task management
Reporting tools
Segmentation capabilities
Project management
Pipeline management
Wealth screening
Grant management
Mobile apps
Pricing
As one of the pricier options on this list, Virtuous CRM starts at $350 per month. However, it comes equipped with several tools for an all-in-one marketing, email, and CRM solution. Alternatively, you can purchase the CRM and marketing solutions individually.
---
Blackbaud Competitor #8) HubSpot CRM
Connecting with today's audience online is more doable than ever thanks to software like HubSpot. As one of the leading Blackbaud alternatives for donor management, HubSpot is a great way to centralize operations with an abundance of integrations and a combined marketing platform.
The CRM and marketing platforms both run off the same inbound database. In other words, every piece of data you collect is always up-to-date. Best of all, HubSpot's powerful system integrates with Donately, so you can supercharge your fundraising and maximize your marketing dollars.
Whether you're aiming to attract first-time visitors or re-engage lifetime members, this Blackbaud competitor might be the right choice for you!
Key Features
With HubSpot CRM, empower your team with features like:
Contact management
Email templates
Task/Activity tracking
Calendar tools
Interaction tracking
Pipeline visualization
Built-in marketing tools
Pricing
Starting at an affordable $45 per month, HubSpot grants organizations with vital functionality to attract their audiences, engage leads, and optimize conversion rates.
---
Blackbaud Competitor #9) Bloomerang
Created in 2012, Bloomerang has since made a name for itself in the nonprofit space. It's a cloud-based donor management system that empowers nonprofits to reach, engage, and retain the supporters they depend on.
Rooted in principles of philanthropy, this Blackbaud competitor is simple to use and designed to deliver optimal utilization by the organization's team and maximum flexibility.
Right off the bat, Bloomerang excels above Blackbaud in available features, specifically in mobile giving and prospective donor management. With a clean and modern interface, this system is a go-to choice for better fundraising!
Key Features
Bloomerang comes equipped with features like:
An interactive donor dashboard
Reporting and data extraction
Personalized marketing
Website integration
Social media marketing
Fundraising and donor management
Mobile giving tools
Communication tracking
Pricing
Bloomerang is priced based on the number of records (or individuals) within your database. This Blackbaud competitor starts at $99 for up to 1,000 records. The plans work their way up to $499 for up to 40,000 records. Pricing for more than 40k records is available upon request. They even offer a free plan for those looking to test out the solution before buying.
---
Blackbaud Competitor #10) Salsa CRM
Trusted by more than 3,000 nonprofits, Salsa CRM is an easy-to-use, intuitive platform that helps manage vital operations like donor management, digital marketing, and online fundraising. Today, more than 10,000 nonprofit users have come to trust this platform.
As part of Salsa's Smart Engagement Technology, this cloud-based donor management system provides a range of tools for attracting new donors and retaining current ones. When paired with Salsa Engage, organizations gain access to a complete marketing automation, fundraising, and advocacy platform built for modern nonprofits.
Key Features
Through Salsa CRM, you can leverage features like:
Donation tracking
Major gift cultivation
Rich donor profiles
List segmentation
Customizable workflows
Direct mail fundraising
Email and social media marketing
Pricing
Salsa's pricing is based on your organization's specific needs. Visit their website to get a personalized quote.
---
Blackbaud Competitor #11) DonorPerfect
Growing organizations everywhere trust DonorPerfect because it's built specifically for nonprofit use with features designed to save staff time. This donor management and fundraising system enables nonprofits to track stewards, record gifts, and maintain contacts through an easy-to-use web-based user interface.
Supported by a highly experienced customer success team, DonorPerfect provides expert setup, training, data transfers, and more to ensure your launch and continued use of the platform is seamless.
Get up and running quickly, so you can get back to building meaningful relationships and maximizing revenue with this leading Blackbaud competitor.
Key Features
Here's an idea of the tools you'll have when backed by this Blackbaud alternative:
Fundraising and donor management
Membership and volunteer management
Email tools
Grant tracking
Reporting and insights
Pledge processing
Mobile giving
Event management
Pricing
Starting at $89 per month, DonorPerfect is a great Blackbaud alternative that comes equipped with all the tools you need for better constituent management and online fundraising.
---

Best Blackbaud Competitors for Large Organizations
Blackbaud Competitor #12) Salesforce for Nonprofits
Break down the silos and empower your nonprofit to make a case for giving with a holistic understanding of your donors, volunteers, and members all within one single platform. As one of the most well-known players in the space, Salesforce is a great way for nonprofits to cultivate life-long relationships and gain a 360-view of their organization.
With collaboration at its core, this Blackbaud alternative is dubbed as the #1 CRM platform and is trusted by 47,000 nonprofits around the world.
Best of all, it integrates with a large number of providers within the nonprofit space, including Donately! This way, you can consolidate processes and automatically sync donor data between systems without worrying about duplication or other errors.
Key Features
Known for its wide range of functionality and integrations, Salesforce empowers nonprofits with features like:
Reporting and analytics
Donor engagement tools
Marketing automation
Grants management
Donor and volunteer management
Delegation and task tools
Pricing
This complete CRM for nonprofits starts at just $36 per month, making it a strong Blackbaud competitor.
---
Blackbaud Competitor #13) Microsoft Dynamics 365
Originally a solution built for businesses, Microsoft Dynamics 365 is customizable enough to act as a robust solution for larger organizations. Backed by this Blackbaud alternative, nonprofits can modernize donor and constituent engagement to increase impact.
Suited for a range of causes, Microsoft Dynamics 365 delivers vital functionality for everything from relationship management and personalized interactions to financial management. Not to mention, this platform integrates with Donately, so you can manage leads and automatically sync your donation data for powerful segmentation.
Key Features
Here's a look into the features your team can leverage when you invest in this Blackbaud competitor's platform:
Integration with Office 365
Constituent management
Fundraising tools
Analytics and reporting
Personalized relationship tracking
Finance management
Program delivery and impact tracking
Pricing
Microsoft 365 Business is now available for free for confirmed 501(c)(3) organizations that meet the criteria found on this eligibility page.
---
Blackbaud Competitor #14) Ellucian CRM Advance
Built exclusively for the higher ed sector, Ellucian CRM Advance empowers colleges and universities to build and grow a strong culture of philanthropy among students and alumni. This Blackbaud competitor is a cloud-based solution that lets you track and manage donors throughout the donorlife cycle.
Today, over 2,700 institutions in more than 50 countries trust Ellucian CRM to handle their data. This robust solution serves more than 20 million students around the globe.
By leveraging data-backed insights, you can expand your offerings and reach institutional goals while cultivating stronger relationships across all constituencies. Best of all, this Blackbaud alternative integrates with a wide range of solutions, so you can easily adapt and scale as your needs evolve.
Key Features
Here's an idea of what features your development team will have with Ellucian CRM Advance:
Donor, volunteer, and alumni management
Campaign tracking
Automated outreach
Recruitment tools
Student performance tracking
Prospect research tools
Mobile-friendly fundraiser dashboards
Campaign tracking
Pricing
Inquire about pricing by reaching out to the Ellucian team.
---
Blackbaud Competitor #15) Sumac
Last but not least, our final featured Blackbaud competitor is Sumac. This complete CRM allows you to manage your entire nonprofit within a single platform.
With several add-on options, this solution is scalable to each organization's unique needs. These additional features not only work with Sumac's basic CRM, but their features also work with one another to provide a seamless experience.
Key Features
With Sumac, your development team will gain access to features like:
Membership and volunteer management
Grant management
Payment processing
Donation tools
Email marketing
Prospecting tools
Visual reporting
Pricing
Sumac offers a free plan for nonprofits, positioning it as an affordable Blackbaud alternative. Depending on your unique needs, you may need to upgrade to one of their paid plans (which start at only $35 per month) to gain access to more robust features.

Tons of people want nonprofit CRM software to automate reports, manage leads, and build donor relationships. What's difficult is finding the Blackbaud alternative that's right for you.
Hopefully, this list serves as a solid starting point for your research. As always, we recommend going with whichever option best suits your team's unique needs. If you're looking to enhance your online fundraising and form lifelong relationships with donors, we recommend checking out Donately first!
Need more ideas to pair with your new Blackbaud alternative? Check out these great resources from the Donately team and other leaders in the nonprofit fundraising space: