online fundraising
5 Ways to Elevate Your Next Online Animal-Focused Fundraiser
An online fundraiser is a great way to support and engage your local community. Follow these five tips to boost your next online animal-focused fundraiser.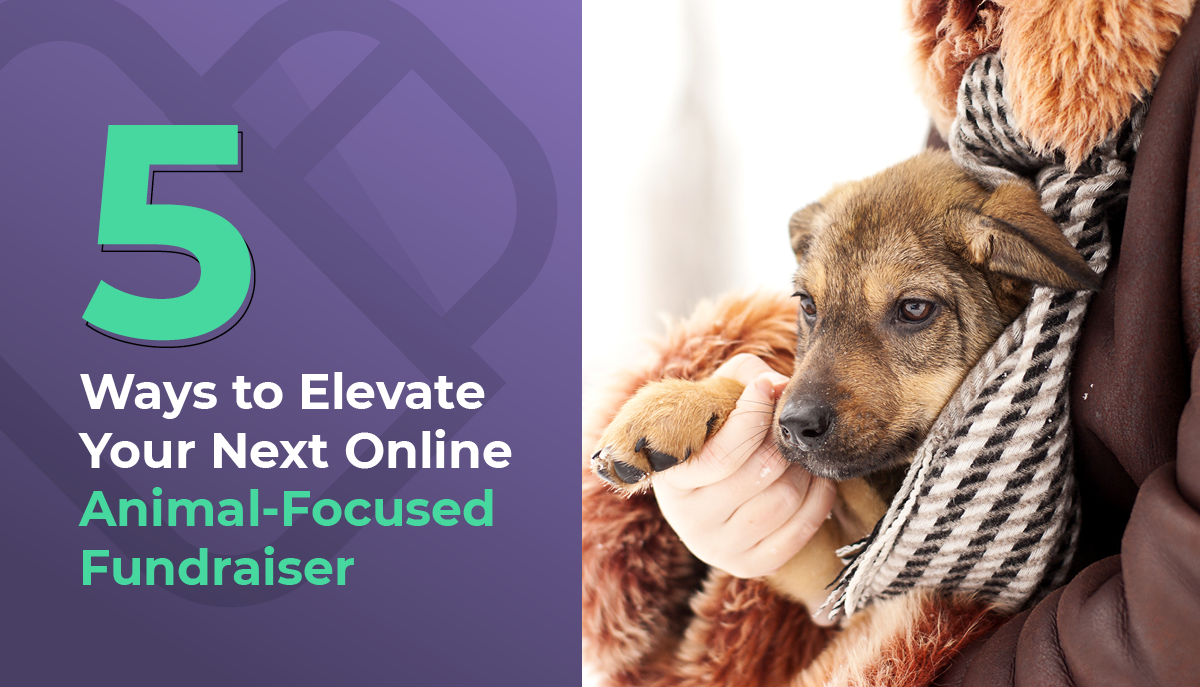 As a pet-care business owner, you probably do your fair share to help your local animal shelters or rescues. In particular, online fundraising is a powerful and convenient technique that many pet-care businesses are using to show their support for animal-centered missions.
As fundraising technology has advanced and digital engagement has risen over the past few years, virtual fundraisers have become a critical strategy for reaching the greatest possible audience. But even if you have an excellent idea for an online fundraiser, parsing through all the available online fundraising tools can quickly get overwhelming.
With that in mind, we've compiled five impactful digital strategies to boost your next online animal advocacy fundraiser and engage more supporters in your mission. Consider these methods to help reach your fundraising goal faster and empower animal lovers to care for underprivileged animals in your community:
Add a dedicated donation page to your website.
Leverage your followers on multiple social media platforms.
Sell animal-specific branded merch.
Host engaging virtual event experiences
Spread the word about matching gifts.
With each tip, look for digital tools that can automate processes and help you make the greatest possible impact. For example, to advertise your fundraiser to the right audiences, Gingr recommends leveraging software that can integrate with your existing tools, store customer and donor contact information, and automate communications to potential and existing supporters.
1. Add a dedicated donation page to your website.
To get supporters on board with your next online fundraiser for an animal-focused nonprofit, you need to provide a convenient way for people to learn about and donate to your chosen cause.
That's where an online donation page can help. Digital tools like Donately offer organizations the ability to create stylish, fully-customizable donation pages to maximize their fundraising capacity. Your donation page should be:
Intuitive and fully responsive to different devices. Ensure your donation page is easy to use, with a clearly defined series of prompts for users to quickly input their information. Additionally, make sure the text and images on your page are formatted to fit desktop, tablet, and mobile screens so anyone can access and complete your page from any device.

Made compelling through impact storytelling. Include a personal story explaining your reason for raising money for a particular animal-related cause and how that money will help. Did you adopt your own pet from the local shelter? Do you have a personal relationship with the manager or owner of the local animal rescue? Use these intimate details to show potential donors that their gifts support real people and animals within your community.

Branded to your organization. Build your business' colors and logo into your donation page design to capitalize on the power of your name recognition in your local area. Additionally, consistent branding makes your donation page look more trustworthy, professional, and organized to potentially skeptical donors.

A launch point for further opportunities for engagement. Ask donors if they'd like to receive further communications from your business about upcoming opportunities to get involved with animal advocacy. This allows you to convert donors into customers and expand your impact beyond your initial fundraising event.
Remember to embed your donation page on your business' website. Sending donors to a third-party website can cause confusion or hesitation to donate. Hosting the donation page on your website, reassures donors that their donation is going to the right place and their information will be secure.
2. Leverage your followers on multiple social media platforms.
As the owner of a well-established business in your community, chances are you already have a strong social media presence. Just as you regularly post about your upcoming business activities on your Twitter, Facebook, and Instagram accounts, you should also use them to advertise and provide updates on your fundraiser.
That being said, an effective fundraiser requires social media techniques that differ from a for-profit business's approach. Take the following steps to make the most of your social media platforms:
Share your beautifully-designed donation page frequently across your social media platforms and encourage your followers to share the page with their own networks.

Create and refresh a graphic of a fundraising thermometer to provide updates as you progress toward your fundraising goal. You can also create a hashtag for your animal fundraiser to generate interest and spark conversations.

To enhance the emotional appeal of your animal-advocacy fundraiser, ask your donors to share stories about their personal experiences with their own pets. For example, they could talk about how their lives were changed by their furry friends and how that impacted their decision to donate.

Approach an online influencer aligned with your goals to help spread the word and reach a new, wider audience.
Ultimately, social media is one of your greatest assets to connect with potential supporters and spread awareness of your animal-advocacy fundraising campaign. Additionally, to gain more online supporters, pair each of the steps listed above with puppy and kitten photos that ramp up the adorable factor of your fundraiser—no one can resist the cuteness!
3. Sell animal-specific branded merch.
Similar to how it's hard for people to resist liking or sharing a photo of a precious puppy wearing a sunhat, people are drawn to merchandise with animal imagery, too.
Ask your team members and customers to submit ideas for a design that will go on a shirt, hat, mug, or facemask. Choose the one that inspires the most delight among your staff, brand it with your logo, and upload it to a platform that can print and ship merch directly to your donors.
Not only will your merchandise raise money for your fundraiser, but it will spread awareness of the cause and the positive impact your business is making in the community. When people ask your supporters, "Where'd you get that cool shirt?" they can describe your fundraiser and mission, spreading the word and simultaneously garnering you more donations and customers.
If animal lovers are willing to spend a good chunk of change on their own pets, it's not a stretch to say they'll also be willing to pay for a mug with a cute pug on it, knowing the funds will help other animals in need.
Moreover, you can even create merch that's specific to your business and made for supporters' animals. For example, a business specializing in dog grooming could sell high-quality branded dog brushes or dog wash. On the other hand, a cattery could sell branded cat toys or cute cat sweaters. Place these products for sale on your website to make them as easy as possible for supporters to purchase.
4. Host engaging virtual event experiences.
You may already be using live video streaming in your day-to-day business practices. For example, if you're a kennel, you're leveraging your dog boarding software to send customers videos of their pets from afar.
But you can also use live virtual events in your fundraising to engage customers who cannot attend in-person events but still want to feel actively involved in your animal fundraiser. To attract these potential donors, host pet-themed virtual events in exchange for a small "entry fee" that goes to your fundraiser.
Supporters will appreciate that they can participate in a fun, casual event to support animals from afar. Here are a few ideas for fun and engaging virtual pet events:
An animal-themed trivia night. Host a trivia night for animal lovers over Zoom or a similar video chat platform. Have people "buzz in" to answer by raising their hands or sending emojis in the live chat.
A pet costume contest. Ask your social media followers to send photos of their pets decked out in costumes. Allow people to "vote" with their dollars by including a section on your donation page where supporters can note their favorite pet photo. Offer a prize to the owner of the winning pet photo and announce the winner in a social media post.
A virtual dog training course. Host a live-streamed dog training lesson. In exchange for donations, participants can follow along with their pets at home.
Whatever you choose to do, these events should consist of more than a talking head. Virtual events should add pizzazz to your fundraising efforts, offering donors social interaction, the chance to network with fellow animal lovers, and the feeling of making a difference in the process.
5. Spread the word about matching gifts.
Throughout your online animal welfare fundraiser, encourage your donors to ask if their employers offer matching gifts programs. In gift matching programs, corporations pledge to match donations made by their employees to eligible nonprofits.
You can use a matching gifts tool that integrates with your chosen online donation platform to search if donations are match-eligible and link to any necessary matching gifts forms. Donors can literally double or even triple the impact of their initial contributions to your cause by cashing in on these programs.
Even though these programs can make a major difference, many people are unaware that their employers offer this benefit and their eligibility for a match. That's what makes it so important to inform donors of these programs and use tools that make it as easy as possible to take advantage of the opportunity!
Moreover, to get your own employees excited and involved in your fundraiser—and engaged in your business—set up an internal matching gifts program to match any donations they make to your fundraiser.
Bonus Strategy: Get Creative!
Just as you've been creative in connecting with customers in-person and virtually at your dog daycare, kennel, or other animal-related business, you can be creative in engaging supporters with your fundraiser. Mix, match, and adapt the strategies above to fit your needs and goals.
Plus, by taking these steps, you simultaneously prepare yourself for future animal-focused fundraising success and cement your pet-care business as a powerful philanthropic force in the community!
Author: Kerry McCreadie
MemberClicks, Senior Content Marketing Manager
What matters most to membership organizations? As the Senior Content Marketing Manager for Personify's Wild Apricot and MemberClicks products, this is the question always on Kerry's mind. Their goal is to help nonprofits, associations, and clubs discover the solutions that solve their most frustrating pain points—while growing and retaining their member base. The CEO and Founder of their own nonprofit organization, Kerry is passionate about nonprofit and charitable work—especially in the arts.