Corporate social responsibility, or CSR, describes a better way to do business. And while it's not a new concept, CSR has become especially popular in recent years as consumers demand more accountability from their favorite companies.
So, what exactly does this buzzword mean and what are the benefits of corporate social responsibility for your business? Stay tuned to learn this and more.
What is Corporate Social Responsibility?
Corporate social responsibility is the idea that companies should consider the impact their business decisions have on society and positively contribute to their communities. This concept has gained serious traction in the corporate world over recent years, with big name brands and small businesses alike asking themselves, "How can our company make the world a better place?"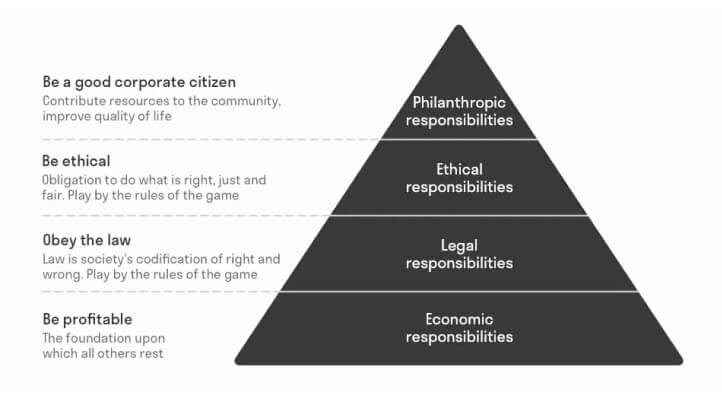 Our understanding of CSR is based on Carroll's corporate social responsibility pyramid, which features four primary types of responsibilities. From bottom to top, these responsibilities are:
To be economically profitable
To obey the law
To be ethical
To be a good citizen

This pyramid of CSR demonstrates how businesses should think about corporate social responsibility, building upon their primary duties as a company so they can best benefit society as a whole. When done effectively, companies with corporate social responsibility initiatives weave them into their values and overall business strategy.
Why is Corporate Social Responsibility Important?
As consumers become more conscious of the ways their habits impact the world at large, they're prioritizing shopping with companies that better align with their values. This cultural shift has influenced the way companies operate, forcing executives to examine their impact and make meaningful strides towards better business practices. Failing to do so could cost them in the long run by damaging their reputation and losing customer loyalty.
On a larger scale, CSR promises to build a better world. Companies that channel their dollars and resources into positive action can help create safer, cleaner, and healthier communities. It's a win for everyone involved.
What Are the Benefits of Corporate Social Responsibility?
CSR has benefits for companies, consumers, and of course, our society as a whole. Let's whittle down our focus to how corporate social responsibility programs can benefit businesses.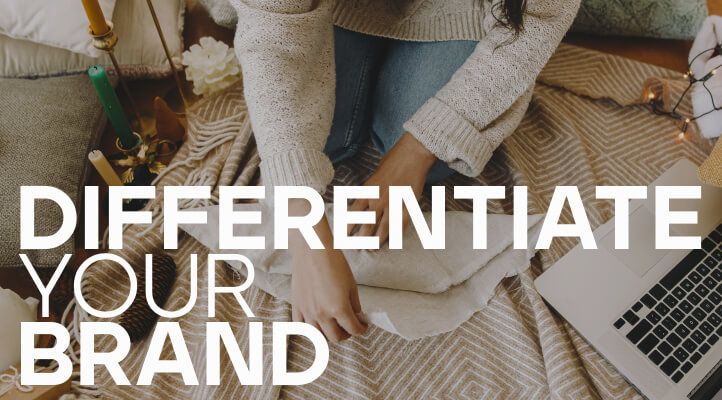 1. Differentiate Your Brand from the Competition
No matter what industry you're in, you likely have a pool of competitors with similar products or services. Investing time and energy into your corporate social responsibility strategy can separate your brand from the pack by showcasing your company values in a tangible way.
Committing to CSR even has the power to win over your competitors' customers. More than 90% of shoppers worldwide are likely to switch to brands supporting a good cause.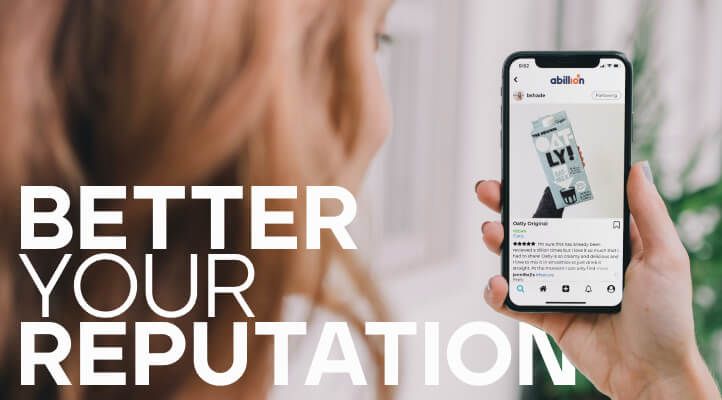 2. Better Your Brand Reputation
Brands don't exist in a vacuum, and what people have to say about your business matters. By implementing a CSR program, you can get potential customers buzzing for all the right reasons.
A solid corporate social responsibility strategy can not only improve public opinion about your company, it can also help protect your reputation in turbulent times. According to research conducted by the Zeno Group, consumers are 6x more likely to defend a company in the event of a misstep or public criticism if the brand has a strong sense of company purpose.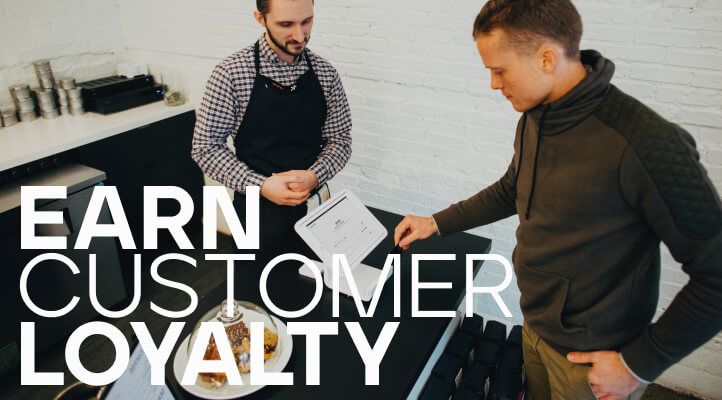 3. Earn Customer Loyalty
Customers want to feel good about where they spend their money. About 90% of consumers say they're more likely to trust and be loyal to socially responsible businesses compared to those that are not. Demonstrating your brand purpose and sticking to a solid corporate social responsibility strategy can show customers that when they shop with you, they're contributing to a company making a difference.
Many consumers will also stop doing business with a brand if they fail to respond to relevant events in a socially conscious way. In fall 2022, customers across the world called on athletic apparel brand Adidas to terminate its partnership with a controversial rapper and designer. Adidas had a choice: end their $1.4 billion deal with this figure or risk losing millions of customers. They chose to stand up for what they believed in, improving their brand reputation and retaining customer loyalty.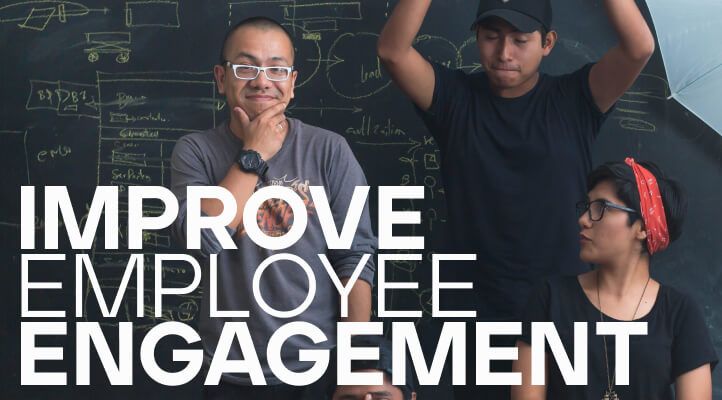 4. Improve Employee Engagement and Retention
Today, the majority of people are looking for fulfilling careers that do more than pay the bills. They want to feel like they're a part of something bigger and contributing to the greater good. Your company's corporate social responsibility program can demonstrate your values to your team and even give employees the opportunity to get involved.
Multiple studies have found that when employees think positively about their company's CSR programs, they are more likely to be engaged at work. According to studies by Gallup, engaged employees have a 17% increase in productivity and are 21% more profitable.
CSR can also benefit employee retention. A recent study shows that 95% of employees who work for purpose-driven companies are more loyal to their employer. This further benefits your business by reducing turnover and reducing expenses related to hiring.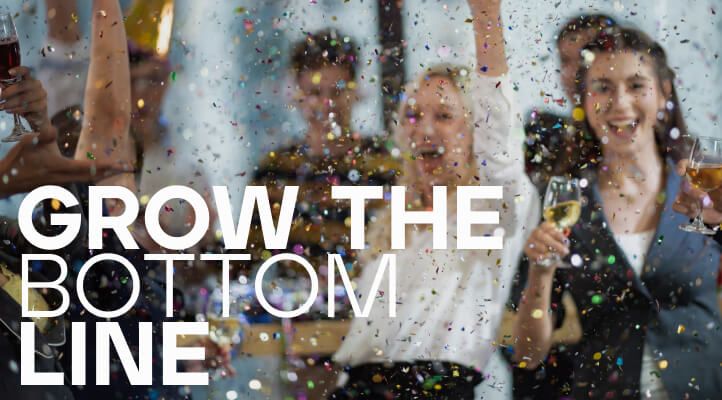 5. Grow the Bottom Line
A top priority for most companies is to improve profitability–and CSR can help. According to a report published by Project ROI, companies investing in social purpose have a 6% higher market value and generate 20% more revenue than those that aren't.
There are a number of reasons for this. For one, companies with CSR programs tend to be more favorable in consumer's eyes, helping businesses win over new customers while retaining existing ones. According to The Nielsen Global Survey of Corporate Social Responsibility, 55% of customers are also willing to pay extra for goods and services that contribute to positive change.
What Are Some Examples of Companies with Corporate Social Responsibility?
Patagonia
When talking about CSR, the first company to pop into many people's minds is outdoor retailer Patagonia. Long revered for their commitment to protecting the environment through conscious consumerism, Patagonia has created an inspiring business model with CSR built in.
Beginning in 1985, Patagonia has pledged 1% of sales to the preservation and restoration of the environment, primarily through donations to grassroot organizations making a difference. In 2002, Patagonia founder Yvon Chouinard partnered with fellow CEO Craig Mathews to establish 1% for the Planet, a nonprofit that encourages brands to donate a portion of their sales to protect the environment.
In 2022, Patagonia CEO made headlines by transferring ownership of his company to a trust and nonprofit organization that would ensure all profits–about $100 million annually–would be used to combat climate change. And while this is an extreme example, it solidifies Patagonia as a CSR icon.
Ben & Jerry's
You know Ben & Jerry's for their wacky ice cream flavors, but what you may not know is that they've made a name for themselves as a socially conscious company. CSR has been a part of Ben & Jerry's DNA starting from the very beginning. Founders Bennet Cohen and Jerry Greenfield institutionalized social activism by using revenue from their company to fund community organizations that tackle issues relevant to their values, including human rights and climate justice.
Since 1985, Ben and Jerry's has given 7.5% of the company's annual pretax profits to philanthropy, They also have a grant program for nonprofit grassroots organizations serving their communities across the U.S. These grants are awarded by a committee made up not of corporate executives, but of Ben & Jerry's employees, regardless of status or title.
Ben and Jerry's demonstrates CSR outside of their philanthropic efforts as well. Their values are baked into the business, from their company structure to commit to diversity and inclusion.
Starbucks
Once a local coffee shop in Seattle, Starbucks has since become a global sensation with more than 35,000 locations worldwide. With such a substantial footprint, Starbucks decided to channel some of its influence for good with CSR aimed at helping both people and the planet.
For Starbucks, CSR starts with their employees. They have publicly committed to championing diversity and inclusion, with concrete examples available on their website. In recent years, Starbucks has also incorporated more environmentally-friendly operations, such as offering more plant-based options and investing in regenerative agriculture.
How to Start Practicing Corporate Social Responsibility
Corporate social responsibility can take on a lot of different forms. As businesses explore how to implement CSR, leaders should first consider what their company values are. Defining these values will help you build a CSR program that addresses issues important to the company, creating harmony between what you say you do, and what you actually do.
Here are a few ideas to jumpstart your corporate social responsibility program:
Partner with a nonprofit organization that relates to your values or offerings. For example, if you are a tech company, you could work with a nonprofit that provides STEM education to kids in underserved communities.
Find a marketing agency that knows CSR to ensure the message you put out there is authentic and resonates with your customers
Implement more environmentally sustainable options into your operations
Give employees time off for volunteering or host a volunteer day through your company
Make regular donations to charities of your choosing
The popularity of CSR is ushering in a new era of business. The sooner your company gets on board, the sooner you can take advantage of the many benefits of corporate social responsibility.