We live in a world where marketing has taken a personal turn. You no longer interact with brands only through television commercials and promotional events, you can now communicate with companies right from the comfort of your home through social media. According to Statista, 77 percent of the U.S. population has a social media account. Worldwide, the number of social media users has ballooned to 2.34 billion.
These numbers should be music to the ears of a nonprofit marketer. Social media opens the door to intimately connect with potential individual donors, foundation funders, and even clients. However, you need the right strategy to reach those that would be attracted to joining your network, and part of that is learning the new ways you can use social media. So, here are five emerging ways to use this marketing platform to expand your nonprofit's network.
Create Personas Using Social Media Analytics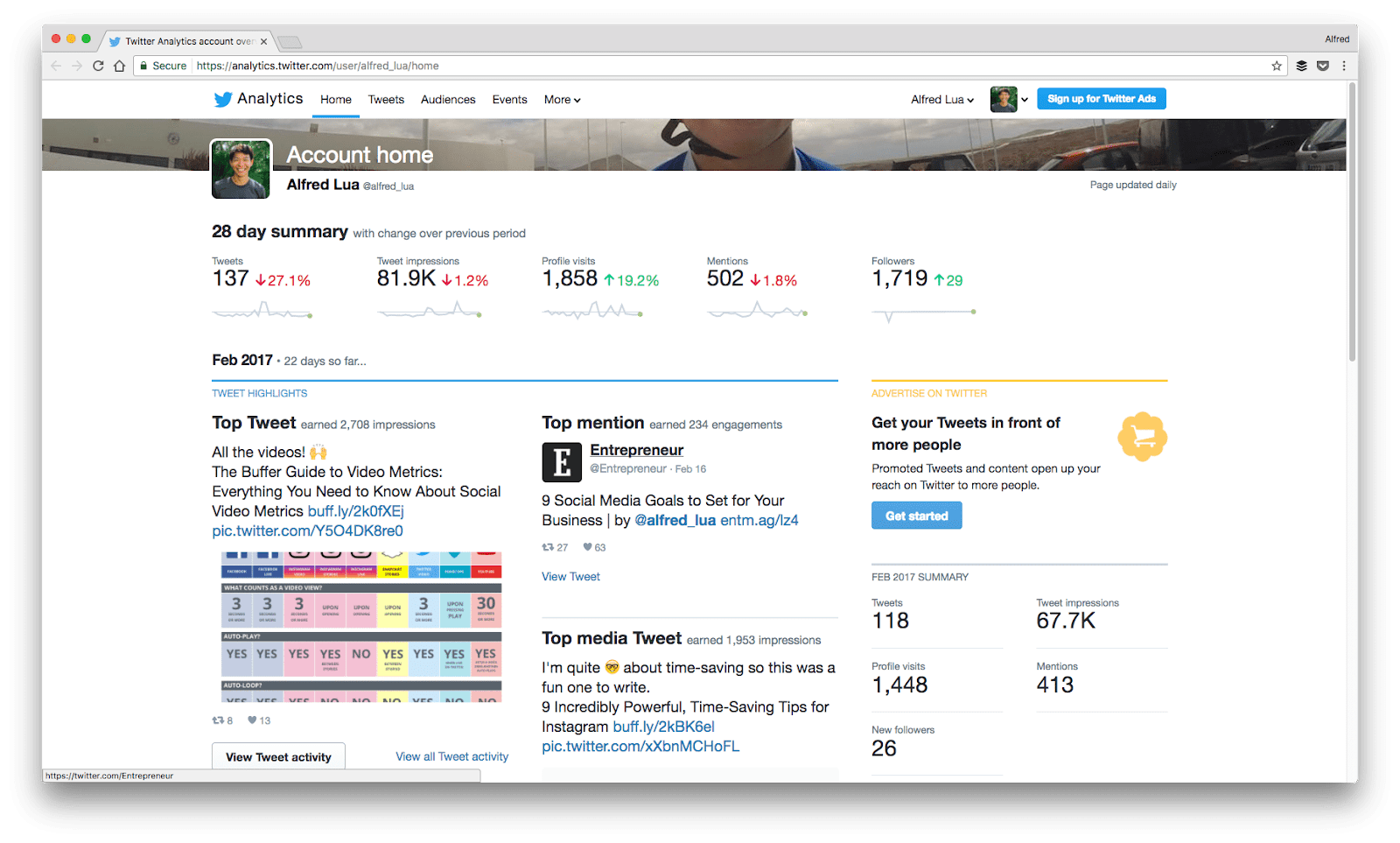 Source: https://blog.bufferapp.com/social-media-analytics-tools
Most social media platforms give you analytics on how users are interacting with your nonprofit online. Twitter, Facebook, and LinkedIn offer some of the best insights, while tools like Hootsuite or Sprout can provide analytics for other platforms you use. Take these insights and talk with your offline supporters to learn about any similarities between them and those who interact with you online (for example, why they support your cause, demographic information, and location). Blending this information can help you put together personas that allow you to develop more targeted social media campaigns to attract individuals that are inspired and driven by your cause.
Take Advantage of Live Video
Years ago, the only option for sharing a video was posting something that was pre-recorded. Now, platforms like Facebook, Instagram, and Snapchat are popular for their live video streaming. It is an excellent idea for nonprofits to take advantage of this by live streaming donation events, allowing volunteers to share their experiences as they happen, and even have staff introduce themselves. According to a survey of 1,000 adults by New York magazine and Livestream, 80 percent of respondents would rather watch live video from a brand than read a blog. So, constituents want to see and hear from you. You do not always have to share videos that have high production value. Many constituents want to know the nonprofits they support are authentic and transparent. Live streaming events and inviting users to see the inner workings of your nonprofit builds trust and engagement.
Blend Crowdfunding and Social Media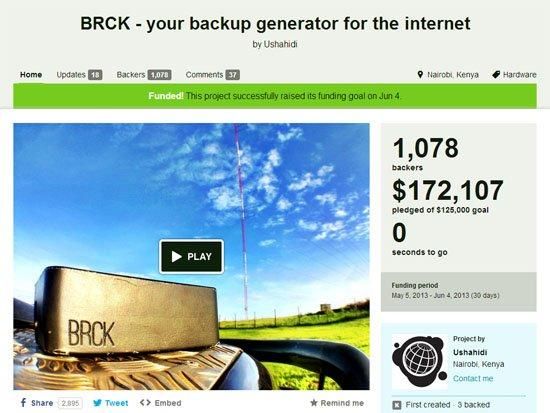 Source: http://forums.techsoup.org/cs/community/b/tsblog/archive/2014/08/14/which-crowdfunding-platform-is-best-for-your-organization.aspx
Donations no longer have to happen only on your nonprofit's website. A great way to get constituents excited about your nonprofit and your cause is to use crowdfunding and social media to tell your story and encourage donations. You can use crowdfunding platforms to introduce your staff, tell an engaging story that inspires potential donors, and provide frequent updates on the project for which you are seeking funding. Many crowdfunding platforms even enable you to easily offer perks or goods to donors that donate a specific amount to your campaign. Crowdfunding lets you develop more of a personal relationship with your emerging network than the traditional fundraising campaign. You can ramp this up by using platforms like Twitter and even Instagram to share the platform with a creative and unique hashtag. Combining these two platforms and tracking your customer interactions in a customer relationship management software (CRM) is a surefire way of expanding your network (specifically with donors).
Tell Your Story with an Infographic
Everyone processes and identifies with content differently. While sharing your nonprofit's blog post is a good idea, you have to account for individuals who may lean more toward visual imagery. According to brainrules.net, when we hear a piece of information, individuals are likely only to remember 10 percent of it. However, when a picture is added, the memory of the event increased by 65 percent. Expanding your network requires you to share information that will resonate with users, and infographics are an excellent way to do this. Use infographics to tell your company's story, visually convey your outcomes, and create a call-to-action. This type of content can become a staple in many of your social media postings.
Attract Influencers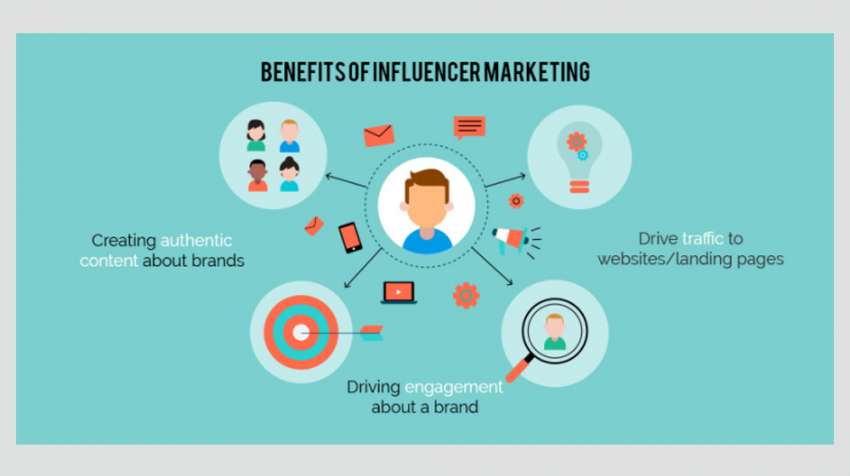 Source: https://smallbiztrends.com/2018/02/influence-marketing-for-hotels.html
A recent study revealed that 49 percent of users rely on recommendations from influencers on Twitter. Another survey by Collective Bias showed that 30 percent of consumers are more likely to buy a product recommended by a non-celebrity blogger. Now, the majority of nonprofits are not trying to sell a good or a service, but they are attempting to encourage buy-in for the cause and mission. It is not a bad idea to use services like BuzzSumo or TweetDeck to research influencers that might have a connection to your cause. Interacting with them on social media can yield a relationship where they share your content, host a live video event, write a guest blog for you, or help spread a fundraising campaign on your preferred social media platform. Influencers do not have to have millions or even thousands of followers. Look for people who have authority, have participated in speaking at conferences or workshops, and have high engagement with their followers.
Final Thoughts
It is no secret that social media has evolved over the years. Large corporations and celebrities now join platforms that were initially dominated by individuals. Everyone realizes the power of social marketing, and the benefits are no less lucrative for nonprofits. Social media allows you to create and maintain a bond with potential donors, volunteers, and online supporters of your cause. However, merely posting is not going to get you the expansion you are seeking. You have to be creative and use many new social media features and concepts to put yourself in front of your target audience. As to not overwhelm yourself, start with one of the ideas mentioned above and then let your strategy grow from there. You will be surprised to see how far your nonprofit's network expands when you take the first step.
Author Bio
Chanell Alexander is a writer for TechnologyAdvice. She is a freelance writer and digital marketing strategist. She has over seven years of experience in the nonprofit field, and enjoys blending innovative technology solutions with communications. When she is not writing, Chanell enjoys traveling, contributing to video game blogs, and embracing her inner foodie. See what else Chanell has been up to on her LinkedIn profile.
Sources: